As I mentioned last week, it still seems too far away to look ahead to the 2014 college football season, so why not look backward? Last week we took a look at some of the greatest Ohio State-Michigan games since 1970.
For this week, I'm thinking about comebacks.
There have been many great ones. Some have been late. Some have been from large deficits. You can immediately think back to recent games and remember this Stone Cold Stunner in 2011 against Wisconsin. Or overcoming an early 10-point deficit against Nebraska to win going away in 2012. 
In an ideal world, the Buckeyes would lead all the time and never need to come back. But this is not  any rally for a win is a good one. Here are three of my personal favorites.
10/28/89 – Ohio State 41, Minnesota 37 (Minneapolis)

Ohio State was 4-2 (2-1) when it traveled to Minneapolis to face the 4-2 (2-1) Golden Gophers in the Metrodome. The Buckeyes had been spanked 42-3 at USC and 34-14 at Illinois in their only previous road games, but surely Minnesota would be the road tonic they needed, right? Uh…not so much.
The Gophers came out blazing on offense and Ohio State made a grocery list of errors as Minnesota put a 31-0 beatdown on the Buckeyes by the second quarter. Somewhere in Columbus, a younger version of me was anger drinking with his buddies on a frigid day.
Late in the first half, the Buckeyes lined up to punt. This time Minnesota made the mistake, putting 12 men on the field. Ohio State got a fresh set of downs and made it pay off, driving down the field and getting a three-yard Carlos Snow touchdown run and a Greg Frey-to-Jeff Graham two-point conversion. It was 31-8 at the halftime and that younger version of me and his friends turned to bargaining.
"If Ohio State wins this game, I'm jumping in the pool," my buddy Mike said. "I'll join you," I responded.
It must have worked. Ohio State was a different team after the break. The Buckeyes opened with a long drive for a field goal. They added another Snow scoring run to make it 31-18 by the end of the third quarter. There was still a long way to go.
The Gophers added a field goal to make it 34-18, looking to put the game out of reach. But the Buckeyes responded with another Snow run and two-point conversion to cut the lead to 34-26.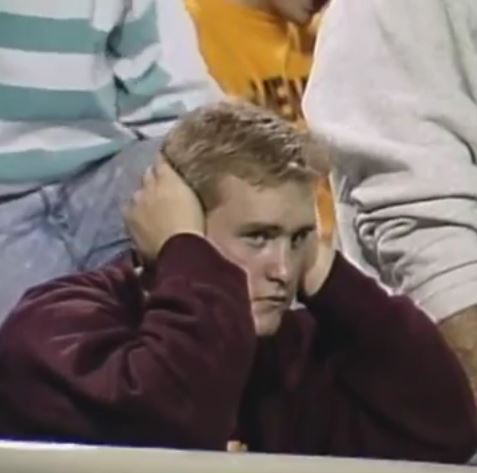 Ohio State came up with a turnover, but gave it right back on an intercepted halfback pass. The Gophers seemingly ended it with another field goal. It was 37-26 with five minutes remaining. Ohio State drove to the goal line and faced a fourth down. Ohio State dialed up the option and Frey kept for the score. The two-point conversion pulled the good guys to within 37-34.
After forcing a Minnesota punt, Frey took over on his own 27 with two minutes to play. He quickly marched the Buckeyes toward paydirt with strikes to Snow, Brian Stablein and tight end Jim Palmer. Frey then hit Graham for the go-ahead score with 51 seconds to play, capping the greatest comeback in OSU history.
If you don't think this comeback was emotional, check out Frey's reaction after the game-winning pass.
And yes, despite the chill, we jumped in the pool, because a deal is a deal. It was cold.
11/19/05 - Ohio State 25, Michigan 21 (Ann Arbor)

The 8-2 (6-1) Buckeyes were in danger of missing out on a BCS bowl game and a share of the Big Ten title. Ohio State, which had lost 17-10 at Penn State earlier in the season, found itself trailing on the road at Michigan, 21-12. It was midway through the fourth quarter, and the Buckeyes had done just about everything wrong you can do on the football field—turnovers, shanked punts, muffed punt returns, pass interference penalties in the end zone, and a missed extra point and field goal.
But Ohio State had Troy Smith and Smith had weapons.
Smith used his receivers and his own legs to move the Buckeyes down the field, hitting Santonio Holmes from 26 yards out. Holmes dove into the end zone with 6:41 to play and the extra point made it 21-19. The comeback looked like it might come up short with Michigan driving to the OSU 34. But Wolverine fans looked on in horror as Lloyd Carr turned down a long field goal into the wind and instead had Garrett Rivas pooch punt to pin the Buckeyes deep.
Smith and company took over at their own 12, but now only needed a field goal to win, with 4:18 to play. With the skill of a surgeon, Smith started throwing darts to Ted Ginn Jr. and Holmes, working the Buckeyes down the field. With 40 seconds left, Smith escaped a sack, rolled right and heaved one downfield for Anthony Gonzalez, who made a leaping catch over senior cornerback Grant Mason at the Michigan 4. Antonio Pittman bulled his way in from there, putting Ohio State ahead 25-21 and leaving just 25 seconds for Michigan to answer. They didn't.
It was a tremendous rally, overcoming a double digit deficit in the last seven minutes on the road in The Game and saving a BCS bowl season. The Buckeyes went on to maul Brady Quinn and Notre Dame 34-20 in the Fiesta Bowl to finish 10-2 (7-1).
Enjoy it again:
1/1/97 Ohio State 20, Arizona State 17 (Pasadena)

The 10-1 (7-1) Buckeyes of the 1996 season were one idiotic 13-9 home loss to Michigan from playing for a national championship when they entered the Rose Bowl on the first day of 1997. In the day of split polls, the Buckeyes still nominally had an outside shot at a title with a win over the No. 2 Arizona State Sun Devils and a slim Florida win over No. 1 Florida State in the Nokia Sugar Bowl the next day. The Gators would destroy the Seminoles, thus locking Ohio State out of the championship, but nevertheless, the Buckeyes had their own work to take care of.
The Buckeyes actually struck first in this one, taking the lead midway through the first quarter. Stanley Jackson made the most of his inexplicable platoon with Joe Germaine by hitting David Boston for the game's first score. Arizona State answered before halftime with a pass from Jake Plummer to Ricky Boyer that he appeared to trap in the end zone. The play counted as a touchdown and it was 7-7 at the break.
The Sun Devils grabbed a 10-7 lead in the third but Ohio State countered right away with Germaine hitting Demetrious Stanley for a 72-yard score, going back in front, 14-10.
So why is this game a comeback?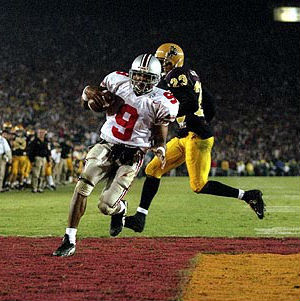 Arizona State blocked Josh Jackson's field goal attempt, with the Buckeyes trying to go up by seven. The Sun Devils ran it back for a score, but it was nullified by a forward lateral to Derrick Rodgers on the return. But Arizona State had the ball and Plummer had a national championship on his mind. He drove his team down the field and dove into the end zone with just over a minute and a half remaining to put the Sun Devils ahead, 17-14.
Germaine wasn't finished though. With 1:33 left, Germaine started on his 34-yard line. After a couple misses, he found Stanley for a first down. A couple more misfires and he hit Stanley again to move the chains and cross midfield. Another Stanley catch took it inside the 30 and stopped the clock. Next came a pass interference penalty on Jason Simmons for another first down.
In fact, that became Arizona State's strategy. They got away with the next one on Stanley, but the follow-up was called (on Marcus Soward this time) and Ohio State had a first down and goal at the 5-yard line. From there, Germaine found Boston for the game-winning touchdown.
It wasn't the largest deficit, but the time remaining and the size of the game—the Rose Bowl against the No 2 team in the country—make it a comeback to remember. Finally, John Cooper brought us the Rose Bowl victory we'd been waiting for him to deliver.
Here's the Drive-Thru version of the game.
---
Those have my vote for top rallies. Which would you pick?