With a little over two and a half months until the Scarlet and Gray kick off against Navy, consider the collective chops of Buckeye Nation licked. Fans of the program are shifting their gaze to the upcoming season, starting to analyze matchups, mark calendars, buy tickets and of course…rub the lamp of the Great College Football Genie.
What? You've never done that? I'm gonna chalk it up to you not knowing it was an option. Every year the Great College Football Genie grants 13 wishes. Since you guys didn't know about it, I'll take care of all of ours this season.
Wish No. 1 Halt Offseason Woes

The Memorial Day plague on our house struck again this year, claiming two more victims. It's a long and winding offseason, but I'd like to see the rest of it go off without a hitch. No more trouble, no more stupid mistakes and no more suspensions or dismissals. Let's see the Buckeyes enter the 2014 season at full strength (or as close to full as possible, I see you Noah Spence).
Wish No. 2 Grant Them Good Health Against The Midshipmen

This request is a little more trying than it might seem on the surface, but I know you have the power to grant it Great College Football Genie. You see, Navy runs a pretty scary offense, particularly for the knees of defensive linemen. If you could find it in your greatness to see the Buckeye defense through this trying test unscathed, I don't know how I'll repay you, but I will Great College Football Genie…oh I will.
Wish No. 3 Give Columbus The Loudest Crowd in the Country Against Va. Tech

The Buckeye opener is in Baltimore, so the first home game of 2014 will take place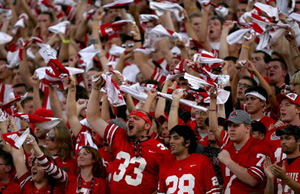 against Frank Beamer's boys. The Hokies will roll into Columbus looking to flex a little ACC muscle, but they'll be forced to do so with an inexperienced QB. Mark Leal, a redshirt senior, has the most game action of the unit, tossing just four passes during the 2013 regular season. He'll compete against Brenden Motley, Andrew Ford and Texas Tech transfer, Michael Brewer, for the starting gig. Whoever gets the nod should have to operate their offense without the ability to hear a thing. This is my third wish GCFG.
Wish No. 4 Continue the Streak

Ohio State hasn't lost a football game to another Ohio School since 1924. Can we continue this success against Kent State? Thank you Great One.
Wish No. 5 (See wish No. 4…does this count as two separate wishes? Just checking.)

Same here against Cincinnati. Thanks. Please see note above about wish count. Just want to clear that up.
Wish No. 6 Grant Grant the Confidence

Doran Grant will go against one of the finest wide receivers in the conference (country?) in Maryland's Stefon Diggs. Allow him to step up to the plate and show Buckeye Nation he's the next great thing at corner. He'll bring the talent, you deliver the confidence.
Wish No. 7 Introduce Rutgers To Noah Spence

Due to suspension, Spence's first B1G home game will come against the Scarlet Knights. Allow him to celebrate in style, going off on Rutgers' running game, which ranked 100th in the nation a year ago, averaging just 129 yards a contest. There's only room for one Scarlet in the B1G East. Give Spence the tenacity to show them which one can stay, and which one can take a hike.
Wish No. 8 Make Christian Hackenberg Feel the Loss of Allen Robinson

Star Nittany Lion wide receiver, Allen Robinson, was selected in the second round by the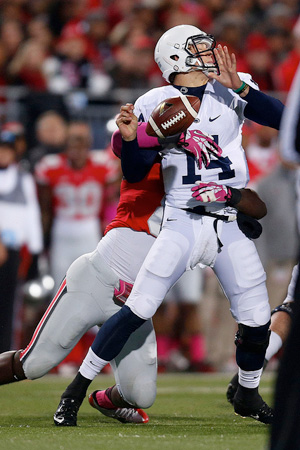 Jacksonville Jaguars. His departure means 97 receptions, 1,432 yards and 6 touchdowns are walking out the door. To put things in perspective, the leading returning wide receiver caught just 18 passes total in 2013. Quarterback, Christian Hackenberg, is talented, but even with Robinson he had a bear of a time against the Buckeyes last season. This year he gets the Scarlet and Gray in Happy Valley, but allow him to feel the heat of not having a safety net. Much obliged.
Wish No. 9 Allow Elliot To Go Hyde on Illinois

The Fighting Illini ranked 116th in rush yards allowed last season, giving up 238 rush yards a game. You might remember a certain Buckeye taking advantage of that porous defense last year. This season it'll most likely be Ezekiel Elliot getting the carries so please allow him to channel his inner-El-Guapo against Illinois. Thank you in advance.
Wish No. 10 Open Up the No-Fly-Zone  

Michigan State's No-Fly-Zone made things incredibly difficult for Braxton Miller last year. The two-time Silver Football winner completed just 8 passes for 101 yards (his lowest output of the season) in the B1G championship game. I don't want a repeat of that performance. Clear Braxton for take-off and give him one of the most efficient passing-games of his career.
Wish No. 11 Avoid The Trap

Since you'll be granting No. 9, the Buckeyes should be coming off a win heading into Minneapolis. On paper this looks like a win, but that's exactly what I want the Scarlet and Gray to avoid. Give the Buckeyes the presence of mind to recognize this is clearly a trap game. With that mental clarity, there's no doubt they'll leave Minnesota unscathed.
Wish No. 12 Keep It Real

This one's not too difficult. Let Ohio State be Ohio State, let Indiana be Indiana. The rest should iron itself out.
Wish No. 13 Just Win Baby

Last but certainly not least. Allow the Buckeyes to get their 11th win against Michigan in 13 years. I don't care how you get it done. A Gardner melt-down, a Hoke misstep (due to lack of head-set?), or the Buckeye defense completely shutting down the Wolverines to make up for a poor performance last season.
BONUS WISH (assuming extra wish based on note from wish No. 5)

Grant Brady Hoke a contract extension.
---
Thanks Great College Football Genie. Pleasure doing business with you.