On Nov. 8 1971, one of the greatest rock albums of all time was released—the mighty Led Zeppelin IV. Behind the power of songs like "Black Dog" and "Rock and Roll," as well as the magical "Stairway to Heaven," Zep's fourth album soared into music immortality.
While the masses were still discovering this shockingly good album—just 12 days after its release—a boy was born in Bellaire, Ohio, who would end  up "Going to California" as a college football player.*
*Unfortunately not to Pasadena, though. He would have to be content with San Diego and the 1993 Holiday Bowl.
Joseph Scott Galloway made Ohio high school sports his personal playground. Young Joey became a multi-sports star at Bellaire High — a school practically in Wheeling, W.V. — at the end of the 1980s and dawn of the 1990s. As a senior, he was an all-Ohio basketball star and won the state 100- and 200-meter events in track. Oh, and he also racked up 600+ yards and eight touchdowns receiving on the gridiron.
His career at Bellaire was a stellar one — 108 catches for 2,332 yards and 27 touchdowns. He was a three-time all-conference and All-Valley selection, and a second-team All-Ohio (Division III) player his senior season. He led his Big Reds to an OVAC 3-A football championship with a 9-1 record his junior year.
As a point guard his Big Reds hoops teams captured three Ohio Valley Athletic Conference titles.
Galloway's athletic ability, particularly his speed, piqued the interest of many college football programs, but John Cooper landed him at Ohio State, and he became a Buckeye in the fall of 1991.
FRESHMAN YEAR
Starting receivers Brian Stablein and Bernard Edwards didn't really put the fear of God into anyone in 1991, so it's not surprising that Joey saw the field as a freshman. Galloway played in 12 games for the 8-4 (5-3 in the B1G) Buckeyes, catching 14 passes for 255 yards and his first collegiate touchdown.
He also averaged more than 10 yards rushing, carrying three times for 31 yards. The season ended in a disappointing 24-17 loss to Syracuse in the Hall of Fame Bowl in Tampa, but the future looked very bright for the young speedster from Bellaire.
SOPHOMORE YEAR
Galloway's bid to break out as a sophomore fell short due to a season-ending knee injury. Stablein and Chris Sanders did all the heavy lifting at receiver without Joey in the lineup. He played in only two games in 1992, catching three passes for 24 yards. He carried once on a reverse for an electrifying 50-yard touchdown in a 20-19 opening day win over Louisville.
But his injury cost him almost his entire sophomore season. The Buckeyes finished 8-3-1 (5-2-1 in the B1G, including the dreadful 13-13 home tie against Michigan in The Game).
JUNIOR YEAR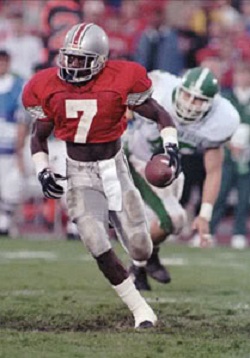 1993 would become the year "When the Levee Breaks" for Galloway at Ohio State. The Buckeyes started the season strong, winning their first eight games — including a 63-28 win in Pittsburgh that Mark May still hasn't gotten over. Galloway became the starting split end opposite flanker Chris Sanders.
He put together a masterful junior (redshirt sophomore?) campaign, catching 47 passes for 946 passes, narrowly missing the 1,000-yard receiving mark. He also tied Cris Carter's season record with 11 touchdown receptions (since surpassed a few times). He ran the ball nine times for 58 yards and two more scores.
His performance against Michigan State on Oct. 16 was phenomenal. Joey posted 186 receiving yards and caught three touchdown passes in a 28-21 win. A few weeks later Ohio State tied Wisconsin 14-14 at Camp Randall to ruin the perfect season. Two weeks after that, the Buckeyes fell 28-0 in the Big House before finishing the year with a 28-21 win over BYU in the Holiday Bowl on Dec. 30. Ohio State finished 10-1-1 (6-1-1 in the Big Ten) and watched the Badgers go to the Rose Bowl because of the tiebreaker rule.
But Galloway had arrived, earning All-Big first-team honors.
SENIOR YEAR
I'm honestly not sure if Galloway was listed as a senior or a redshirt junior due to the knee injury his sophomore year, but let's go with senior. Galloway and Sanders returned as the starting receiving duo in 1994. Bobby Hoying was back at quarterback and the tailback position went from Raymont Harris to Eddie George. It seemed like 1994 would be a step up. It wasn't.
The Buckeyes finished 9-4 (6-2) and got waxed 63-14 in Happy Valley by league-winning Penn State. Joey finally got a win over Michigan though, in a 22-6 affair at the Shoe, before falling 24-17 to No. 6 Alabama in the Florida Citrus Bowl (HURRR S-E-C, S-E-C, right? Ohio State was ranked seven spots lower than the Tide that day and lost by one score.).
Galloway led the Buckeyes in receptions (44) for the second season, racking up 669 yards and seven touchdowns. He rushed 12 times for 52 yards and another score. He also stepped up his return game, averaging 10.6 yards on 16 punt returns and averaging 25.7 on 18 kickoffs, taking one to the house.
LEGACY
Galloway ranks 12th on Ohio State's career receptions list (108), ninth in receiving yards (1,894) and fifth in TD receptions (19). He was a first-team All-Big Ten performer in 1993 and a second-team all-conference selection in 1994.
THE LEAGUE
The Seattle Seahawks selected Joey eighth overall in the first round of the 1995 NFL Draft. It was a great pick by Seattle. Galloway broke multiple franchise rookie receiving marks with 67 receptions for 1,039 yards and seven touchdowns. He also ran for one score and was a consensus NFL All-Rookie selection. He played four more seasons in Seattle, topping the 1,000-yard mark twice more. He was traded to Dallas for two first-round in February of 2000.
Galloway tore his ACL in his Dallas debut, after four receptions for 62 yards and a touchdown. He returned healthy in 2001 and played three more years in Big D, catching 147 more passes for 2,279 yards and 11 scores. His best season with the Cowboys was 2002 (16 games, 61 receptions, 908 yards and six touchdowns. In March of 2004, Dallas traded Joey to the Buccaneers for Keyshawn Johnson.
Joey revived his career in Tampa Bay, playing five years with the Bucs from 2004-08 and returning to the 1,000-yard mark three straight years (2005-07). In 2005, he posted career highs in receptions (83) and yards (1,287), and scored double-digit touchdowns (10) for the third time in his NFL career. In Tampa, Galloway played in 66 games and finished with 248 catches for 3,912 yards and 28 touchdowns.
After Tampa, Galloway's NFL career started to wind down. He had a cup of coffee with New England in 2009, playing in three games with seven catches for 67 yards before being cut in late October. Pittsburgh signed him in December of that year but he didn't play for the Steelers. In April of 2010, Joey became a Washington Redskin. He appeared in 10 games in 2010 for the Skins, finishing with just 12 receptions for 173 yards. It was time to hang up the cleats.
It was an outstanding NFL career — 17 seasons, 198 games, 701 catches, 10,950 yards and 77 touchdowns. He rushed for 496 yards and a score. Galloway returned 141 punts for 1,349 yards (9.6 YPR) and five touchdowns. He even threw a pass in 2001 with Dallas, which was complete but went for minus-one yard.
AFTER FOOTBALL
Although he was still playing at the time, Galloway became a co-owner of the Arena Football League's Columbus Destroyers in 2003. Joey was inducted into the Ohio Valley Athletic Conference Hall of Fame in August of 2005.
In 2012, Joey became a broadcaster with ESPN for college football. He has unfortunately been paired with Beth Mowins for much of that time, but his presence at least makes those games somewhat tolerable.
---
Galloway made his mark on Ohio State in a way few players have been able to do. He'll always be remembered as one of the school's greatest receivers and one of Ohio State's all-time fastest players. We'll never forget No. 7.