Last week, Ryan Shazier, Jack Mewhort, Bradley Roby and Johnathan Hankins all had their plaques installed in Buckeye Grove. Soon, a tree will be planted just behind each plaque to complete the honor. 
So how does a player earn a spot among Buckeye royalty like Archie Griffin, Eddie George, Chris Spielman, Jack Tatum, Orlando Pace and Antonie Winfield? The criteria is strikingly simple - be named a 1st-team All-American by at least one major organization during their time in Columbus. 
Ohio State claims 186 1st-team All-Americans meaning Buckeye Grove captures the bulk of the greatest players to do their thing in the Shoe. That said, you might be surprised at the lengthy list of outstanding players who fell short of 1st-team All-American status thus falling short of earning a plaque and tree in one of the most special places on campus. 
Factors such as media sensationalism and years in which the competition for 1st-team All-American honors is more fierce than others can prove to be tough obstacles to overcome in addition to the notion players could simply be just short of great enough to earn elite 1st-team status. 
Interested in trying to determine which ten Buckeyes were the greatest players not represented in Buckeye Grove, I explored the venue and dove into researching the resumes of dozens of the biggest names who fell short of the criteria. 
To give you a feel for the competition, here are a few names that fell short on my list: Matt Finkes, John Simon, John Frank, Cameron Heyward, Antonio Pittman, Santonio Holmes and Luke Fickell. 
With that, I present my top 10 (in no particular order). Let the arguments begin!
JOE GERMAINE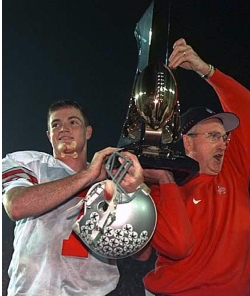 Joe Germaine was a beast. And he would've been even better if not forced to share snaps with a lesser quarterback for two years before straight blowing up as a senior. A virtual nobody as a recruit, Germaine landed in Columbus after a year of juco ball in Scottsdale, Arizona. 
As a senior in 1998, Germaine produced one of the most prolific seasons ever by a Buckeye quarterback on arguably the most talented team in school history. Germaine set 11 school records that fall throwing for 3,330 yards and 25 touchdowns. He also threw for 200+ yards in 10 straight games on the way to earning B1G MVP honors and a place on Ohio State's All-Century Team. 
Germaine's competition for 1st-team All-American honors during his amazing season were Tim Couch (Kentucky), Cade McNown (UCLA) and Michael Bishop (Kansas State) but somehow, none of the various organizations thought his stats were gaudy enough. 
TERRELLE PRYOR
A lightning rod among the fan base for actions that led to his early departure from Columbus, there's no denying Terrelle Pryor's impact on the field. 
In three years in the program, Pryor racked up 57 touchdown passes, good for the most in school history, and his 6,177 passing yards rank 5th. The dual-threat also racked up 2,164 yards on the ground for about five yards a pop and another 17 trips to the end zone. Pryor was also 3-0 versus Michigan and 2-1 in bowls. 
Pryor's 2010 campaign served as his best chance to earn a tree as he completed 65% of his passes for 2,772 yards and 27 touchdowns with another 754 yards (5.6 ypc) and four scores on the ground. He led Ohio State to a 37-7 win over Michigan with a pair of touchdown passes and engineered a win over an SEC foe in the Sugar Bowl throwing for 221 yards and two scores with another 115 yards rushing in a thriller of Arkansas. 
Even with his monster season, the competition for 1st-team All-American honors was steep with names like Andrew Luck (Stanford), Kellen Moore (Boise State) and Cam Newton (Auburn) in the mix. 
BEANIE WELLS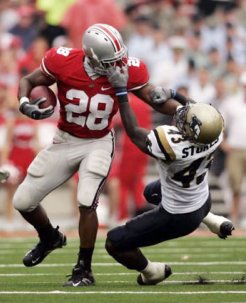 Maybe the most frustrating of the players in my top 10 considering his school record for helmet taps indicating a need to skip the next play, Beanie Wells had a devastating combo of speed, elusiveness and power. It can't be measured but for my money, there's not been an OSU running back quicker or more adept at reaching the line of scrimmage, shuffling laterally in search of a hole, then busting through it with wicked intentions. 
Over his career, Beanie racked up 3,382 rushing yards, good for 4th in school history and his 17 100+ yard outings ranks 3rd behind Archie and Eddie. He also pimp slapped Michigan at every opportunity, going 3-0 with 412 rushing yards on 6.98 per carry with four touchdowns. 
Beanie's sophomore season was his most productive as he rushed for 1,609 yards – good for 4th most in school history – on 5.9 yards per carry with 15 touchdowns. Wells owned Michigan that season with 222 yards on 39 carries, scoring both touchdowns in a 14-3 victory. He went for over 100 yards rushing in nine of 13 games and earned 1st team All-B1G honors but fell short of 1st-team All-American acclaim as guys like Darren McFadden (Arkansas), Kevin Smith (UCF/ Clerks), Jonathan Stewart (Oregon), Rashard Mendenhall (Illinois) and Ray Rice (Rutgers) were slotted ahead of him. 
CARLOS HYDE
A Cincinnati native who landed in Columbus via Naples, Florida after a stint at Fork Union Military Academy, Carlos Hyde was nothing short of spectacular over his final two seasons. 
As a junior, Hyde finished just short of 1,000 yards with 970 on 5.2 a pop with 16 touchdowns but he was just getting started. As a senior, Hyde racked up 1,521 yards – the 7th most in a single-season in school history – on a gaudy 7.3 yards per carry with 15 scores. Like Beanie, Hyde owned Michigan rushing for 146 yards and a touchdown in a 26-21 win as a junior before exploding for 226 yards on 8.4 per carry with a touchdown in a 42-41 win last season. 
Hyde fell short of Buckeye Grove induction as Ka'Deem Carey (Arizona), Tre Mason (Auburn) and Andre Williams (Boston College) swept the 1st-team All-American accolades. 
MAURICE CLARETT
As a true freshman in 2002, Maurice Clarett was probably more responsible for Ohio State's national championship season than any other player. Right from his arrival in camp, Clarett played with a chip on his shoulder, forcing the older players to raise their intensity level to keep up. 
He debuted with 175 yards rushing and another 30 through the air with three touchdowns in a win over Texas Tech then went for 230 yards two weeks later in a win over Washington State, posting what was then the sixth-most prolific rushing performance in school history. 
Clarett, despite battling injury, totaled 119 yards rushing against Michigan with another 35 through the air including a clutch self-called wheel route to set up the winning score. In the national championship win over Miami, Clarett had just 47 yards rushing but scored twice and his well-chronicled strip of Sean Taylor following the 'Cane's pick of Craig Krenzel in the end zone kept momentum on Ohio State's side. 
On the season, despite playing only 11 games (including one with just four carries), Clarett gutted out 1,237 yards and 16 rushing touchdowns with another 104 yards and two scores through the air. 
The competition for 1st-team All-American was fierce in 2002 with Larry Johnson (Penn State), Willis McGahee (Miami) and Chris Brown (Colorado) leading the charge. 
CHRIS GAMBLE
A legit three-way player, Chris Gamble played 38 games at Ohio State, starting 18 on defense and 12 on offense while also starring on special teams. 
An integral part of the 2002 national championship squad, Gamble earned 1st-team All-B1G honors on the strength of four interceptions on defense, 31 receptions for 499 yards on offense and 546 yards on punt and kickoff returns. Decent numbers aside, his contributions weren't easily measured that way as he locked down half the field on defense. Plus, few players looked more sick in the scarlet and gray than Gamble. 
ROBERT SMITH
Depending on which side of the story you want to believe, Robert Smith was either wronged by a shady coach in Elliott Uzelac or a pain in the ass. Either way, his exploits on the field make him worthy of a spot on this list. 
Smith rushed for 1,126 yards as a true freshman with eight touchdowns on a ridiculous 6.4 yards per carry on a bad team. For his career, he averaged 6.0 yards per carry and his 88.4 rushing yards per game ranks 4th in school history. 
PETE JOHNSON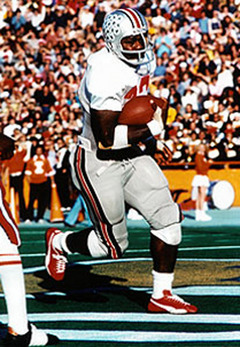 Playing alongside Archie Griffin was a blessing but also caused Pete Johnson to be a tad overlooked by those outside the great state of Ohio. 
Johnson scored six touchdowns as a freshman in 1973 and showed so much promise that Woody moved Bruce Elia from fullback to linebacker in 1974. Johnson responded with six more scores and hundreds of punishing blocks but his game would elevate to beast-mode status as a junior. 
In 1975, Pete rushed for 1,059 yards and led the country with 25 touchdowns on the ground, all while sharing carries with a Heisman Trophy winner. His senior year was no joke either as he compiled 19 scores and 724 yards giving him a school record 56 rushing touchdowns along with 2,308 yards. 
In both '75 and '76, Johnson ran into stiff competition for 1st-team All-American honors with names like Archie, Tony Dorsett (Pitt), Ricky Bell (USC), Rob Lytle (Michigan), Terry Miller (Oklahoma) and Wendell Tyler (UCLA) garnering most of the love. 
JOEY GALLOWAY
Joseph Scott Galloway had wheels for days and is co-captain with Gamble on the All-Looking-Badass-In-Scarlet and Gray team. 
Galloway had his finest season as a junior in 1993 with 47 receptions for 946 yards and 13 touchdowns (2 rushing). He paced the league with 20.1 yards per catch and his 11 receiving touchdowns ranked 2nd. Those stats are even more impressive as they came during another one of Cooper's two-quarterback system deals with Bret Powers sharing snaps with a young Bobby Hoying. 
As a senior, Galloway totaled another 669 receiving yards and eight total touchdowns. 
His junior year was solid but not enough to compete for a 1st-team All-American slot against guys like J.J. Stokes (UCLA), Johnnie Morton (USC) and Ryan Yarbrough (Wyoming). 
MICHAEL JENKINS
Another clutch performer for the 2002 national champions, Michael Jenkins put together a stellar body of work during his years at Ohio State. 
As a sophomore in 2001, Jenkins caught 41 balls for 836 yards, good for a ridiculous 20.4 yards per catch. During the championship season, incoincidentally his finest for the Buckeyes, Jenkins made clutch grab after clutch grab on the way to 61 receptions, 1,076 yards and six scores. Finally, as a senior, he totaled 55 catches for 834 yards and seven touchdowns. 
Jenkins remains the career receiving yards leader at Ohio State and had at least one catch in his last 38 games. 
During his magical 2002 campaign, Jenkins ran into big time competition for 1st-team All-American status including Charles Rogers (Michigan State), Reggie Williams (Washington), Rashaun Woods (Oklahoma State), Nate Burleson (Nevada) and Brandon Lloyd (Illinois).