A native of Langhorne, Pennsylvania, new Penn State head coach James Franklin has been tasked with finishing the re-building job left behind by Bill O'Brien. While many outside of the SEC may not have been too familiar with the former leader of the Vanderbilt Commodores, Franklin has certainly made his presence felt on the recruiting trail since taking over in State College.
By all accounts, Franklin is a natural motivator and beloved by his players, making it no wonder as to how he has achieved so much success on the recruiting trail. While the Nittany Lions are still ineligible to play in a bowl game, stemming from the Jerry Sandusky saga, the NCAA has reduced their scholarship penalties, allowing Franklin to begin laying the foundation for his program.
After winning 9 games in the SEC the past two seasons less top end talent, Franklin will certainly be looking to improve upon the 7 wins posted in Happy Valley last fall. 
Many fans across the Big Ten, and especially next door in the Buckeye state, are curious about what to expect from Franklin's troops once they actually hit the field though. With only 3 moderately successful years as a head coach, preceded by average offensive output while he called offensive plays at Kansas State, Franklin is not known for his schemes. 
However, during his time in Nashville, Franklin benefited from the stability brought by coordinators John Donovan and Bob Shoop, as well as veteran OL coach and running game coordinator, Herb Hand. All three have made the trip north to State College and will be on the sidelines for the blue and white. 
While not known for specific "systems," this group of coaches has done an excellent job of identifying the talent given them, and finding ways for that talent to succeed, averaging 27.9 points per game during their three years in Nashville. They found a way for star pupil Jordan Matthews to shatter the SEC record for career receiving yards, without having much talent at the QB position throwing him the ball. With a handful of future NFL players like QB Christian Hackenberg, and Tight Ends Jesse James and Adam Breneman, the new Penn State staff has a number of pieces with which to exploit opposing defenses.
Additionally, many pieces of Bill O'Brien's offense will translate very easily to the new regime's system, something Donovan even pointed out in his introductory press conference:
"I think they've got a good base the last couple years of learning a pro system. [I] look forward to seeing what they know and seeing how they translate to what we're going to run.

...

"We're multiple, and we'll cater to our personnel. Get our best players on the field, and take advantage of what we have and what the defense gives us."
While the 2014 Nittany Lions won't appear that much different than the 2013 edition, let's take a deeper look at how Franklin, Donovan, and Hand will shape their offensive game plans.
Running Game
The running game of the Commodores was shaped greatly by Hand, known not only as a great teacher and technician, but also as one of the most popular assistants in the country. Hand spent 6 years working under Rich Rodriguez at Clemson and West Virginia, but before he could follow his mentor to Ann Arbor, Hand took the job as co-offensive coordinator at Tulsa. 
While in Tulsa, Hand split play-calling duties with another rising star in the coaching ranks, Gus Malzahn. The Golden Hurricane offense put up gaudy numbers during those two years, sending both coordinators and head coach Todd Graham onto bigger and better jobs.
Much like Malzahn's offenses at Auburn, Tulsa ran a handful of basic concepts masked with motions, formations, and personnel changes to keep defenses guessing, while trying to keep the scheme simple for most of their players.
Hand didn't bring many of the motions and formations with him when he joined the Vanderbilt staff in 2010, but did continue to find ways to simplify blocking schemes for his players while still trying to confuse a defense.
Today, Hand relies on the inside zone and power schemes found in nearly every offensive system, and favored by Urban Meyer and Tom Herman in Columbus. The Commodores (and now Nittany Lions) also mixed in a fair amount of outside zone as well, but often with a slight twist, the pin-and-pull concept.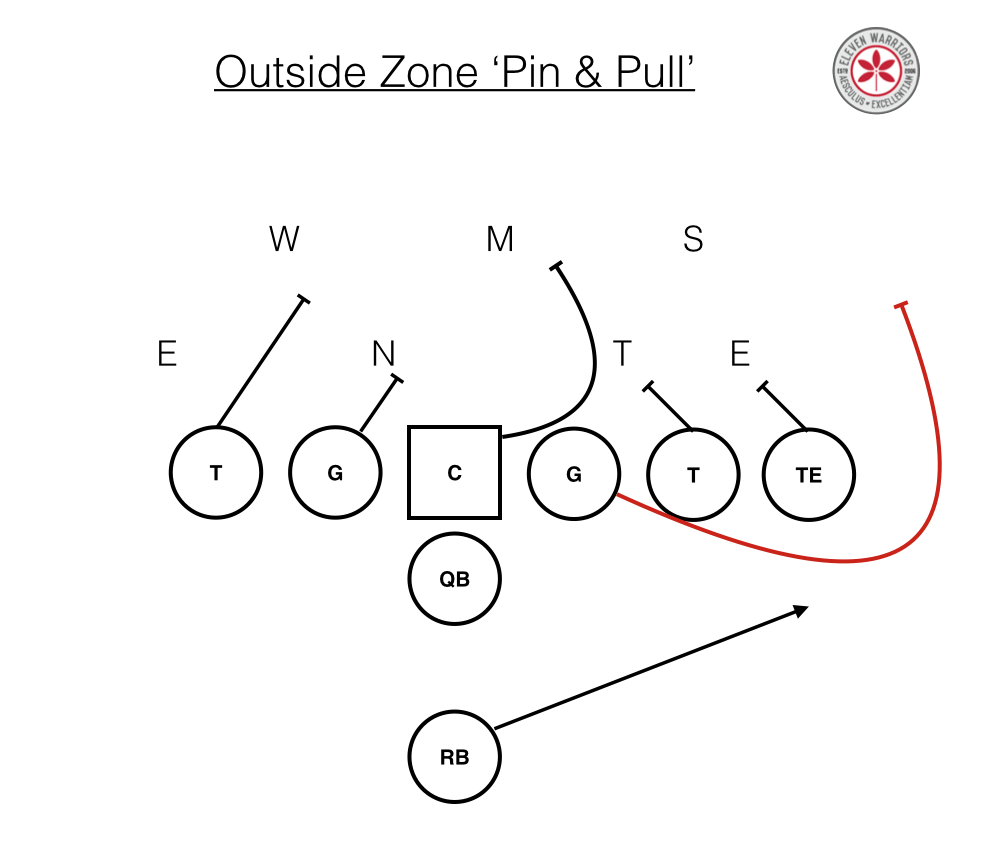 Instead of each linemen taking a lateral step to the play-side, linemen have the ability to call for a pin with the man next to him. If for instance, as in the diagram above, the right guard doesn't think he can reach the defensive tackle, he'll call for the offensive tackle next to him to block down and "pin" the defender inside, taking advantage of the natural angle and leverage already provided from their alignment. The guard will then "pull" and come around behind the tackle to replace him in the blocking of the outside zone scheme.
It's important to note that this is more often a call made by the players at the line, than a called play from the coaches. When executed properly, the effects can be devastating, as shown on this toss sweep that went for a 41 yard touchdown.
Thanks to two crucial down blocks on the end and tackle, as well as a numerical advantage gained from the unbalanced line (a common tactic used by Hand), the Commodores had more than enough blockers at the point of attack when the running back made his cut upfield.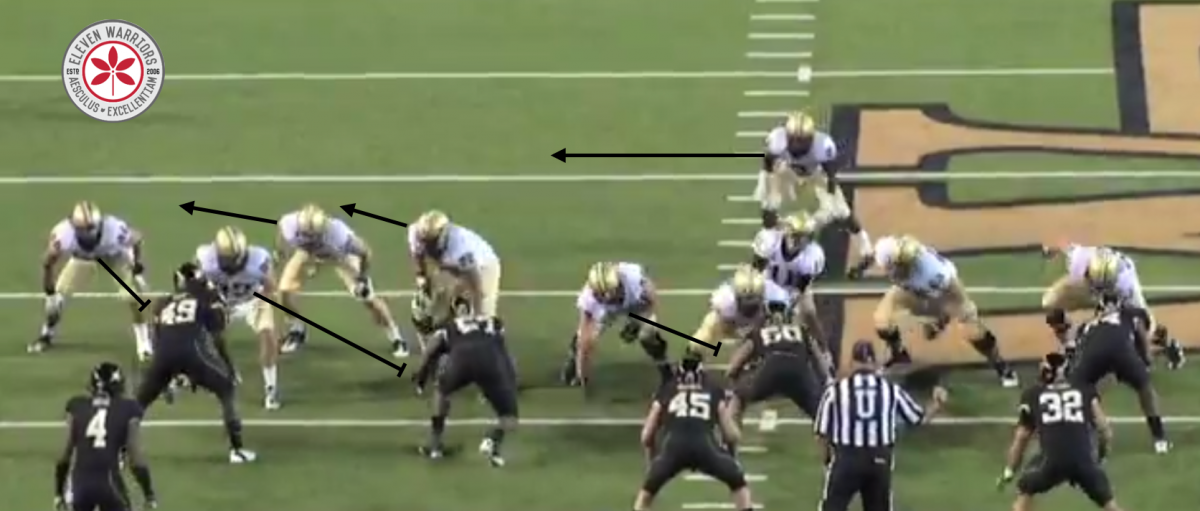 The Commodores did show some trick plays, like reverses and even running the wildcat occasionally, but with the talent gap finally stacked in their favor, Hand, Donovan, and Franklin likely won't have to pull those out as often. What fans can expect to see is a sound, fundamental zone blocking scheme that tries to set up, and take advantage of any weaknesses a defense may show.
To beat a team like this, if often comes down to who can win the one-on-one battles in the trenches. Vanderbilt's losses in 2013 were to Ole Miss, South Carolina, Missouri, and Texas A&M, all of whom have had great success recruiting defensive linemen over the past few years. The Buckeyes are well positioned in 2013 to face a scheme like this, but the ever-looming recruiting battles with Franklin could make a huge difference in the future.
Next week in part 2, we'll take a deeper look into the Penn State passing game, and the development of star QB Christian Hackenberg.