The Ohio State football factory has consistently owned the B1G from a talent perspective for decades, consistently boasting a stock of players selected in the NFL Draft. As of roughly a month ago, no less than 32 Ohio State products dotted active NFL rosters. 
This year, another crop of Buckeyes project to be selected in the NFL Draft, headlined by Ryan Shazier, Bradley Roby and Carlos Hyde. 
Despite the sheer volume of Buckeyes in the NFL, Ohio State could use a boost in actual alum production and the question remains if any of the current big three can help Ohio State stem the tide of flagging NFL stats. 
Curious to define the dropoff in productive Buckeyes at the next level, I took a look at the last four years of Buckeye draft picks in comparison to the four years prior and the data signals a gargantuan dip not in just picks, but in player worth to a franchise. 
NOTABLE DRAFT PICKS: 2006-09


| YEAR | PLAYERS |
| --- | --- |
| 2009 |  MALCOLM JENKINS, CHRIS WELLS, JAMES LAURINAITIS, BRIAN HARTLINE |
| 2007 | TED GINN JR. |
| 2006 | A.J. HAWK, DONTE WHITNER, SANTONIO HOLMES, NICK MANGOLD |
From 2006-09, the Buckeyes produced 27 NFL draft picks with 14 of being skill players. Nine of those selections went on to do varying levels of meaningful damage. 
The 2009 class got its swerve on with three guys emerging as top-level players and a fourth making some noise for a time.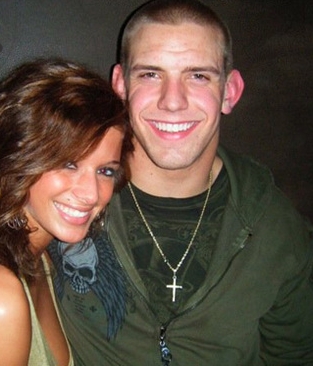 James Laurinaitis highlights the foursome thanks to 80 starts in 80 games and 10+ tackles in five straight seasons. In fact, L'il Animal racked up 142 stops in both 2011 and 2012. Malcolm Jenkins was a 2nd team All-Pro in 2010 and boasts a Super Bowl ring, 358 tackles and six picks on a still-building resume. 
Brian Hartline has emerged as a big-time steal as the 4th round pick (108 overall) produced back-to-back 1,000 yard seasons for the Dolphins becoming just the 8th player in franchise history to eclipse the 1,000 yard barrier even once. 
Beanie Wells was released by the Arizona Cardinals just over a year ago and after his achilles exploded in a workout last October for the Ravens, he might be done. Still, Wells racked up 24 touchdowns and 2,471 yards in four years, averaging 4.0 yards per carry. 
In 2007, Ted Ginn Jr. was taken 9th overall and while he didn't live up to the pick, he has compiled six career KO/PR touchdowns, 7,767 KO/PR yards and last year he posted the 2nd most single-season receiving yards of his career with 556 and five touchdowns for the Carolina Panthers. 
The 2006 was nine deep with four players going off like the mob. A.J. Hawk has totaled five 100+ tackle seasons including two straight while racking up 18.5 sacks, a 2010 Pro Bowl nod and a Super Bowl ring. Donte Whitner has been a staple in the secondary for the 49ers and Bills with 669 tackles, 45 passes defensed and 10 interceptions in eight years. 
Santonio Holmes, while not short on shenanigans, has still managed a Super Bowl MVP trophy, one 1,000 yard season, over 5,900 receiving yards and 36 touchdowns while Nick Mangold has started 126 games as a five-time Pro Bowler and three-time All-Pro. 
The 2010-13 Buckeye draft picks, meanwhile, have yet to make much of a mark at the next level. 
NOTABLE DRAFT PICKS: 2010-13


| YEAR | PLAYERS |
| --- | --- |
| 2013 | JOHNATHAN HANKINS |
| 2012 | MIKE ADAMS, DEVIER POSEY |
| 2011 | CHIMDI CHEKWA, CAMERON HEYWARD |
| 2010 | KURT COLEMAN |
While there is still time for OSU draft picks over the last four seasons to develop, the early returns aren't much to talk about. Just 16 players have been selected, six at the skill positions, with a mere three guys making significant contributions though it's possible a few more could evolve into solid pros. 
Cameron Heyward, a 2011 product, headlines the list after a 59 tackle, five sack season for the Steelers a season ago; his first as a starter. Heyward paced the Steelers with 32 quarterback pressures and the organization recently exercised the 5th-year option on his contract, boosting his 2015 pay to $6.9 million. I'd say that speaks volumes as to what kind of player they think he will become. Teammate Mike Adams has 16 starts in 25 career games though his play has been spotty. 
Johnathan Hankins played in 11 games last season, not yet justifying his 2nd round selection in the 2013 draft. With fellow defensive tackle Linval Joseph signing with the Vikings, Hankins has an opportunity to make a greater impact this coming fall.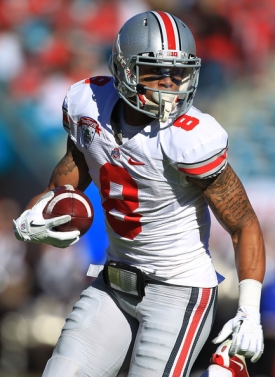 DeVier Posey, a 2012 selection by the Houston Texans (3rd round), bounced back from a torn achilles to record 15 catches for 155 yards last season and if nothing else, teammate Andre Johnson expects Posey to have a breakout year in 2014. 
That leaves just Chimdi Chekwa as the final Buckeye pro over the last four years to still potentially emerge as a solid NFL player. The 2011 product played in a career-high 15 games last season, recording 23 tackles. 
Again, these guys likely have plenty of football left to show they belong but there's little question the last four Buckeye draft classes have fallen well short of the four classes preceding them which brings us back to the 2014 draft hopefuls. 
Ryan Damn Shazier projects as a mid-late 1st rounder and though he's undersized, he could be a force in the right system. 
Bradley Roby, despite a rough final season in Columbus, still has the goods and seems destined for a late 1st round to mid-2nd round pick. 
For my money, Carlos Hyde is the Buckeye with the greatest chance to thrive at the next level. His combination of size and speed along with underrated hands could prove to be multi-year starter quality in the NFL. 
Jack Mewhort and Philly Brown, among others, will also effort to make a squad but all signs point to Shazier, Roby and Hyde as the guys most likely to help give Ohio State a boost when it comes to boasting of recent talent making an impact in the professional ranks.