One of the best features of the annual Ohio State Spring Game since Urban Meyer became head coach is the "circle drill," which takes place at midfield prior to the game.
The basic idea is that two players square off with their teammates gathered around them in a tight circle. At the whistle, each player attacks, with the intent of knocking the other guy on his backside or out of the circle.
As a team, the Buckeyes get fired up watching these individual battles between their teammates. As fans, we are treated to individual gladiatorial battle. It's the Roman Colosseum all over again, only without the death and lions and stuff.
This year it even got a little chippy. These are proud athletes who train hard. No one wants to be the man going down in front of more than 61,000 fans, especially if they've got family and friends in attendance.
The circle drill provides an extra buzz to the Spring Game. It makes one ponder all of the Buckeyes who came before and how they might have fared in such combat situations. I asked Johnny on yesterday's Eleven Dubcast who his dream circle drill participants would be—if any player in Ohio State history could be selected and assuming the players involved would be transported through time in peak condition.
Johnny put up a pretty solid dream circle drill, selecting the intensity and ferocity of Chris Spielman against the never-beaten wrestling skills of former defensive lineman and current assistant coach Luke Fickell.
I have given this a lot of thought, and below I list the five circle drills I'd most like to see. Feel free to talk up your own selections in the comment section at the end of this column.
5. Terrelle Pryor vs. Cardale Jones

Let's start with a couple of large, athletic quarterbacks. Pryor and Jones could play linebacker at many schools. Pryor was listed at 6-foot-6 and 230 pounds coming out of high school. He got more muscular once he arrived at Ohio State and was one of the most intimidating physical specimens to ever play the quarterback position in the Big Ten. Jones is listed on Ohio State's website now at 6-foot-5 and 250 pounds. He may be the Buckeye starter of the future.
The winner: Pryor seems just a bit more athletic than Jones, but Jones might be more physical. In the end, I think Pryor finds a way to get it done, like he did against Iowa in 2010.
4. Orlando Pace vs. Nick Mangold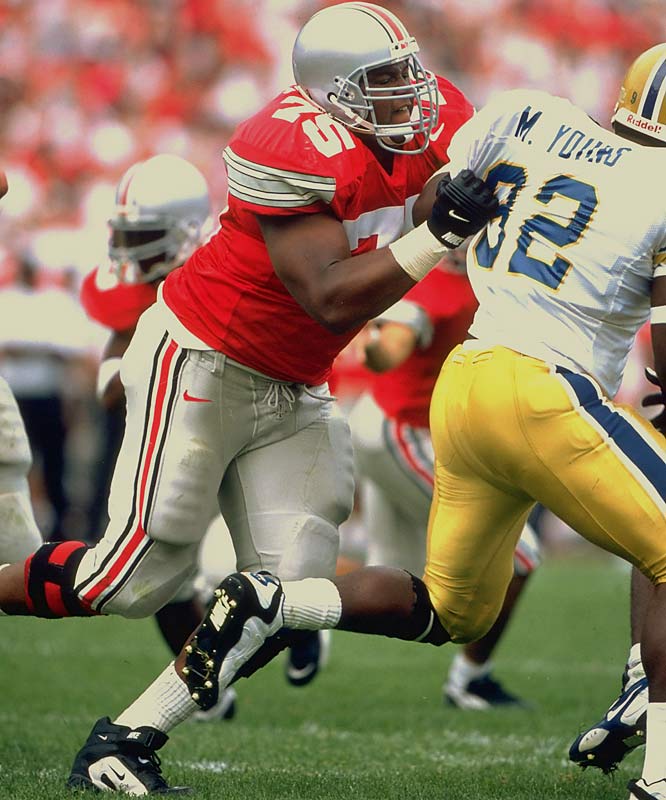 The greatest lineman in Ohio State history against a beast who is currently anchoring down the New York Jets' offensive line. This appears to be a mismatch on paper. Pace is much larger than Mangold (6-7, 323 to Mangold's 6-4, 300), with tremendous power and surprisingly quick feet for such a big man. Mangold is quick, wily, and good at reading what his opponent is going to do. He would need every bit of cleverness to try to take down the Pancake Man.
The winner: Former Outland Trophy winner Pace—by pancake, of course. But the force of these two guys colliding might knock over the William Oxley Thompson statue in front of the Main Library.
3. Jack Tatum vs. Mike Doss

Two of Ohio State's most popular and hardest hitting safeties, squaring off in the center of an ocean of Buckeye teammates. What could be better? The collision would register on the Richter Scale. It's pretty weird to think that Tatum, who was National Defensive Player of the Year in 1970, could have been a running back if not for Lou Holtz talking Woody Hayes into a defensive back. Doss was a three-time All-American and returned for his senior season to win a national championship—which he did.
The winner: Both men stood 5-foot-10 and were in the 205-pound range. This is a battle royale, but I think the training methods of the 1980s are too much for Tatum to overcome in the end and Doss takes it.
2. Carlos Hyde vs. Beanie Wells

Seeing El Guapo and Beanie come out of their stances and smash into each other would be amazing. Beanie goes about 6-foot-2, 230 pounds. Hyde weighs about the same but is a little shorter. Both men destroyed defenders who got in their way during college, or jumped over them. Both were very determined. The two of them accounted for more than 6,500 rushing yards during their collegiate careers. This is a slobberknocker waiting to happen.
The winner: I believe Hyde gets lower and wins this one on leverage. Wells ran with a bit higher pad level and relied on his stiffarm of justice. Hyde is a tad shorter while not giving up any weight and his pad level is lower. El Guapo takes Beanie in a classic.
1. Chris Spielman vs. Andy Katzenmoyer

What could be better than two of the most ferocious linebackers in Buckeye history going at it? Spielman is unparalleled in intensity. The Big Kat was chiseled out of granite and could fly. Both were All-Americans. Spielman won the Lombardi Award and Katzenmoyer grabbed the Butkus. Katzenmoyer (6-foot-3, 255 pounds) got to wear Archie Griffin's number and did things like this. Spielman (6-0, 247) was on a Wheaties box as a high school kid, found ways to make plays and was a terrific form tackler.
The winner: Katzenmoyer's size advantage in this matchup seems pretty formidable. But would you ever bet against Spielman? For my money, this one comes down to Spielman using superior technique to take down the more physically impressive Katzenmoyer. 
---
There are countless circle drill matchups that would be incredible to watch when you consider all of the great athletes to ever don the Scarlet & Gray. Which ones would you like to see?