For Urban Meyer, Year Two is typically the year his program reaches its zenith. What about Year Three?
For the first twelve seasons of Urban Meyer's career, a bulletproof narrative formed: Meyer's teams would always excel in Year Two. At Bowling Green, Utah, and Florida, each team won at least ten games. At Utah and Florida he won BCS games, and at Florida his team won the national championship. From that peak, the only way to go is down.
Year Two has come and gone at Ohio State, and it was less than perfect. It was still an excellent season: the 2013 team completed an school record 24-game win streak, won its division, and played in a BCS bowl. However, losses against Michigan State and Clemson made clear that the Buckeyes were no better than the 2012 team that preceded it.
Now comes Year Three of the Meyer Era, and there's no convenient narrative to predict how the season will turn out. What kind of season should we expect?
The Repeat

Meyer has coached only one third-year team before, his 2007 team at Florida. The epitome of a team better than its record, the Gators were a top five team that finished 9-4 because of a tough schedule and bad luck. They did manage to beat a top ten team (Kentucky – no, seriously) and land in the Capital One Bowl, where they lost to Michigan in Lloyd Carr's final game.
The weird thing about the 2007 Florida season is that it already has a copy in Ohio State's 2013 season. A dynamic, Heisman-contending quarterback (Tim Tebow/Braxton Miller) led a potent offense, aided by an equally dynamic runner (Percy Harvin/Carlos Hyde). A porous pass defense with heaps of talent held back the team from its true potential, and the team finished the year with a surprising bowl loss (Capital One Bowl/Orange Bowl) against a school they figured they ought to beat (Michigan/Clemson). Odds are, the same thing won't happen again in 2014.
The Historic Struggle

Twenty-four men have coached Ohio State football. Of those, thirteen coached for three or more seasons. For the most part, their third years were crapshoots.
OSU Coaches in Year Three


| Coach | Year | Record |
| --- | --- | --- |
| Alexander Lilley | 1891 | 2-2 |
| Jack Ryder | 1894 | 6-5 |
| Dr. John Eckstorm | 1901 | 5-3-1 |
| Albert Herrnstein | 1908 | 6-4 |
| Dr. John Wilce | 1915 | 5-1-1 |
| Sam Williman | 1931 | 6-3 |
| Francis Schmidt | 1936 | 5-3 |
| Paul Brown | 1943 | 3-6 |
| Wes Fesler | 1949 | 7-1-2 |
| Woody Hayes | 1953 | 6-3 |
| Earle Bruce | 1981 | 9-3 |
| John Cooper | 1990 | 7-4-1 |
| Jim Tressel | 2003 | 11-2 |
| Urban Meyer | 2014 | ? |
 Judging by the historical record, there's little correlation between the quality of the coach and how their third season went. Francis Schmidt and Paul Brown are well-esteemed coaches, but their third teams went 5-3 and 3-6 respectively. Nobody would call Wes Fesler an superlative coach, but his 1949 team went 7-1-2 and won Ohio State's first-ever Rose Bowl. Woody Hayes had a decent, unspectacular team in 1953; the next year, they won a consensus national title out of nowhere.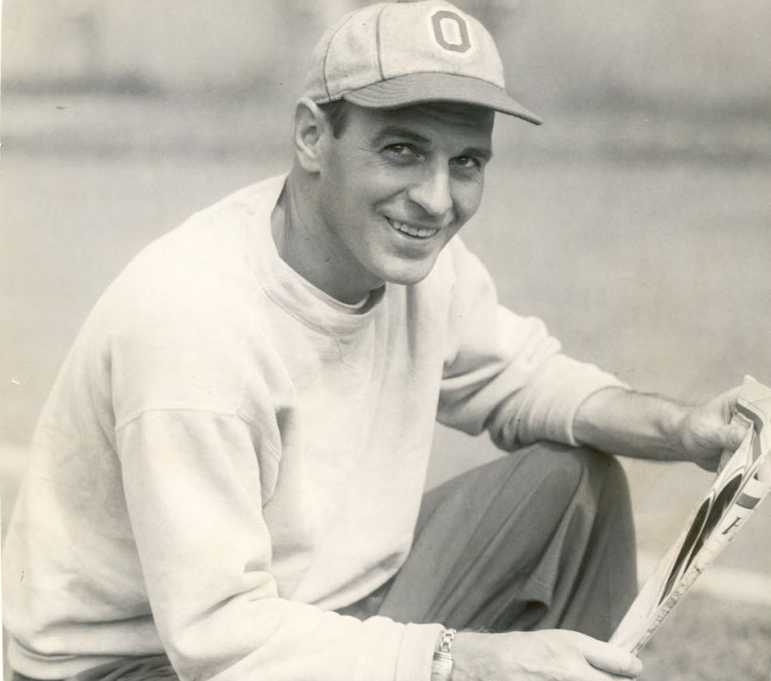 More recent coaches have had more success; coaches from Wes Fesler to present have a winning percentage of .733 (40-13-5), while the coaches from Alexander Lilley through Paul Brown won .582 of their games in their third year (38-27-2). But even those coaches' teams are far from their best. Earle Bruce fired most of his defensive staff at the end of the 1981 season, and Jim Tressel's defending national champions needed a 100-yard interception return to squeak by San Diego State in 2003.
In this scenario, 2014 could range anywhere from 6-6 to 11-1, depending on the whims of fate. Seeing as how most coaches' teams were a little worse in Year Three than the year before, mark this as an 8-4 or 9-3 season and hope for something different.
The Muschamp

Year Three is the first time a coach can really call a program his own. A coach has control over the team during the first two seasons, but it's only when the new guy's players outnumber the old guy's players that he bears total responsibility for the team. Three years the bare minimum time a coach needs to fix a bad situation; after that, the thinking goes, there's no more blaming the previous guy for the mess and the new guy is on the hot seat. Will Muschamp's situation at Florida makes a wonderful illustration of this.
From the moment Urban Meyer left Florida until the start of the 2013 season, all Florida media could talk about was Meyer "leaving the cupboard empty" for Muschamp. It was a convenient excuse for an 8-5 season in 2011, and even more so once Muschamp took the 2012 Gators to the Sugar Bowl.
By 2013, though, the program was definitively Muschamp's, and even those who hated Meyer couldn't blame him for Florida losing to Georgia Southern. Florida fans, who had not experienced a losing season in decades, took the 4-8 record about as well as a toddler takes bedtime.
Unlike Will Muschamp, Meyer has achieved enough to be safe from any off-season insurrections next year. If Florida's boosters are antsy enough, they could fire Coach Angry just like that. That's not how Meyer's 2014 is going to play out.
The Pressure Cooker
Ohio State has a 90-year-old reputation for fickle support, dating back to 1928, when a group of boosters ousted Dr. John Wilce to the dismay of coaches nationwide. As they hounded him, the president of the Ohio State University Association noted that many of them, "with tears in their eyes asked [him] to do something" when Wisconsin tried to hire him away a few years before. Wilce's departure (and Francis Schmidt's, and Wes Fesler's, and Earle Bruce's, and others) helped to develop Ohio State's reputation for being the "graveyard of coaches".
Meyer won't have problems with fan or local media support. The problem may be the stress of the job, which is enough to try any healthy man. Otherwise, the program is in strong shape: his recruiting has been gangbusters over the past three years and he has had strong staff continuity. His 24-2 record through two years has left Ohio State in a strong position, so even a disappointing season won't be the end of the line.
The concern for Meyer is that the stress of the season, no matter how well or poorly Ohio State plays, causes medical issues that force him to step away from the job. Considering the caution Meyer has taken from day one at Ohio State and his increased delegation to assistants, this scenario seems unlikely.
The Dream Scenario

15-0, Big Ten title, national champions, Braxton Miller wins the Heisman Trophy, and everyone gets a pony. Nobody said the Year Three expectations had to be realistic.
Though Ohio State fans want Year Three to be Meyer's best year yet, there's no promise that it will be. It's hard to go 12-2, let alone 15-0. There's a good chance his team will regress, like many Buckeye coaches' teams have.
Judging by the program's history, a good season to be in the works. Rather than holding the 2014 season up to create some historical narrative, maybe we can shut up and enjoy Year Three for itself.