After Ohio State's college basketball season ends, the college football offseason ends and the preseason begins. We are still closer to the end of Ohio State's 2013 season than we are to the beginning of the 2014 season, but the spring game is next Saturday. We are looking forward more than we are looking backward.
During this time, fan discussion focuses on the next big names to carry the football program into the present and near future. This is germane to Ohio State as Meyer will guide a transition from a mostly junior and senior-heavy program that he inherited in 2012. One commonly discussed name is Josh Perry. A large and athletic linebacker, he looks to thrive as a junior and second year as a starter. 
The other name that has gained currency in the past few weeks is Darron Lee, another linebacker. Lee was a high school quarterback and factored into the "star" rotation before he redshirted his first year on campus. He has been a name championed by Chris Ash. The new defensive coordinator said Lee is "a prime example of what good coaching can do." Urban Meyer has said he is a player on the rise.
Two familiar names for Ohio State's defense this spring come from unfamiliar places. Both Perry and Lee graduated from Central Ohio high schools (Olentangy and New Albany, respectively) unaccustomed to placing its football alumni at big programs across the country, let alone nearby Ohio State.
Their rising fortunes in the program is a unique contraposition to the usual makeup of Ohio State football. Football talent clusters in the North and South of the state. Ask the average person to describe Ohio and they might see two Ohios with two poles in Cleveland and Cincinnati. Politically, culturally, and economically, the two have important differences even if they get exaggerated within the context of professional sports rivalries. It masks the diversity of Appalachian Ohio and peculiarities of Toledo and Youngstown, but it is a useful heuristic for describing Ohio.
As the state university of Ohio and embodiment of the state ethos and identity, the football program at The Ohio State University is mostly a synthesis of talent from the North and South of the state. The Ohio State University, and Columbus in general, is a middle ground or reconciliation of the thesis and antithesis of Northeast and Southwest Ohio (in whichever order you prefer).
This manifests in the composition of the football program. Excluding out-of-state talent usually from Georgia, Florida, and the Mid-Atlantic, Ohio State football is used to getting players from Northeast and Southwest Ohio. Glenville has a long-running tradition of sending its alumni to Ohio State. McKinley and Massillon had a stronger tradition through the 1990s, though alumni still accept scholarships to Ohio State. Catholic schools in Cleveland like St. Edwards and St. Ignatius send talent to Columbus as well. Youngstown prep stars also come to Ohio State.
The balance of power for high school football may have shifted south in recent years. Colerain, St. Xavier, Elder, and Lakota West all come to mind as some of the best programs in all of Ohio, let alone Southwest Ohio. The Dayton area regularly produces talent that arrive at Ohio State as well, including our current starting quarterback and Heisman hopeful.
Central Ohio is less a feeder to Ohio State football despite housing Ohio State football. In fact, I think some fans see Columbus as a gateway to Ann Arbor. The infamous Marcus Ray comes to mind. Michigan even signed three prospects in its 2013 recruiting class who call Columbus home. Two of them (Jake Butt and Taco Charlton) were Ohio State fans in their youth.
This is not to discount that Central Ohio has produced talent for Ohio State, just that it plays less a role in the composition of the team. The two Pickerington schools (Central, in particular) and two schools in Dublin (Coffman and Scioto) produce a large share of the Columbus-area talent that choose to accept a scholarship to play football for Ohio State.
This makes the career of Josh Perry more interesting. Perry comes from Olentangy High School, a school that opened its doors in 1953 and, to the best of my knowledge, never placed one of its football players on scholarship at Ohio State (at least since 1994, the furthest back for which I have yearly data). I struggle to think of other former Olentangy Braves that have played for big-name programs.
Olentangy High School is far from a football power in the Ohio Capital Conference. Its best record for Perry's four years in high school was a 7-4 campaign in Perry's freshman year that ended in a round one playoff loss to Sylvania. The Braves averaged out a sub-.500 record for Perry's next three years. 
Still, there was something about Perry's athleticism and frame that made him a desirable prospect for Ohio State, despite his meager football fortunes at Olentangy High School. A letterwinner his first year on campus, Perry may have solidified himself as Ohio State's strongside linebacker for the next two years and as a three-year starter overall.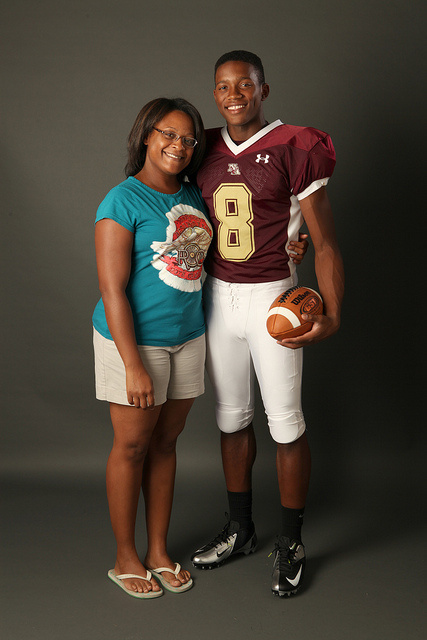 Perry can at least claim to be a lifelong local boy who loved the Buckeyes. Darron Lee's path to Ohio State was even more unlikely. To recap, Lee arrived in Columbus with his mother, Candice Lee. Candice Lee is a news station anchor who had previous stops in Baltimore, Chattanooga, and now works for NBC4 in Columbus. 
Lee had no bond with Columbus or Ohio State before arriving from Chattanooga. However, he grew to love the area and aspired to represent the community in an Ohio State football uniform. Luke Fickell championed his cause to Urban Meyer, who eventually extended an offer that Lee was quick to accept.
That New Albany was his Columbus-area home is unique. It stands to reason that the Lees settled in New Albany because it was a nice community outside the 270 loop that circles Columbus proper. It was also about a half hour commute on 270 and 315 to NBC4's studios on Olentangy River Road. The quality of the football program and its ability to place alumni well played no role.
Indeed, since New Albany High School opened its doors in 1996, no alumnus accepted a scholarship to play football for Ohio State. It is difficult to locate many alumni who have played in the Big Ten or anywhere else of note.
Perry and Lee's respective rises to prominence from off the beaten path high school football programs are unique, but not without some precedent. Dimitrious Stanley comes to mind. He arrived at Ohio State from Thomas Worthington High School to play football at a school where his dad was a long-time assistant coach. St. Francis DeSales gave us Gary Berry and Luke Fickell in the mid-1990s, though I think the quality of DeSales football was greater in the 1990s than it is now.
Perhaps even the smiling face of Ohio State football himself, Archie Griffin, had a similar trajectory from Eastmoor High School. That said, I wish I knew more about the quality of Eastmoor football in the late 1960s before mentioning his name.
Perry and Lee's cases are unusual, perhaps even unexceptional since the overall product is what ultimately matters. Still, their new prominence on Ohio State's defensive two-deep gives a face to the Central Ohioans currently attending The Ohio State University or those that have since graduated. Grove City, Gahanna Lincoln, Hilliard Darby, Olentangy Liberty, and Reynoldsburg High School grads (among others) do not place their football alumni at Ohio State on scholarship, but their high school graduates come to Ohio State as students all the same.
Joshua Perry and Darron Lee are easy players for Central Ohioans to cheer as they thrive in Ohio State's football program.