Kyle Rowland wrote earlier this week about Dontre Wilson's desire to be more involved in the Ohio State offense, getting his hands on the football more than the 31 rushes and 22 receptions we witnessed in 2013. One of the key reasons that Kyle highlighted for Dontre's lack of playing time was his inability to settle in at a specific position, splitting time between running back and wide receiver.
This Spring, however, Wilson finds himself as the starting "H" receiver, lining up most often in the slot. As has been the case since he committed to play for Urban Meyer, Wilson has regularly compared to former Meyer pupil, Percy Harvin, who manned the same spot during his time in Gainseville.
However, as Meyer had this to say about the talented Mr. Harvin: 
"I don't use that term 'Percy Harvin' very loosely because there's only probably one of him, but we like Dontre," Meyer said. "That hybrid position is really a key guy."
Barring injury, Dontre will most certainly not be the best player on the Ohio State offense next fall. That title lay squarely on the shoulders of the guy in the #5 jersey. As long as he is in Scarlet & Gray, Braxton Miller will still be the focal point of the OSU offense, with a game-plan built to best utilize his talents, both running and passing the football. Wilson will be counted on to keep defenses from focusing solely on Miller by using his speed to stretch a defense horizontally.
In 2013, Dontre Wilson contributed to that game-plan by motioning in and out of the backfield, creating a distraction so that Braxton Miller or Carlos Hyde had fewer eyes on them as they moved the ball. OSU force-fed him the ball early in the year (13 rushes and 7 catches during the first 3 games), simply so teams had to watch out for him when he was on the field.
But you all know this already. Ross, and others, have broken down the 2013 OSU offense at length.  What you want to know is, "how will they actually get Dontre the football in 2014?"
As much as I like to pretend otherwise, I am not Tom Herman. I will not be calling the plays in Ohio Stadium this fall (although I'd like the record to clearly state that I'm open to the possibility), but if I were, Percy Harvin footage wouldn't be the first place I'd turn for ideas.
While in Gainesville, Meyer had a stable of small, fast running backs, including Jeff Demps and Chris Rainey, neither of whom excelled at running between the tackles. As we all know, Meyer turned to another gentleman to handle those duties on a regular basis. Still, Meyer had to find creative ways to run the ball inside.
In fact, Harvin's most successful concept while at Florida was an inside run: 
However, Ohio State's depth chart is stocked at the running back spot, especially with inside runners. As such, simply taking the Florida playbook and replacing Wilson's name for Harvin isn't a seamless solution. So where else should we look?
The next easy comparison to Wilson would be DeAnthony Thomas of Oregon. Thomas is nearly identical in size, and might be even one of the few players that wouldn't balk at racing Wilson in a sprint.
The Ducks utilized Thomas' skills quite often while he wore the Green, Yellow, Black, Gray, White, Liquid Chrome, the other green, and whatever other colors I may have forgotten that Oregon featured during the past three years. Scoring 46 touchdowns in that span, Thomas was a threat as both a runner and receiver.
Most commonly, Thomas carried the ball in Outside Zone, or Stretch, plays that Oregon has for years made the foundation of their offense. However, Ohio State's core running plays are the Inside Zone and "Power" plays, meaning that the offensive line would have to master a new scheme that is not often utilized elsewhere in the offense.
The more likely concept that Ohio State may replicate from Thomas' time as a Duck was when he lined up as one of two running backs on either side of the quarterback, and utilized all three in a triple option play: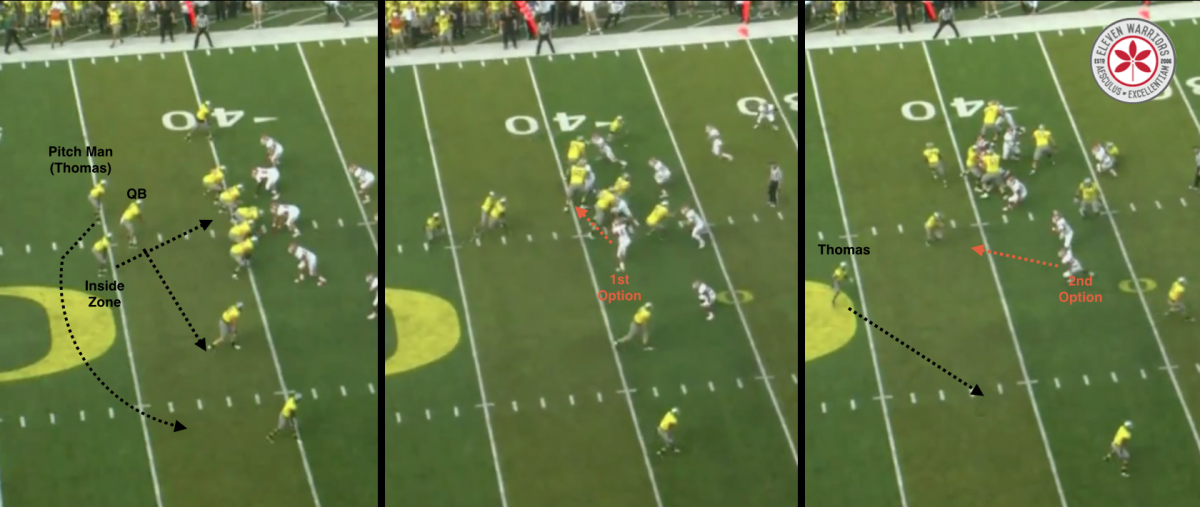 In what has become and extremely popular concept across college football, the offensive line blocks as if it were any other inside zone play. If the quarterback correctly makes his reads, the offense is either given a numbers advantage inside, or has two electric players on the outside that defenses now have to deal with in open space.
Thomas lined up in the backfield quite a bit early on in his career, but later began working out of the slot as his career progressed (sound familiar?). With Oregon's 4 wide receiver formations, defenses often weren't able to match up well will Thomas, as seen below: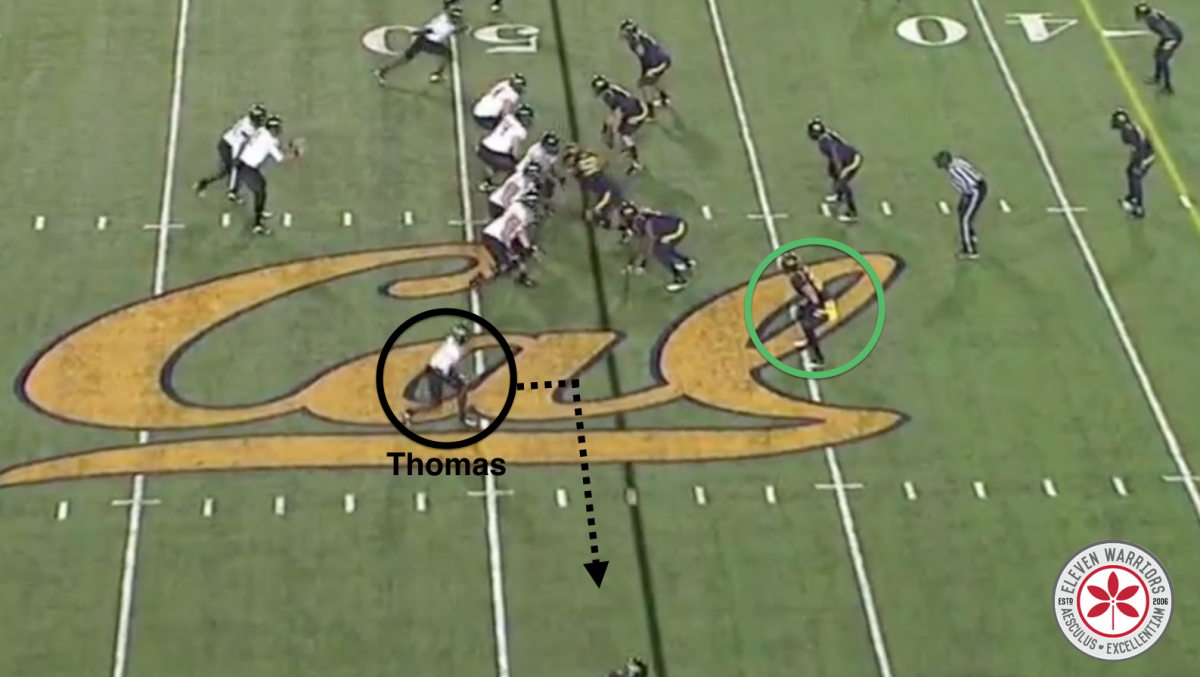 The opposing Defense is operating their base defense in an attempt to hedge their bets against either a run or pass on the first down play. Unfortunately, that means that a linebacker (green circle) is the closest defender to Thomas at the snap. After the outside receiver to his side runs downfield, occupying the cornerback to that side, all that is required from Thomas is to run a short route to the flat, away from the linebacker, and keeping the 5 yard cushion he's already been given, intact: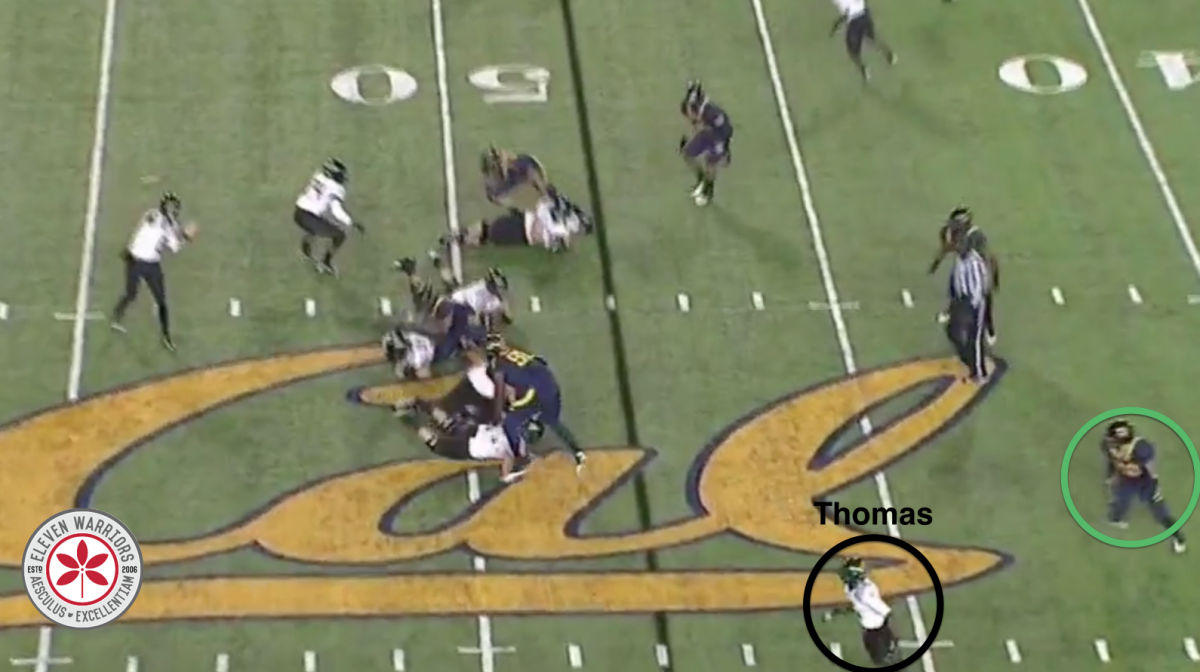 Thomas need not be an expert route runner to exploit situations like this, simply catch the ball in space and turn upfield, where his speed is even more dangerous.
Another creative way Oregon got Thomas the ball was through screen passes. While Ohio State fans are now intimately familiar with how successful a screen pass to the slot receiver may be, Oregon occasionally also ran a number of screens to Thomas while he lined up in the backfield: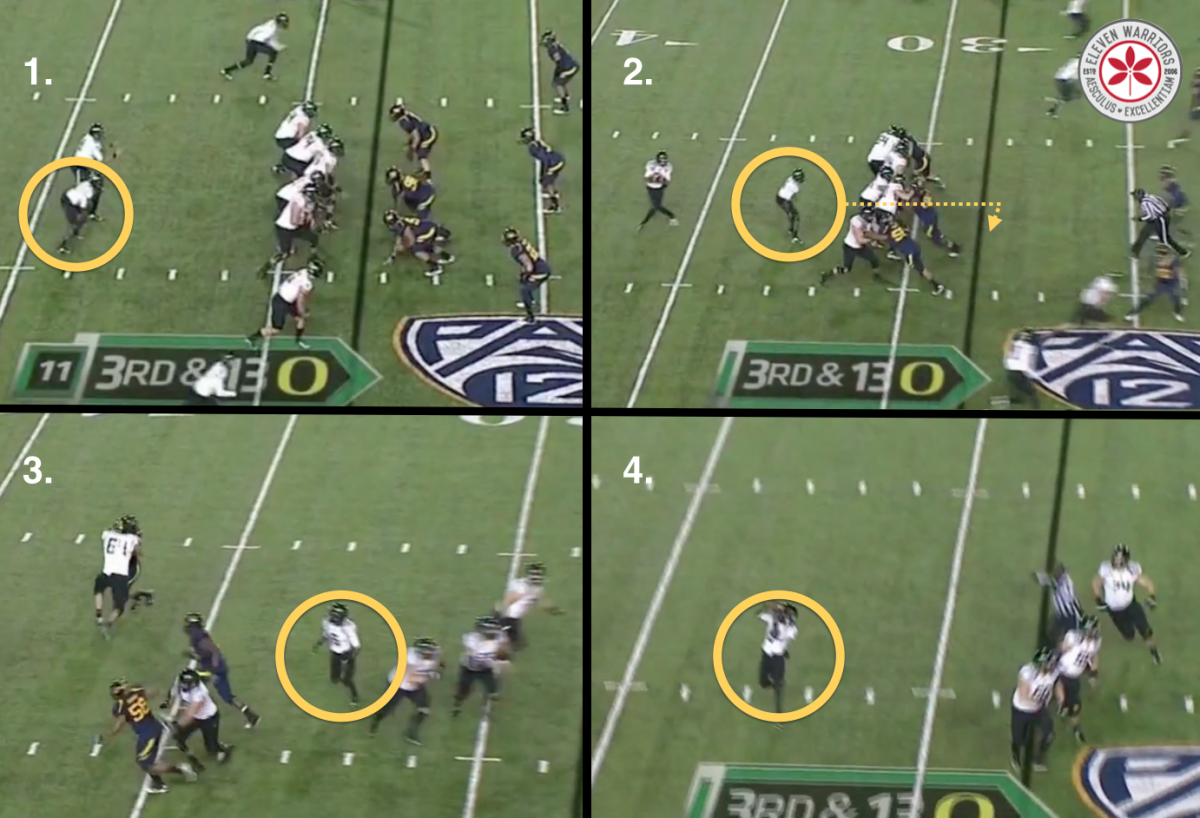 Thomas was blessed with many talents, but great natural route-running and catching ability does not appear to be among them (at least not yet). However, the Oregon coaching staff did a fantastic job of finding creative ways to get him the ball in areas where he could maximize his nearly unparalleled speed and quickness.
To me, however, the gold standard for a collegiate "space player" over the past few years was Tavon Austin. While part of an Air Raid offense at West Virginia that featured multiple NFL receivers and an NFL QB, all eyes often were on #1.
The game that put him on the map for most fans was the 2012 Orange Bowl against Clemson, where he scored 4 touchdowns:
This game sparked a trend that is now seen all over college and pro football: running the jet sweep as a shovel pass instead of a handoff. The reason for the adjustment is in case something goes wrong with the exchange, the play is dead, as it's considered an incomplete pass instead of a fumbled handoff.
This concept should look fairly familiar to Buckeye fans, as it was run not only by Dontre Wilson a couple times last season, but also by Philly Brown in the Orange Bowl. My guess is that we'll be seeing a lot more of it this fall.
What stands out most when watching Austin is his ability to change speeds and accelerate out of cuts, leaving defenders reeling and back on their heels as he runs past them.
The other concept for which Austin is famous is the "Jerk" route:
To the defender, it appears that he is running a slant inside, but after cutting inside, Austin immediately plants his outside foot, completely pivots his body to face back towards the quarterback, and then explodes towards the sideline.
Austin's incredible acceleration allows him to create separation and turn an easy three-yard route into an eight-yard gain.
Ultimately, the goal for any player like Harvin, Thomas, Austin, or our friend Dontre, is to easily get them the ball in places where they can maximize their unique skills. While many concepts within passing playbooks are often attempting to gain an advantage in separation between a receiver and defender of equal athleticism, the goal of many of these plays is to get the ball to a player that clearly has an advantage over his defenders when there is room to run and move.
This is not to say that the existing Ohio State playbook will have to be rewritten to give Dontre Wilson some of these opportunities. As the previous "H" receiver for the Buckeyes, Philly Brown ran a number of different screen pass concepts, as well as became a master of the Option Route from the slot, which became the go-to pass play on 3rd downs in the 2012 season. Brown was a much more polished receiver than we should expect Wilson to be, meaning the number of downfield pass concepts that will go his way is likely to be limited in the early part of the 2014 season.
However, after losing Carlos Hyde and Philly Brown, the 2014 Buckeyes simply can't afford for talented players like Dontre Wilson to be an accessory. Players like him need to be at the core of what the offense tries to accomplish week in and week out. So, if Urban Meyer and Tom Herman are serious about getting him the ball more, there are certainly worse places to look than a Percy Harvin highlight tape. It's just not the only place.