It's that time again. Time to wrangle the best Buckeye stuff on eBay for you to buy right now. Let's get after it.
Eddie George 1992 Running Back Glove
First we've got the running back glove and wristband worn by one Eddie George in the 1992 spring game. The seller claims he asked George for the glove following the game and Eddie, being the upstanding gentleman he is, handed it over.
1992 was an interesting year for George. A freshman from Fork Union Military Academy, Eddie entered a crowded backfield that included Robert Smith, Raymont Harris and Butler By'not'e.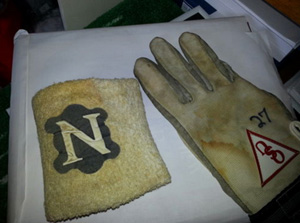 Still, George impressed and was given chances to shine. Eddie took advantage of some of those reps, putting together his best game as a freshman against Syracuse where he rushed for 3 TDs. But, that goodwill was undone against Illinois after George came down with an acute case of fumblitis, putting the ball on the turf in two critical moments and heavily contributing to the Buckeyes 18-16 defeat.
It seemed head coach, John Cooper, saw enough of George, who only got 12 more carries for the remainder of the season.
Of course, Eddie's freshman fumbles were only a minor setback. After spending most of 1993 as Raymont Harris' backup, George won the starting tailback spot in 1994 and impressed immediately, rushing for 1,442 yards and 12 TDs.
But, '94 was merely Eddie's warmup. In 1995 George left no doubt he was the best player in the country, rushing for 1,927 yards, 24 TDs and a 5.9 YPC average. The Herculean effort was enough to bring the bronze stiff arm back to Columbus and cemented George as one of the greatest Buckeye running backs of all time.
Now you have the chance to own the glove worn by Eddie before he was ED-DIE. You should probably make it happen.
Crystal Football Bobbleheads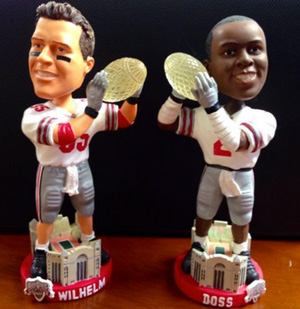 There are bobbleheads and then there are bobbleheads that win championships. These are the latter. Take a look at the smiles on Matt Wilhelm and Mike Doss. Cheese on fellas, you deserve it.
Both are pictured in the white away unis the team wore in Tempe for the 2003 BCS national championship; a game the Buckeyes certainly wouldn't have played had it not been for these two.
Wilhelm put together a stellar 2002 campaign, leading the team in tackles with 121. But, perhaps more impressive were his 19.5 tackles for loss, good enough for sixth all time in the Buckeye record books.
Doss's 2002 was equally amazing. The safety decided to return for his senior season specifically for a crystal football and that's exactly what he got. He put together the best season of his career recording a personal best 107 tackles and was named a first team All American (his third straight nod for the honor). His interception of Ken Dorsey in the Fiesta Bowl helped end the Buckeyes' scoring drought, and his leadership on and off the field was a guiding force for the entirety of the Scarlet and Gray's magical season.
Rose Bowl Jersey Patch
Last but certainly not least we have a Rose Bowl patch exactly like the one the Buckeyes wore in the 2010 Rose Bowl.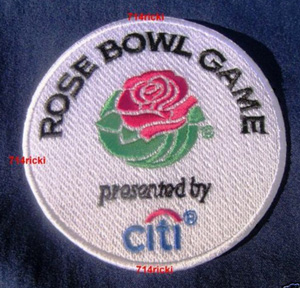 Technically, the game in Pasadena was the Scarlet and Gray's last bowl win. That's what NCAA sanctions can do for you! Still, if Buckeye Nation has to hang on to one victory for this long, the 2010 Rose Bowl might as well be it.
The game was quarterback, Terrelle Pryor's arrival on the national stage. Jim Tressel and Pryor surprised the Oregon Ducks (and most Buckeye fans) with a pass-happy approach that saw Terrelle toss it 37 times for 266 yards and 2 TDs; all career highs for Pryor.
But it wasn't just Terrelle and the offense putting in work. The Silver Bullets severely limited the Duck's explosive offense holding them to their worst passing game of the season (just 81 yards) while limiting star running back LaMichael James to just 70 yards rushing.
The 26-17 win was the Buckeyes first Rose Bowl victory since 1997 and ended the Scarlet and Gray's three game bowl losing streak.
Here's a beautiful little reminder of that glorious night in Pasadena: