When the 2014 Buckeyes take the field this fall, the entire defensive line returns intact — a far cry from the previous season, in which all four starters had to be replaced.
After Noah Spence's suspension for drinking out of someone's ecstasy-laden red Solo cup at a party, he'll rejoin fellow D-line regulars Joey Bosa, Adolphus Washington and Michael Bennett (with Joel Hale potentially moving to the offensive side of the ball to offset veteran losses there).
It's nice to have experience at such a key position. It's even better to have a senior like Bennett to provide the vital leadership the defense needs.
Bennett, who often has spectacular Twitter game, has had a solid, if unspectacular, career at Ohio State. Playing 34 games in a somewhat injury-plagued three years as a Buckeye, Bennett has 70 tackles (37 solo), 17.5 tackles for loss, 11 sacks, four forced fumbles, and three fumble recoveries.
The Centerville product had only one career start prior to 2013, filling in for an injured John Simon in The Game in 2012. Last year, Bennett became the middle anchor of a pretty good defensive line that was often victimized by a lack of communication in the back seven.
Predictably, as a starter, Bennett had by far the best season of his career. He played in 13 games (he sat out the Florida A&M game), and finished among Ohio State's leaders in several statistical categories. Bennett finished fourth in TFLs, second in forced fumbles, and first in fumble recoveries. Only Noah Spence (8) and Joey Bosa (7.5) finished with more sacks, and Bosa played in one more game.
Expect even bigger things from Bennett in 2014. The son of two graduates of the U.S. Military Academy at West Point, the 6-foot-3, 285-pound man-beast has demonstrated a commitment to discipline and teamwork.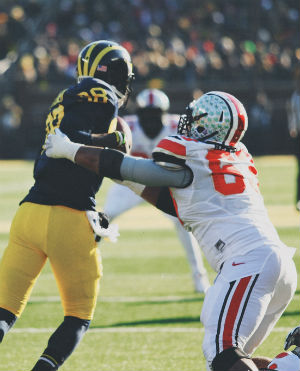 "I'll do whatever the coaches need from me," said Bennett. "If I get two tackles a game or 12 tackles a game I'm fine with it as long as we win, I'm doing my job and doing a good job at it."
One of Bennett's strongest attributes is his mental toughness. He has battled back from — and through — multiple injuries, including a groin problem that cost him four games in 2012. He had to come off the field several times last year but fought through it time and again as the grind of the season wore on.
With Ohio State's depth on the defensive line, and a new approach by new D-line coach Larry Johnson Sr., Bennett may be able to play fewer downs in 2014, which will allow him to stay fresh deeper into games. This will allow him to maximize his above-average explosiveness and speed.
A fresh Michael Bennett late in the fourth quarter will be more disruptive than ever, helping Ohio State close out games on defense — something that was missing over the final few contests of 2013. It could propel Bennett to a breakout year.
That's got to be a frightening prospect for a Big Ten offensive lineman.