Do you ever get that feeling during the offseason? That feeling when Ohio State football has been out of your life for a couple of months and you're starting to feel a little empty. And when you start to feel empty you look for ways to fill the void. And when you look for ways to fill the void you find yourself on Ebay. And when you find yourself on Ebay you instinctively type in Ohio State Football even though you were looking for a DuroStar DS4000S Gas Powered 4000 Watt Portable Generator. And when you instinctively type in Ohio State Football you fall into an Ebay rabbit hole. And when you fall into an Ebay rabbit hole you shirk your duties at work and end up destitute and living under a bridge. 
Don't end up destitute and living under a bridge. Let me spend the time searching for the Ohio State stuff you need instead.
So without further adieu, here are the three must-have Buckeye items on Ebay right now.
Woody Hayes' Hot Line To Victory

What It Is:
Published in 1969, the seller states it contains "diagrams of football plays for all situations". It's essentially a winners manual penned by the guy winners wish they were.
Why You Need It:
Look at that cover art. The hat, the stare, the roses, the perfect scowl…you can't afford not to buy this. Clicking through to take a look at what's inside, the lucky buyer will have access to the X's and O's that brought 13 Big Ten championships and five national championships to Columbus. Not only that, whoever takes this bad boy home will instantly ratchet their Buckeye classic photo collection to 11. Featured along with
the X's and O's are full color photos of the 1968 team running the plays. The '68 boys trotted out one of the best looking OSU unis to date with gigantic Buckeye leaves gracing the helmets and massive black numbers featured on the shoulder pads.
What's the Price?:
Forty clam-shells, but it doesn't matter. Just give this person your credit card information and anything else they ask for. This is an absolute classic.
A.J. Hawk Collectible Figurine

What It Is:
A handcrafted resin terror doll.  This 7.5'' beauty comes complete with a black base featuring an Ohio State logo and a simulated Hawk signature.
Why You Need It:
Hawks fingerprints are all over the Buckeye record books. He was the team leader in tackles for three straight seasons (2003-2005), he ranks 5th in total tackles in a career (394), 8th in quarterback sacks in a season (9.5), 9th in career tackles for loss (41) and 11th in tackles for loss in a season with (16.5). He played the linebacker position with as much intensity as any Buckeye defender you'll ever see. But nothing he did on the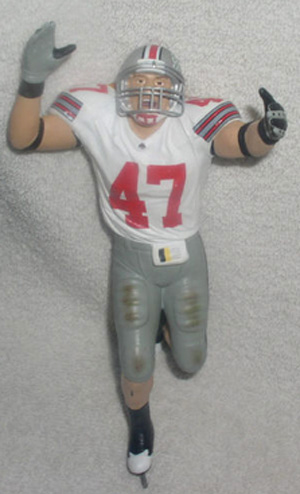 field will ever match the beauty of this figurine.
This thing is nightmare fuel. I can barely look at it. The outstretched arms, the mouth agape, the grass-stained pants…cut it out I'm getting all nervous and sweaty. It says it's for ages 6 and up but I would never give this thing to a 6-year-old unless I wanted to rock them to sleep as they shook violently in my arms helplessly screaming, "WATCH THE BLITZ!!!!" every night.
What I'm trying to say is it's an intense piece that appropriately captures the terror Hawk doled out on the field. Imagine it next to your TV on game day…I'll wait.
What the Price?:
One penny short of 16 bones. A small price to pay to impress your friends and woo your lovers.
1974 Heisman Trophy Program Autographed by Archie Griffin

What It Is:
It's exactly what it sounds like: an autographed program from the 1974 Heisman Trophy presentation (the one where Archie won his first Heisman). The season was an excellent one for the junior who rushed for 1,695 yards and 12 touchdowns while rolling up 6.6 yards per carry in the process.
Griffin's eye-popping stats propelled the Buckeyes to a 10-2 season that included a win against #3 Michigan in Columbus. The victory landed the Scarlet and Gray in the Rose Bowl where they narrowly lost to #5 USC, 18-17.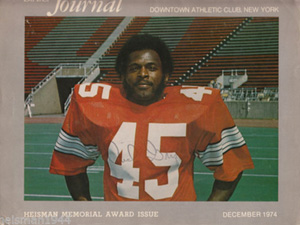 The seller claims the document is "guaranteed to pass PSA or JSA authentication" and says it's one of a kind stating, "in my 25+ years of collecting Heisman related material I have never seen another example of this program."
Why You Need It:
Probably shouldn't need to write much here. This appears to be a true collector's item and if it's legit it might be the greatest thing on the Internet right now. Buy it, frame it, pass it on to loved ones when your work here is done.
What's The Price?:
Coming it at $349.99 it's certainly the priciest item on this list, but why do we make money if not to spend it. You can't take it with you so put it to work.