There's no denying Urban Meyer and co. have done a bangarang job of recruiting over the last three offseasons. Each and every haul has landed the Buckeyes in the top five across multiple recruiting services. But, as we all know it's one thing to reel in top talent, it's quite another for that talent to produce on the field. Luckily, quite a few of Meyer's recruits have done exactly that; some in as little as one season. So, let's give those standouts their due. Here are the top five recruits of the Urban Meyer era based on their production on Saturdays.
No. 5 -Taylor Decker

Decker was recruited by Meyer almost immediately after he took the job in Columbus. The four star offensive tackle hails from Vandalia, OH and was tabbed as a top 25 tackle in the country. Decker was recruited heavily by the likes of Michigan, Wisconsin, West Virginia and Notre Dame but ultimately chose to stay at home.
Buckeye Nation is happy he did, as he made a huge impact in only his second season in the Scarlet and Gray. After a heated battle with Chase Farris in the spring, Decker was able to grab the only open offensive line slot on the team. Some feared Decker would be a liability on a line chock full of seniors but he more than held his own.
The sophomore helped propel two rushers over 1,000 yards and created holes that allowed the Buckeyes to average 242 yards a game (good enough for 10th in the nation).
With every single one of his line-mates graduating next season, Decker will be looked to for leadership and intensity in 2014, ultimately helping a new crop of O-linemen get up to speed. Luckily he's got the smarts to do it as he was named to the Academic All-Big Ten list.
No. 4 Dontre Wilson

If you follow Buckeye football at all you heard the name Dontre Wilson long before he suited up to play on Saturday. The hype surrounding the DeSoto, TX native was palpable last spring and it wasn't without good reason. Wilson is an absolute burner and he was the player expected to fill the Percy Harvin Ted Ginn role in Urban Meyer's offense.
Wilson was a famed Meyer flip. Originally committed to Oregon, Dontre was all Duck until Chip Kelly took his talents to the NFL. Kelly's departure re-opened Wilson's recruiting process and Meyer didn't waste any time. Battling against Texas for Wilson's services, the Buckeyes came out on top, landing Dontre on national signing day.
It was probably impossible for Wilson to live up to all of the hype he was receiving before the season began. But, he did an admirable job with a lower touch count than many believed he would see in 2013.
In total, Dontre got his hands on 22 passes for 210 yards and 2 TDs while tallying 31 rushes for 250 yards and 1 TD. He also chipped in on special teams to the tune of 21 kick returns for 523 yards. Throughout the season Meyer commented on how Wilson will have to get stronger and block better if he wants a bigger role on the team. You've got to believe Mickey Marotti heard that loud and clear.
No. 3 Ezekiel Elliott

Elliott's inclusion on this list might shock some as EZ-E didn't get much playing time in 2013, but when he did he made it count. In my opinion he's got all the look of Carlos Hyde's successor and I'm excited to see how he progresses in 2014.
Elliott was a four star recruit out of St. Louis who was the No. 1 RB recruit in the state and the 12th best player in the nation coming out of high school.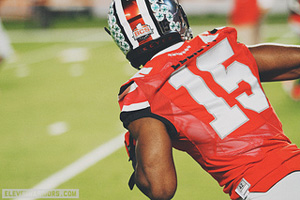 With just 30 touches last season he rushed for 262 yards and 2 TDs. Most of his damage came against Florida A&M in mop-up duty where he took 14 carries for 162 yards and his two career scores. While the competition wasn't exactly top-notch, EZ looked like one of the best players on the field that day. Period.
I don't care who you're running against, when you average 8.7 yards a carry you're doing a lot right. Here's hoping Elliott can continue to do exactly that in 2014.
No. 2 Noah Spence

Spence was a major Penn State lean coming out of high school, but committed to the Buckeyes and Meyer when it came down to it. Noah was a huge haul out of Harrisburg, PA coming in as the No. 1 defensive end in the country.
Spence saw the field in eleven games his freshman season and played admirably with 11 tackles and a sack.
In 2013 big things were expected out of Noah and he delivered leading the team in sacks with eight, coming in at second on the squad in tackles for loss with 14.5 and ranked seventh on the team in tackles with 52. Noah is an absolute beast of a human and if not for an outstanding freshman campaign by the first person on this list, he would have taken the number one spot.
As of right now, Spence is slated to sit out the first two games due to suspension. If that holds the Buckeyes will be without one of their best players on defense to start the season. He's that important to the 2014 squad.
No. 1 Joey Bosa

To say Bosa came out of nowhere isn't fair to Bosa. He graduated from St. Thomas Aquinas H.S. as a four star who ranked fourth in the nation at defensive end. He had offers from 14 schools including Alabama, Auburn, Florida, Florida State, Michigan, and Wisconsin. But, no one could have predicted the freshman year Bosa put together. Not even him. Here's a quote from the first year player before the Orange Bowl:
"It's crazy. I honestly never thought I'd be starting my freshman year.... It's been an awesome ride."
After an injury to Adolphus Washington, Bosa got his first start against Cal. Against the Golden Bears he notched two tackles for loss and never looked back. The kid was a force to be reckoned with and finished the season with 39 tackles, 6.5 sacks, 12.5 tackles for loss and one fumble recovery. Who's to say what those numbers would have looked like had he seen the field sooner.
Bosa's a hard-nosed guy who's grit was on display during the Orange Bowl. The freshman was clearly hurt but continued to go back out and give it his all. He's an amazing player who is only going to get better. Be afraid B1G. Be very afraid.
---
These players are Urban's best hauls to date, but with another top five class in the can it's safe to assume this list will grow as we move into next season. Consider yourself on watch for the next Meyer recruit to produce on Saturdays.