Back in May, when the 2014 season seemed light years away, we checked in with That Team Up North to find out what Wolverine fans were thinking.
Now that the season is imminent, it's worth taking a longer look at Michigan to find out how our rivals from the north are shaping up for 2014. It's Year Four of the Great Brady Hoke Experiment in Ann Arbor. Patience is wearing thin in the mitten state after declining results the past two seasons.
Michigan went 11-2 (6-2 in Big Ten play) with a Sugar Bowl win in Hoke's first season of 2011, but 8-5 (6-2) and 7-6 (3-5) in 2012 and 2013, respectively, with losses in the Outback and Buffalo Wild Wings bowls. While not exactly Rich Rodriguez numbers, the past couple of years are not what Michigan fans had in mind.
Hoke has completely turned over the roster now, so excuses will not fly in Ann Arbor. This is a critical year for Hoke, his staff, Michigan A.D. Dave Brandon, and the Wolverines.
Kind Schedule

Michigan's 2014 Schedule


| Date | Opponent |
| --- | --- |
| SAT 8/30 | APPALACHIAN STATE |
| SAT 9/6 | @ NOTRE DAME |
| SAT 9/13 | MIAMI (OHIO) |
| SAT 9/20 | UTAH |
| SAT 9/27 | MINNESOTA |
| SAT 10/4 | @ RUTGERS |
| SAT 10/11 | PENN STATE |
| SAT 10/25 | @ MICHIGAN STATE |
| SAT 11/1 | INDIANA (HC) |
| SAT 11/8 | @ NORTHWESTERN |
| SAT 11/22 | MARYLAND |
| SAT 11/29 | @ OHIO STATE |
The good news for Michigan is that the schedule sets up nicely. The non-conference slate consists of home games against Appalachian State, Miami (OH) and Utah, and a road contest at Notre Dame. The Wolverines should be favored in all three home contests, regardless of what happened last time against the Mountaineers. And the road game at the Irish appears to have just gotten a bit easier, despite the return of former starting quarterback Everett Golson.
Michigan eludes all of the top cross-divisional teams from the East, namely Wisconsin, Iowa and Nebraska. The Wolverines do have to travel to Michigan State and Ohio State this year, but the remaining roadies are at Rutgers and Northwestern. Minnesota, Penn State, Indiana and Maryland visit Ann Arbor.
The Wolverines figure to win at least three of four non-conference games and at least five B1G contests, so even if they fare poorly in rivalry games, they should save Hoke's job with eight or nine wins and a bowl appearance.
Injuries/Suspensions

Michigan's health is pretty good at this point. The team's only significant injury is to sophomore tight end Jake Butt, who tore his ACL in February. The Pickerington North product is already practicing, albeit not with full contact, and will be back in the lineup probably before Big Ten play. Sophomore safety Delano Hill broke his jaw, but will be back soon. Junior nose tackle Ondre Pipkins is back from an ACL injury last year.
In addition to these few significant injuries, starting offensive lineman Graham Glasgow will miss at least the opener with a suspension after he pleaded guilty to driving a vehicle while visibly impaired—a less serious charge than driving while intoxicated. He figures to avoid what would probably be a longer suspension if he played his home games in Columbus.
Offensive Line

The Michigan offensive line was a hot mess in 2013 and its two starting tackles were drafted by NFL teams. Glasgow will be the starter at center (or possibly guard) when he returns from his suspension. In camp, the line has been (L-R) freshman Mason Cole, Erik Magnuson, Jack Miller, Glasgow and Ben Braden. Former Buckeye commit Kyle "blood on the field" Kalis is in the mix as well, but was not with the first teamers this past week. Hoke's offensive line will probably become clearer this week.
Our old "frenemy of the site" Ace Anbender of MGoBlog, who was quite helpful in filling in the gaps in my knowledge of his favorite team, says:
It's early yet for panic, though that hasn't stopped people from panicking—after last year, it's hard to blame them, though it's pretty standard for a team that lost two NFL tackles and had a generally awful O-line to toy around with the lineups early in camp. If there's still this much uncertainty in the days before the opener, panic is appropriate. 
With the offensive coordinator swap from Al Borges to Doug Nussmeier, the Michigan line should be vastly improved, if only because it had nowhere to go but up.
Skill Positions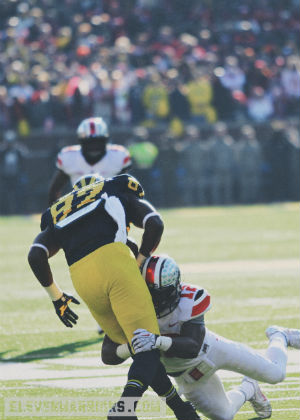 Devin Gardner is an incredible athlete who sometimes does inexplicable things with the football. The Wolverines will ride Gardner and hope he eliminates the mistakes that have plagued him in the past.
De'Veon Smith, a sophomore out of Warren, OH, has emerged as leader for the starting tailback spot, ahead of sophomore Derrick Green, who reported to Michigan a year ago in worse shape than I'm in now. Redshirt sophomore Drake Johnson is pushing both and Anbender says he expects Johnson to see more of a third down back role.
I'm less sure he'll get regular carries, especially since Green is in far better shape than he was as a freshman. Justice Hayes, who saw sporadic snaps last year as a third-down back, seems to be behind those three. I'm guessing we'll get a tailback-by-committee approach until someone separates from the pack.
Jeremy Gallon is off to the NFL this season, giving Michigan big shoes to fill. Few shoes are bigger than those of Devin Funchess, who appears to be a full-time wide receiver this year instead of a tight end. Funchess will start opposite one of Jehu Chesson or Amara Darboh, with freshman Freddy Canteen in pursuit as well. If more than one guy emerges, Funchess could see time at tight end until Butt's return, or blocking-type guys like A.J. Williams could step in. 
Defense

Michigan Defensive Coordinator Greg Mattison may not substitute on the line quite as liberally as Larry Johnson Sr. this season, but he's got a number of bodies to throw into the mix. Seniors Frank Clark and Brennen Beyer are the starting ends, with Pipkins at nose and redshirt sophomore Chris Wormley inside. Redshirt sophomore Willie Henry and redshirt freshman Maurice Hurst should see the field on the interior line as well.
At linebacker, redshirt senior Jake Ryan moves inside in Michigan's 4-3 over defense. Desmond Morgan and James Ross return from last year's starters, but Ohio product Joe Bolden is turning heads in camp and could challenge for the WILL spot. Junior Royce Jenkins-Stone is pushing on the SAM side.
"Like on the line, there'll be more rotation here than in the past, too," Anbender said. "Though Ryan will be a mainstay in the middle."
Starting corners Blake Countess and Raymon Taylor return in the secondary, with sophomore Jourdan Lewis pushing Taylor. True freshman Jabrill Peppers will likely start at nickel and push starters in other areas. Peppers has gotten glowing reviews out of camp. Hill is the likely starter at strong safety if his jaw allows him to play. Junior Jarrod Wilson is the incumbent at free safety. Jeremy Clark and Dymonte Harris are applying pressure from behind.
Says Anbender:
This is by far the most depth they've had on defense since Hoke arrived. It's not like Morgan, Ross, and Taylor were subpar starters on a bad defense—they were solid starters on a good (albeit not great) defense, and they're in serious danger of losing their starting spots with no injuries playing a factor. That says a lot.
Newcomers
Peppers, Peppers, Peppers, something something Peppers, Peppers.
2014 Outlook
With Michigan's schedule and the addition by subtraction of dumping Borges, it would be a virtual death blow to Hoke's tenure if the Wolverines weren't better in 2014 than they were in 2013. Gardner has another year of experience and a better tutor to learn from. His weapons are maturing and his line couldn't be worse. Nussmeier has simplified the game for his line and changed the offense's tempo, which will only help Gardner wear out defenses.
On defense, the recruiting cycle seems to be turning things around. It's been four years since RichRod, so if there aren't more improvements on that side of the ball, Michigan may be forced to find a replacement for Mattison, which is a shame because he's a more-than-competent football coach.
Expect another strong challenge from our rivals when they visit the Horseshoe on Nov. 29, but hopefully not coming down to a must-stop conversion for the Buckeyes to win it.
Sunday P.M. updates from last night's scrimmage: Green is in far better shape than he was in last year, which we knew, but he was also the first string tailback in last night's scrimmage. Hoke has also clarified the Kalis situation, saying he would be a starter, but has been held out because of a nagging back issue. He's supposed to be back at practice on Monday. Stay tuned for more in the ongoing saga of getting Kalis's blood (and everything else) on the field.