The college football off-season at Eleven Warriors provides us the opportunity to look forward to the upcoming season by providing a comprehensive recruiting profile every member of Ohio State's latest recruiting class. 
The sixth edition of this now 23-part series titled Better Know A Buckeye continues with Damon Webb, the second addition to Ohio State's recruiting class. Webb committed to the Buckeyes on January 13, 2013, a full year and three weeks before putting pen to paper and faxing it to the Woody Hayes Athletic Complex.
Much like Marcelys Jones' Christmas day decision in 2012, Webb's decision to commit to the Buckeyes so early into the process was unusual. It is unusual that Ohio State should get a commitment that early from an out-of-state prospect. It is exceptional that commitment would come from a Michigan prospect. Further, Webb is not any normal prospect from the Mitten State. He is from the famous Cass Tech program in Detroit, the Michigan equivalent of the Glenville pipeline to Ohio State. Michigan has signed more Technicians from the program (nine) than any other program total since 2002. It even signed three in the 2013 recruiting class.
Further, Webb had an offer from Brady Hoke. Michigan even offered before Ohio State. Not only did Webb eschew Michigan so early into the process, he never wavered.
I retell this story below before proceeding in the normal fashion from there. I discuss strengths and areas for improvement. I then offer a projection of a redshirt in 2014 before offering highlight film for you to watch. I conclude with some miscellaneous things about Webb you may find interesting.
Height: 5-11
Weight: 180
High School: Cass Technical High School; Detroit
His Recruitment

Webb was always going to be a major college football prospect. He comes from a high school football program that routinely matriculates its best seniors to top college football programs around the country, often at the University of Michigan.
Webb, a transfer to Cass Tech from University of Detroit Jesuit, was arriving at Cass Tech to play for the defending state champions, but not before he did a variety of camps and combines. The most motivated aspirants for college football scholarships make sure they have the eyes of college football coaches and recruitniks on them. Whether that camp was in his native Michigan, Ohio, Pennsylvania, or even Alabama and Louisiana, Webb traveled to make sure he was seen by anyone and everyone.
It did lead to an offer from Toledo, his first. However, the big fish was initially Michigan. After taking an unofficial visit in March 2012 and camping at the Sound Mind Sound Body camp in Detroit's Southfield High School, Michigan extended a scholarship offer. The excitement in his voice, as relayed by his father in an interview, was palpable. By that time, Webb already had a few future teammates from the senior class ahead of him en route to Ann Arbor as part of Michigan's 2013 recruiting class. It was just assumed that Webb would follow suit.
A week later, Ohio State extended its own scholarship offer after Webb performed well in defensive back drills at the upperclassmen combine hosted at Ohio State. After the combine, head coach Urban Meyer gave Webb a tour of the whole campus before returning to his office at the Woody Hayes Athletic Complex and informing Webb that he was getting a verbal scholarship offer. Webb's reaction was a little more subdued this time, saying he appreciated the offer. 
He had no favorites by that time. Michigan State had also offered in the time between the Sound Mind Sound Body camp and his camp at Ohio State. However, he did leave this intriguing tidbit in an interview published on 247Sports. Saying he was considering Michigan, Michigan State, Ohio State, and Louisiana State, Webb said he liked Ohio State's facilities. In addition, he self-identified as an Ohio State fan.
He returned for the inaugural Friday Night Lights camp.
From there, Webb focused equally on not only his first (junior) season for Cass Tech, but also taking various unofficial visits. For example, he was at Michigan State for Ohio State's conference-opening win in 2012.
The pivotal moment came near the end of 2012 when Webb scheduled another unofficial visit to Columbus in early January. What followed was the realization of several months of work in Webb's recruitment by Urban Meyer, but importantly Kerry Coombs as well.
His Commitment
On January 13, 2013, Damon Webb became the second commitment in Ohio State's 2014 recruiting class.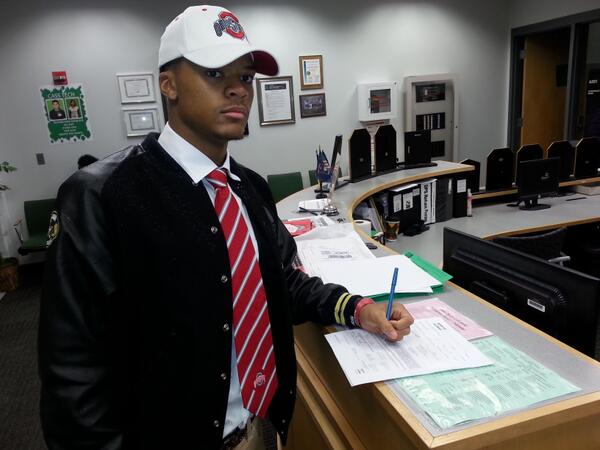 In an interview with Eleven Warriors, Webb offered a lot of interesting comments about what led to his decision.
For one, despite public assumptions to the contrary, Michigan was never seriously his leader. It may have been his first big offer (and only his second overall), but whatever special feelings Webb had for the Michigan offer subsided quickly.
Webb also indicated that his recruitment was equal parts Meyer and Coombs. In fact, look at who Webb mentions first in the answer to this question posed by Eleven Warriors.
What's your relationship like with the OSU coaches?

I have a really good relationship with Coach Coombs. He comes to see me at Cass once a month. I also have a really good relationship with Coach Meyer.
Webb also mentioned Ohio State's academic prowess. Whereas his mother is a university professor, the importance of academics for Webb was a persistent feature of his college evaluation.
He closed with the following comments.
What would you like to say to Buckeye Nation?

Tell them they're getting a hard-working athlete, who's really good in coverage as a corner. I can also play some wide receiver, but I'm going to be a corner at Ohio State. The future is really bright!
Where He Excels

I remember watching various highlight films and reading combine reports through 2013 and wondering out loud when Webb would eventually get that elusive fifth star. There's so much to like. I think I now see why Webb did not get that fifth star. Make no mistake, though, Webb is every bit the high four-star ranking given to him.
Only moving to defensive back in earnest upon the transfer to Cass Tech as a junior, Webb took to the position like a duck to water. Though not big by any measure, Webb plays as if he is. I consider that a good thing. If Webb lacks the size of those jumbo defensive backs that just won the Seattle Seahawks a Super Bowl, he makes for it in spirit. He is aggressive in run support. He takes great angles to ball carriers and tackles through the target. 
Further, I wonder if he adapted so quickly to playing cornerback because he finds man press coverage to be so much fun. He plays like it is. Webb's quick feet gives him a great acceleration off the snap to the wide receiver, allowing him to disrupt a wide receiver before his route started in earnest.
I love this addition to Ohio State's recruiting class and have loved it for some time. In a consensus top-five recruiting class without many "star" players or signature names (think: Terrelle Pryor in 2008, Beanie Wells in 2006, Ted Ginn in 2004), Webb looks like one of the surest contributors from the entire recruiting class.
Must Work On

For all Webb's enthusiasm as a tackler and force player in run support, he is not very big. There is nothing he can do about that, per se. He will always be 5-11. That said, he lacks strength at this moment. It will be high priority for him to make the most of summer conditioning and fall camp in anticipation of the 2014 season.
Further, Webb accelerates well but lacks elite top speed. I think that may have been the ultimate difference in that elusive fifth star I just assumed he was going to get. In short, he has the potential to harass wide receivers off their routes immediately. If the receiver gets a step on Webb, can Webb make up ground? He was praised during the week of practices before the U.S. Army All-American Game for his ability to limit big plays after conceding a reception, but this is an interesting question for me.
With that in mind, it will be interesting to see what new defensive coordinator and secondary coach, Chris Ash, does with the secondary given the arrival of a guy like Webb.
Redshirt?

I was wrong on this last year when I assumed it was a given Eli Apple would see the field in 2013. That said, I am going to make a similar projection for Damon Webb as a player who, at the least, plays for Kerry Coombs' "piranhas" on kickoff team. With questions aplenty at cornerback in 2014, there is no reason to expect Webb could not see playing time.
Highlights

Junior year film is the best available of Webb.
What Webb lakes in normal highlight film, he compensates in other appearances on YouTube in various combines and drills on YouTube. 
Miscellany

His mother, Stephanie, is an Adjunct Professor in the Department of Computer Science at the University of Detroit Mercy. An instructor in web design, she's the one that created the 2014bucks.com website of which you may have heard.

His mother is also from Baton Rouge, home to Louisiana State University. Though abridged in this profile, LSU was a marginal player in Webb's recruitment. Webb always wanted to remain close to home for college, but considered LSU because of the extended family he has there through his mom's side.

Alabama and Wisconsin also offered along with the aforementioned schools like Louisiana State, Michigan, Michigan State, and Ohio State.

His father, also Damon Webb, works with his mother on maintaining the website. I believe he also handles the associated twitter account of @2014bucks.

He participated in the U.S. Army All-American Game, along with future teammates Dante Booker, Johnnie Dixon, Jaylyn Holmes, Marcelys Jones, Demetrius Knox, Marshon Lattimore, Curtis Samuel, and Erick Smith.

He was commended by Rivals.com for being the best cover corner in the practices before the U.S. Army All-American Game.

Eleven Warriors did an 11W Community Interview with Damon Webb.

Webb is fearless and confident, often matching up with the best players on the other side of the ball. Here he is in a 7-on-7 drill against Laquon Treadwell, the freshman phenom wide receiver for Ole Miss in 2013. Though having nothing more to prove, he performed in the Friday Night Lights camp again and went head-to-head with Eric Glover-Williams.

He is the first Cass Technician to sign with Ohio State since Vernon Gholston, who signed with Ohio State ten years ago as part of the 2004 recruiting class.

"Technician" is the actual nickname. Peculiar high school mascots will always get a nod in these profiles.

Relations between Damon Webb and Brady Hoke apparently soured quickly after he issued a commitment to Ohio State. There was an alleged issue of Webb being denied entry to a camp in Ann Arbor after issuing his commitment to Ohio State that rubbed everyone involved the wrong way, the worst of the reaction coming from the Cass Tech coaches who are used to matriculating their best to Ann Arbor every year. On the eve of National Signing Day, it did lead to this comment from Webb regarding his Cass Tech teammates that signed with Michigan the year prior.
"They're not getting better," Webb says. "The coaches aren't developing their talent."
Cass Tech followed its 2011 state championship with another state championship in Webb's first season with the Technicians. His senior season with Cass Tech ended in a 28-0 loss in the state semifinals to Catholic Central.