MANHATTAN BEACH, Calif. – Dating back to when he was a sixth-grader, A.J. Harris has heard the same simple message from his trainer of more than four years.
"That I'd be a Buckeye," says Harris, a five-star cornerback, with a smile.
He's "the biggest" Ohio State fan Harris knows. Ryan Day certainly appreciates his trainer's help as he tries to make him a foundational piece of his program's 2023 class. The third-year head coach sent Harris' trainer an autographed photo of himself, thanking him "for everything," just last week. Two weeks prior, Day had FaceTimed him during Harris' mid-June unofficial visit in Columbus.
Soon enough, everybody will know whether that can make that sixth-grade proclamation comes true.
Harris, a prime target of the Buckeyes, is nearing a decision. As a rising junior at Glenwood School in the eastmost part of Alabama, he could choose to wait. He's unable to sign a National Letter of Intent until December in 2022. But he has no desire to wait much longer.
"There could most definitely be something coming soon," Harris told Eleven Warriors on Friday. "I want to get this commitment over with so I can just lock in with whatever program I go to and just stick it out with that program. I'm not trying to rush it, but I do want to get a commitment here soon."
Exactly how soon is Harris thinking?
"I want to get it done as soon as possible," Harris said. "If not July, hopefully after I get to see a few games. I'll be at Ohio State versus Oregon. I'll be at a Clemson game. I'll be at a Georgia game, Bama game. Just after I see games if not in July."
So, it shouldn't come as a surprise to anybody if he makes up his mind within the next four weeks.
Where he'll end up, however, remains a mystery.
Harris, the 23rd-ranked overall prospect and second-best cornerback in 2023, took unofficial visits to Clemson, Notre Dame, Ohio State and Georgia – in that order – in June. He says he "definitely liked the atmospheres" at all four of those programs. 
"He's showed me love since we got on the phone, and I've always realized that I can trust him. And he's been genuine."– A.J. Harris on Kerry Coombs
The Buckeyes would love nothing more than to make him a cornerstone of their 2023 class, which currently doesn't have any commitments. Alabama isn't a state in which they've had much success over the years. But they've made significant headway with Harris, who resides on the Alabama-Georgia border.
On March 24, Ohio State extended a scholarship offer and Kerry Coombs began doing what he does best: Building a relationship with a highly rated cornerback prospect and those around him. When asked what makes the Buckeyes stand out, Harris singled out Coombs.
"He's showed me love since we got on the phone, and I've always realized that I can trust him," Harris said. "And he's been genuine. And usually you don't get that feeling over the phone. So when I get to interact with him in person and it's just as real as it was on the phone, it was just amazing. And coach Day. Just the development aspect. Developing Marshon Lattimore, Denzel Ward, et cetera. They've put a lot of DBs in the league, so I know that I'd be taken care of."
So far, Harris's lone Ohio State visit in June is the only time he's been to see the insides of the program in person. Provided he makes it to Columbus for the game against Oregon, he'll get to take a second look.
Based on the one trip and two and a half months of time spent talking to Coombs, Day and the rest of the staff, Harris says he can notice a "genuine feel" with Ohio State that makes it a bit different from others – which is especially important considering the national powers, some of whom are closer to his hometown, heavily involved in this recruitment.
"That's what I look for because I'm going to have to go to the school for three to four years," Harris said. "So just making sure that I'm in the right hands for the next three to four years and that it's a genuine feel."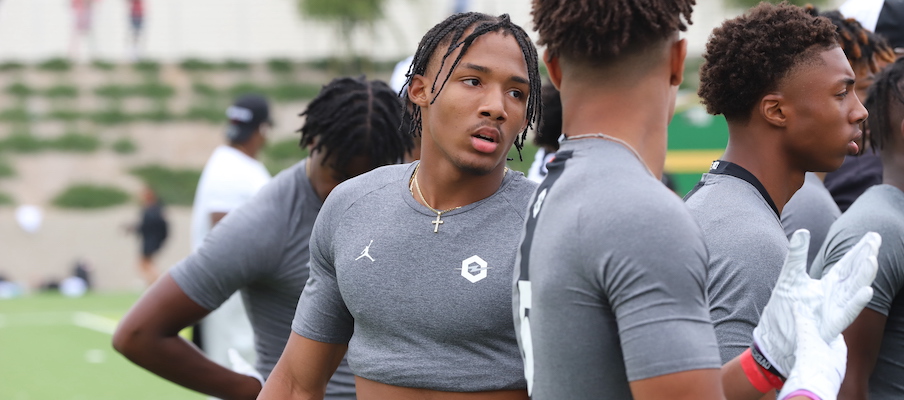 Right now, Harris is getting away from the recruiting madness he experienced first-hand in June. He's currently competing with a host of other top recruits – including Ohio State 2022 commits Quinn Ewers, Kyion Grayes and C.J. Hicks – at The Opening 7-on-7 Invitational this weekend.
The way he sees it, this is a prime opportunity to "see where I stand against the top players in the country." Harris, whose school has about 700 students between prekindergarten and 12th grade, also enjoys the opportunity to "put the little schools on the map and show that little schools can do the same thing."
Soon enough, though, as somebody about ready to commit, he'll dive right back into the recruiting hoopla. 
What does Harris want to see and learn before making his college decision? A few things.
"Just seeing if the genuine feel is consistent," Harris said. "If when I get on campus, I'm always a priority. If they continue to teach me something every time I get on campus. If they'll make me a better young man as well as a football player and take care of me on and off the field."
It's up to Ohio State to answer those questions better than Georgia, Clemson, Notre Dame and Alabama over the next few weeks. 
If Coombs and Day can do so, they might end the month with a five-star cornerback. If not, they might be seeing Harris in the College Football Playoff in a few years.
The stakes, for the Buckeyes, are as high as ever.