Ohio State's third high school football camp of June was headlined by a pair of five-star recruits who already have offers from the Buckeyes and led to a pair of offers for two quarterbacks who are among the best in their respective classes.
Shemar Stewart, the No. 7 overall prospect in the recruiting class of 2022, was among the defensive linemen who worked out during the morning session of Wednesday's camp at the Woody Hayes Athletic Center. The five-star defensive end only did a partial workout, but certainly looked the part while he was on the field. The 6-foot-6, 264-pound defensive end demonstrated elite athleticism for a player of his size, starting with a 10-foot broad jump and continuing with explosiveness and change-of-direction quickness and a variety of agility drills.
In an interview following the camp, Stewart said he took notice of the "competitive vibe" from Larry Johnson and the rest of Ohio State's coaches and that Ohio State is "definitely" a school he could see himself attending.
"If I didn't, I wouldn't be here," said Stewart, who previously visited Miami and LSU and will visit Notre Dame next on Thursday.
The other five-star recruit in attendance on Wednesday was Richard Young, who's ranked as the No. 1 running back and No. 19 overall prospect in the recruiting class of 2023. Young went through a one-on-one workout with Ohio State running backs coach Tony Alford and like Stewart, he very much looked the part as he showcased his explosiveness, shiftiness and pass-catching ability through a variety of drills.
#AGTG !!! pic.twitter.com/sVm6GwKf14

— Richard Young (@richard39495691) June 9, 2021
Five-star running back Richard Young running the gauntlet drill. pic.twitter.com/oukhgp72bn

— Dan Hope (@Dan_Hope) June 9, 2021
Another prospect with an Ohio State offer who participated in Wednesday's camp was 2023 North Carolina four-star defensive tackle Keith Sampson Jr., who made it to OSU on Wednesday for his fourth of nine scheduled camps. Sampson showcased why he has an Ohio State offer as the 6-foot-4, 285-pound defensive tackle put his movement skills on display throughout his workout.
Following his workout, Sampson said he thought he performed well and that it was "amazing" to have the opportunity to work with Johnson.
"Of course you hear Larry Johnson being one of the GOAT's around here as a D-lineman, so it was just really good to work with him," Sampson said.
Wednesday's camp also brought another opportunity for Ryan Day, Corey Dennis and the rest of Ohio State's staff to evaluate more potential for their future recruiting classes at quarterback. In particular, Day and Dennis had their eyes on four quarterbacks during Wednesday's camp: 2023 quarterbacks Dylan Lonergan, Tad Hudson and William Watson III and 2024 quarterback Adrian Posse, who went through their own workout with the coaches on Wednesday afternoon before the rest of the skill-position campers took the field.
You can see some video clips from that workout below; Watson is the quarterback wearing a white shirt, Posse is the quarterback wearing a black shirt, Lonergan is the quarterback wearing a gray shirt without a hat and Hudson is the quarterback wearing a gray shirt with a hat.
Dennis, who played defensive back for part of his playing career at Georgia Tech, also put his old skills on display as a part of that workout:
Ohio State quarterback coach Corey Dennis putting his defensive back skills on display. He played some DB at Georgia Tech. pic.twitter.com/X3bgcH7ofm

— Dan Hope (@Dan_Hope) June 9, 2021
Lonergan, who is ranked as the No. 4 quarterback and No. 41 overall prospect in the class of 2023, and Posse, who looks poised to be one of the top quarterbacks in the class of 2024, both earned offers after the camp. Lonergan is the fourth quarterback in the 2023 class to receive an Ohio State offer, joining Malachi Nelson, Nico Iamaleava and Eli Holstein, while Posse – who's a teammate of Stewart's at Monsignor Pace High School in Opa Locka, Florida – is the first quarterback with an Ohio State offer in the 2024 class.
Extremely thankful to get an offer from the Ohio State University @CoreyDennis_ @ryandaytime @Mansell247 @ChadSimmons_ pic.twitter.com/b6yliKZKuB

— Dylan Lonergan (@dylanlonergan12) June 9, 2021
Beyond blessed to receive an offer the university of Ohio state! @OhioStateFB @ryandaytime @BuckeyeScoop @247Sports @TheCribSouthFLA @Andrew_Ivins @DP214EVER pic.twitter.com/dwxV97bc8r

— Adrian Posse (@posse_adrian) June 9, 2021
Other notable prospects who worked out at Ohio State on Wednesday included Joseph Griffin Jr., a four-star wide receiver from Springfield, Massachusetts who is committed to Boston College; Brennan Wooten, a 2023 tight end from Indianapolis who (along with Griffin) got one-on-one attention from the coaches and caught passes from the top quarterbacks during their workouts; and Christopher Jackson, a three-star linebacker from Toledo who holds eight offers including Iowa State, Kentucky, Minnesota and Wisconsin.
Springfield, Massachusetts wide receiver Joseph Griffin Jr., a Boston College commit, runs the gauntlet drill. pic.twitter.com/YFDGFzHUjf

— Dan Hope (@Dan_Hope) June 9, 2021
Although they went through their workouts on Tuesday, German defensive tackle Hero Kanu and Swedish tight end Theodor Melin Öhrström were also back at Ohio State on Wednesday to spend more time with the coaching staff and watch part of the camp. 
Kanu, who watched defensive line drills alongside Fordham defensive line coach and former Ohio State graduate assistant Kenny Anunike, told Eleven Warriors he was back at Ohio State for another day because "I just need to learn."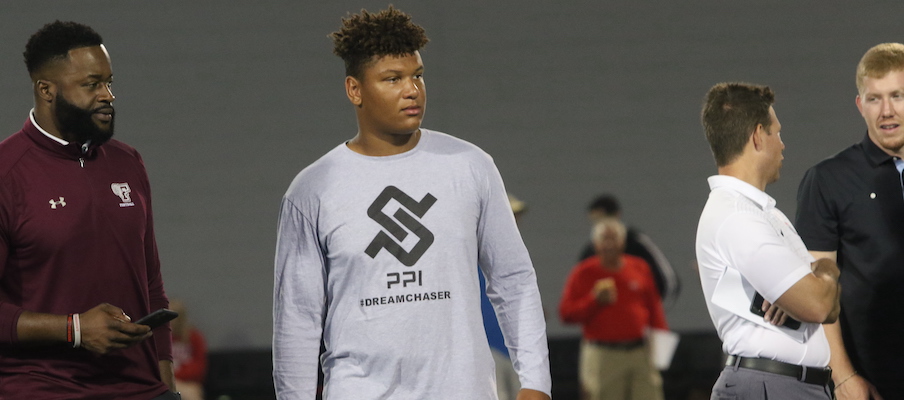 Eleven Warriors also caught up with Öhrström, who spent time exploring Columbus with Ohio State tight ends coach Kevin Wilson on Wednesday morning, to talk to him about receiving his offer from the Buckeyes on Tuesday night.
One final – and unsurprising – note from the Ohio State recruiting front on Wednesday: Tausili Akana, who is ranked as the No. 1 linebacker in the 2023 class by 247Sports, announced Wednesday morning that he had received an offer from the Buckeyes after camping at Ohio State on Tuesday.
Stay tuned with Eleven Warriors over the next few days for more recruiting coverage from both of Ohio State's high school football camps this week.