Things are once again coming together quite nicely.
With official visits underway and a chaotic month on the horizon, this is the perfect time to take a step back and offer a big-picture look at Ryan Day's 2022 recruiting class.
Since taking over in Columbus, Day has more than proven himself to be every bit as good as Urban Meyer was on the trail. The Buckeyes' national reach remains strong while the top local talent rarely gets out of the state. Ryan Day's first class (2020) finished No. 5 in the nation. His latest haul ended up at No. 2 and is still looking to add the country's top prospect in five-star 2021 defensive end J.T. Tuimoloau. 
Things are about to get wild for the Class of 2022 as June is sure to be a month unlike anything we've ever seen before. Day once again has Ohio State in a fantastic spot, but there's still plenty of work to be done and a number of key visitors heading to town; many of whom have already arrived for the first big post-dead period weekend.
Where Things Stand 
Quarterback? Check. More star power at wideout? Check. Shutdown corner? Check. What about two of the biggest areas of need—linebacker and tight end? Check and check. 
It's tough to find too much to complain about right now. Ryan Day and Corey Dennis have locked up the nation's No. 1 overall prospect in five-star quarterback Quinn Ewers. The Texan is on campus this weekend for the first of two June visits. His Lone Star State pass-catching counterpart is also solidly committed, and five-star wideout Caleb Burton is now suiting up for the same Lake Travis program that delivered Garrett Wilson to Columbus. After suffering a knee injury, a healthy Burton could make a case to be the nation's top-rated wideout. 
Kerry Coombs has a trio of cornerbacks committed in Jyaire Brown and the Florida duo of Jaheim Singletary and Ryan Turner. Singletary is rated as a top-20 national prospect as the five-star Jacksonville product has the length that Coombs craves in the secondary.
Al Washington needs at least three linebackers to help with the reload at that position, and he's already got the state's best in the fold. Dayton five-star C.J. Hicks is one of the country's top athletes at the position while Marysville's Gabe Powers is blessed with an impressive frame. 
Tight end was quietly a major need heading into the 2022 cycle, but Kevin Wilson addressed that need early on in a big way. Georgia's Bennett Christian committed to the Buckeyes last September. Two months later, North Carolina's Benji Gosnell followed suit. The early pledges from the four-star duo essentially put an end to tight-end recruiting, and each one will bring a different skill set to Wilson's room.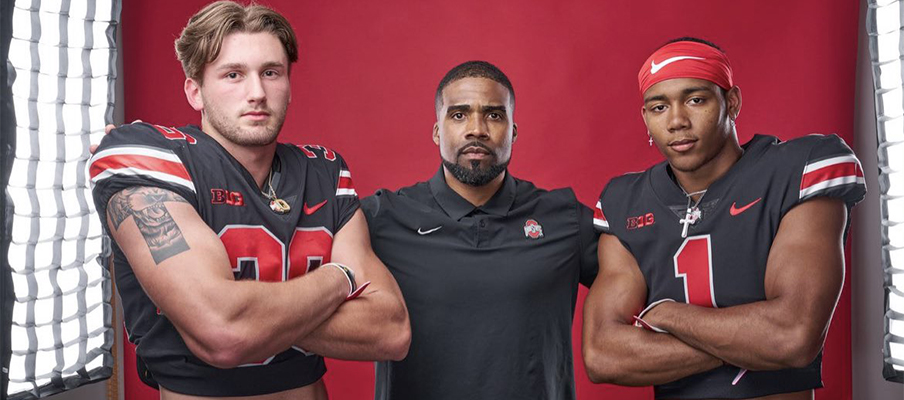 What's Gone Wrong?
The easy answer here? Not a whole heck of a lot. 
But the biggest and most obvious answer is four-star offensive tackle Kiyaunta Goodwin. The Indiana native grew up following the Buckeyes and idolized Orlando Pace. We had the 6-foot-7, 300-pounder at the top of our 2022 recruiting board ever since its debut back in November. The pandemic didn't do Ohio State any favors here as Goodwin was unable to meet with the staff in Columbus. Instead, he built up a strong relationship with the Kentucky staff and the Wildcats ultimately secured his commitment back in April. That one was particularly tough since the Buckeyes have missed out on several top tackles of late. 
Four-star athlete Dasan McCullough committed to Ohio State last August. At 6-foot-5 and 220 pounds, he was viewed as a linebacker and someone who could potentially play the bullet role. The Hoosiers hired his father Deland away from the Kansas City Chiefs back in February. It didn't look all that problematic at first, but then Dasan's younger brother committed to Indiana, and his older sibling – Deland II – decided to transfer from Miami (Ohio) to Bloomington.
It truly became a family affair when Dasan backed off his Buckeye commitment and pledged to the Hoosiers in late April. He's a heck of a player and should do big things for Tom Allen's program. It's even more unfortunate since Ohio State will be facing him each year. 
Biggest Remaining Needs 
Larry Johnson and Greg Studrawa still have a lot of work to do. Out of the 12 current commitments, only one of those plays in the trenches. And while Tegra Tshabola may be a fine guard for the Buckeyes, he's only one of what should ultimately be a five or six-man class along the offensive line. The biggest concern continues to be at tackle. After whiffing on Goodwin, there are still a few options out there, but those athletic tackles just aren't easy to come by. 
Huber Heights (Wayne) tackle Aamil Wagner has been climbing up our board of late. He is now without question one of the most important remaining targets, and Studrawa really needs to beat out Notre Dame for the athletic 6-foot-6, 260-pound tackle. Other names to know include IMG Academy's Tyler Booker, Virginia's Zach Rice and Colorado's George Fitzpatrick. The Buckeyes need to get Wagner on board and then add at least one more at tackle. Rice appears to be a long shot and Booker will be a tough pull from the SEC. Fitzpatrick is worth watching even though his recruitment has been extremely quiet. 
The defensive line is a bit of a different story as Larry Johnson has Ohio State in a fine spot for several top targets. Johnson handles things a bit differently and getting guys on campus to go over techniques is such an important part of the process for him. Texas edge rusher Omari Abor is on campus this weekend and he's the No. 1 priority alongside Indiana's Caden Curry. The Buckeyes also have plenty of options at tackle including Georgia's Christen Miller, Oklahoma's Chris McClellan, and California's Hero Kanu. 
Safety is the other spot to really watch. The Buckeyes are wasting little time hosting their top two targets as both Xavier Nwankpa and Zion Branch are in town this weekend for official visits. Landing either one of the four-star targets would be a home run. Grabbing both would be a grand slam for Kerry Coombs. 
The Chase for No. 1 
Ohio State has 12 commitments and trails only Georgia in the national team rankings. Last year around this time, the Buckeyes had a commanding lead in the rankings before Nick Saban did his usual thing on the trail. Ohio State probably has room for another 10-12 additions which should mean a class in the 22-24 range. It's going to be yet another stellar class, but I'd proceed with caution when it comes to the recruiting crown.
Ryan Day is going to see his class jump back up to No. 1 at some point, but it's going to take a Herculean effort to beat out the SEC for the top spot come February. Over the last three recruiting cycles (2019-2021), Ohio State has signed 63 players. During that same time period, Alabama has signed 79 and Georgia has added 69. The numbers game is obviously a big factor in the final rankings, so I'm just not sure how realistic it is to expect a No. 1 finish for Ryan Day and Co.