The Hurry-Up is your nightly dose of updates from the Ohio State football recruiting trail, keeping tabs on the latest from commits and targets from around the country.
Okunlola on OSU's radar
If you read our piece at Eleven Warriors over the weekend, you know how we feel about Thayer Academy (Massachusetts) offensive tackle Samson Okunlola – both on his overall potential as one of America's top 2023 rising prospects and the potential for him to earn an Ohio State offer coming down the pike – who was recently extended an offer by USC.
The No. 7-ranked offensive tackle wasn't the only Okunlola who looked good at last weekend's Under Armour Camp. Samuel Okunlola, his older brother, is on the other side of the ball and is ranked as the No. 538 overall prospect and No. 37 strongside defensive end in the country in the 2022 cycle.
Though he's listed as an SDE in his ranking, the three-star prospect's recruiting profile lists him properly as a weakside defensive end. Many players listed at WDE are often more of a standup defensive end or an outside linebacker. That's exactly what he looked like when I watched him last Sunday, and spending some time talking to him after that's precisely the spot he says that most programs are targeting him at.
"Georgia is kind of like a defensive end in their 3-4, but he's standing up so he can rush or sit back," Samuel told us. "He's more of an EDGE player and then he drops back into the flats and guards the tight end maybe. Clemson has a base 4-3 so you have to be versatile and have the ability to rush and drop back.
"Some want me as my hand down, and some want me as a hybrid, somebody who stands up and rushes and can drop back too."
Samuel has racked up more than 40 offers thus far, and it's a list highlighted by the aforementioned Georgia and Clemson, plus Arizona State, Michigan, Oregon, Penn State and Texas, plus a handful of Ivy League programs and HBCUs. He listed Tennessee, Georgia and Clemson as three programs (in no order) that have stood out in his recruitment, but an offer from the Buckeyes is another one he is hoping to ring in.
Three-star Massachusetts defensive end Sam Okunlola (@Samokunlola87) whos looking to earn an Ohio State offer. Has 40+ offers including from Clemson, Georgia, Michigan, Oregon and Texas. pic.twitter.com/rMpvZon9yM

— Zack Carpenter (@Zack_Carp) April 11, 2021
Though I'm not as confident that Samuel winds up earning an offer as I am about Samson, the Buckeyes do have the younger Okunlola on their radar and have been in contact with him.
"I had Coach Parker Fleming, he contacted me recently. I've only talked to him, but I look forward to building a relationship with him," Samuel said. "Hopefully (I'll get an offer). That's a great program with a great history of producing defensive ends, and you see that often."
Samuel looked solid at the camp and was able to showcase his pass-rush moves and hand speed, two things he notes as his strengths, in an important setting to get him some more exposure.
"It's very important to play competition like this and see different players," he said. "We don't get as much exposure (playing on the East Coast) so we've gotta make it count when the time comes and continue to keep on working.
"Could've been a little better, but I look forward to getting back to the field at home and putting in some more work.
Williams locks in decision date
Along the same lines positionally as Samuel, another hybrid defensive end/outside linebacker who is listed as a weakside defensive end, three-star Popeye Williams, showed out last weekend.
Williams looked good in earning co-MVP honors as a defensive lineman in addition to Pittsburgh commit Sean Fitzsimmons.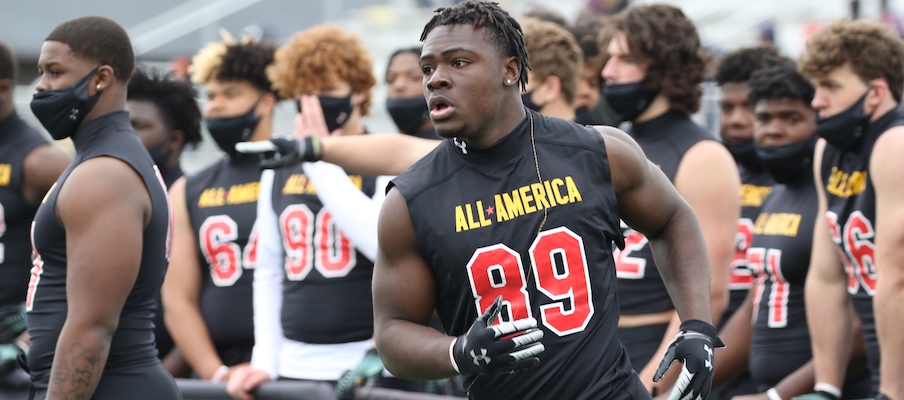 Williams was one of the top performers at the Best of the Midwest Combine in February and was the player who gave the MVP of that camp, Kiyaunta Goodwin, the best looks and challenges as a pass rusher.
Williams is a name to keep an eye on, though the Westfield (Indiana) standout (ranked No. 399 overall, No. 23 at WDE and No. 9 in the state) has locked in a decision date of May 1 and is presumably headed to Louisville. Again, just a name to keep in the back of your mind and log away. I'm old enough to remember the last time a three-star Indiana player committed to Louisville and became a name to know here.
Singletary's trash talk
Cornerbacks and trash talking are a better combo than Italian sausage on pizza (the best pizza topping hands down, fight me).
If there's a more confident and better trash talker in the 2022 class than Ohio State's five-star cornerback commit Jaheim Singletary, good luck finding him. His confidence took center stage on Twitter on Monday night and into Tuesday.
MVP every camp I done went to & still grinding everyday what more I have to show just give what I earned... & Im from Florida we go against real WRs Im no fraud #SeatbeltGuy

— Jaheim Singletary (@Jaheim2_) April 20, 2021
Lol just how I feel i dont sugarcoat https://t.co/0OEh7jxZc1

— Jaheim Singletary (@Jaheim2_) April 20, 2021
#1 corner in my class ... why not Im no fraud I prove it everytime FACTS... @247Sports @Rivals

— Jaheim Singletary (@Jaheim2_) January 25, 2021
That last tweet is from all the way back in January, so Singletary has long been unbashful. 
The conversation and debate about who is the No. 1 cornerback in this 2022 class has been tossed back and forth among recruiting analysts over the past two or three months. It's an absolutely loaded cornerbacks class with five-stars Domani Jackson (No. 3 overall), Travis Hunter (No. 4), Denver Harris (No. 6), Will Johnson (No. 11) and Singletary (No. 13) all ranked in the top 15.
We're going to remember this cycle as one of the best for the position two or three years from now, and we're certainly not going to forget Singletary's confidence. Plenty reminiscent of past Buckeye corners (see Arnette, Damon).
---
Header photo: Samuel Okunlola