Kadyn Proctor has just wrapped up an Under Armour Camp performance that put himself even more squarely on the map as one of the nation's best young talents.
Already rated as a five-star prospect in the 2023 class, the 6-foot-7, 300-pound offensive tackle from Southeast Polk (Iowa) just put on a show. And he didn't even have to participate in every drill.
Proctor still displayed the characteristics anyone would want in a five-star talent, looking the part among some of the nation's best Midwest players at Fortress Obetz last Sunday. He's been doing that for a couple years now.
No. 83 Kadyn Proctor is a five-star offensive tackle from Iowa who looks the part. No. 70 Josh Padilla is a highly touted guard prospect from Dayton who recently received an Ohio State offer. pic.twitter.com/1cwDX5kn81

— Dan Hope (@Dan_Hope) April 11, 2021
So as soon as his camp is over, and as soon as he's honored as one of just six 2023 players to earn an invitation to the esteemed Under Armour Future 50 camp, he's mobbed by a slew of 15-plus reporters on his way off the field.
That's the life of a player ranked No. 10 overall in his recruiting class and No. 2 at his position. Especially when all the big boys are coming after you with offers from Georgia, LSU, Michigan, Notre Dame, Ohio State, Oklahoma, Oregon, Penn State, Texas A&M and USC, plus his home state Iowa Hawkeyes that have done a great job of developing NFL-caliber offensive linemen.
It's a lot to take in, so he's slowing himself down in his recruiting process right now.
"I've just been chilling right now, calling and talking to some coaches, talking to some recruiters and then just been sitting back, going to high school, getting my grades up, going through the track season and trying to get focused for that," Proctor said. 
Opposite of Proctor, less than 20 yards away is his offensive tackle brethren in the 6-foot-5, 295-pound Samson Okunlola.
Out of Thayer Academy in Brockton, Massachusetts, Okunlola is not as heralded as Proctor despite being ranked No. 78 overall and No. 7 at his position. So there's not quite as strong of a media contingent lining up to talk to him. In fact, you're even able to get a one-on-one interview setting with him.
But that should change going forward.
While Proctor is already a five-star prospect and will be by the time signing day hits in a year and a half, Okunlola is emerging as a player who can reach that same height someday – or at least get close if he keeps developing.
Brenan Vernon vs. Massachusetts offensive tackle Samson Okunlola pic.twitter.com/LTzxq6Yej9

— Dan Hope (@Dan_Hope) April 11, 2021
And while Proctor is already one of the Buckeyes' early top targets, at offensive tackle specifically but regardless of position, Okunlola has yet to receive an Ohio State offer. The Buckeyes are very interested in the blue-chipper, and an offer is likely to come down the pike at some point.
He's hoping so, anyway.
He's already been extended offers from Florida, Georgia, Michigan, Penn State and Oregon, and he says that Oregon, Tennessee and Michigan are three programs with which he's been building strong relationships with their respective offensive line coaches. But when asked if there's any specific offers he's hoping to accrue, he laughs and looks around.
The answer is obvious.
"When I got my first big one, I was like 'all right.' But other than that, I was steady going about it. I get excited about every 'o,' it's just a blessing," Proctor said. "But I mean, I hope I'm on the big one here. I mean, this camp is in Ohio. So I hope I get that one."
These two are in opposite places, for now, in their recruitments in regards to the big school in Ohio. Okunlola had not yet been in contact with anyone on the Ohio State staff as of Sunday. But he told us that he's talked with both Studrawa and Buckeyes offensive line assistant Kennedy Cook over the phone this week following the camp. That relationship is just starting to build, and the Buckeye coaches want to get to know Okunlola more — to make that bond stronger and get more familiarity/comfort between the two sides before an offer comes. 
Proctor, meanwhile, has been steadily building upon his Buckeye relationships ever since (and even before) he was offered in mid-December.
"We've got a good relationship with each other," Proctor said. "Coach (Greg Studrawa) talks to me a lot. ... I've probably talked to three main coaches, ... I talk to Coach Stud, Coach (Ed Terwilliger) and Coach (Matt) Barnes. Those are the three that I talk to the most.
"It's cool to see Ohio State, they played in a national championship game. That's what they're going for every single year. They're putting guys out there and in the league. I've followed Paris Johnson and seen where he's at right now. I just got on FaceTime with them a couple days ago, and I saw them practicing and saw all those guys out there. The offensive line is looking pretty big, so from the time they get there they're getting everything (they need)."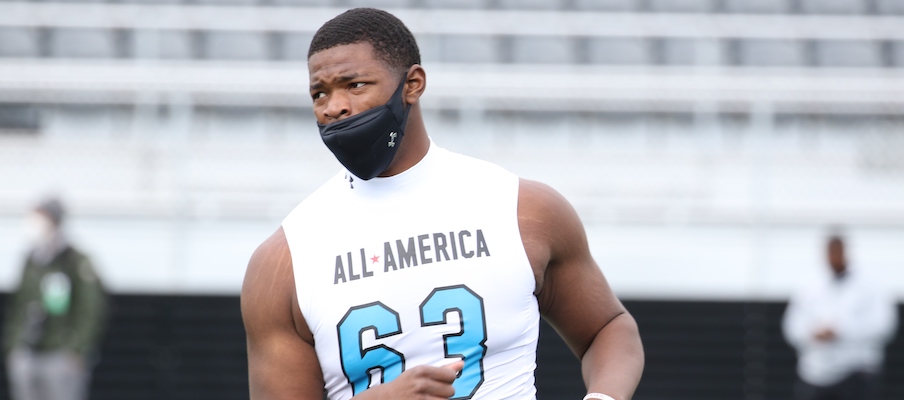 Proctor told Eleven Warriors late this past week that he was unable to go on any sort of self-guided visit to campus while he was in town for the Under Armour Camp. He hopes to make a visit at some point soon.
Okunlola, unlike Proctor, was able to check out Ohio State's campus following the camp and got a chance to look around.
He liked what he saw even though it was just a quick tour. He's still cool with taking the patient route, though, and seeing where the chips fall as he continues to build his recruiting portfolio.
"Right now, I have 19 offers so I'm taking it pretty slow," Okunlola said. "Just calling and talking to coaches and getting to know them, getting to know their techniques and getting to know their school and what they offer.
"We can always improve, everybody can improve on anything all around. I'm not the best I can be right now. I've always got more in the tank."
Both of these high-level prospects have more gas left. And we're all going to see that soon enough.