It's been a long time since we channeled our inner Bill Simmons and took time to answer questions in our mailbag series.
Thanks in large part to TheNomadicBuckeye, we got back into it, and we have a handful of questions to get to. Plus, at the end, we want you to become a Columbus tour guide for recruits who visit this city and Ohio State's campus.
Let's get crackin'
Tiers for Early Enrollee contributors

Instead of simply listing the players I believe have a shot at being major contributors and playing in their first year, I put all of the Buckeyes' program-record 15 early enrollees in tiers of who will or won't contribute.
Bank on it
TreVeyon Henderson, Jesse Mirco
There's not a ton we need to get into here. Henderson is the third-highest running back signee in Ohio State history, and I believe the hype will turn out to be real. I've been on record, though, saying that I think Henderson won't earn that starting job until midway through the season as he adjusts to the college game and being out of live football for nearly two years by the time fall hits. Mirco, meanwhile, enters a two-man race against walk-on Michael O'Shaughnessy. 
If I were a betting man
Jack Sawyer, Emeka Egbuka, Kyle McCord, Marvin Harrison Jr.
My pick to win the starting job is still C.J. Stroud, but it's impossible to count out the five-star McCord. I have a feeling he will find his way to the field at some point as a true freshman, even if he doesn't win the starting job. I would put Sawyer in the "bank on it" category because, frankly, the guy is an awesome talent and physically will likely be ready as a freshman. My only holdup is Larry Johnson's propensity to hold off on putting freshmen defensive linemen on the field for major snaps. At the receiver spot, Egbuka is going to be an All-American one day so it's hard for me to believe he won't get snaps despite the loaded receiver room, and Harrison has already drawn praise (from our staff and from Ryan Day) for his route running and how he's already handled things like a pro and attacked spring ball like a veteran. Don't like to count out a player with that ilk.
Still a year or two away
Evan Pryor, Reid Carrico, Jayden Ballard, Ben Christman, Tyleik Williams, Jantzen Dunn, Denzel Burke, Sam Hart, Zen Michalski
Ballard and Williams are the two I hate putting on here. Ballard is a physical marvel, and Williams (who has earned some praise already) has a shot in a defensive tackle room looking for some more depth. Burke was also a player pointed out by Day who flashed early in practice.
Wish you were here
Donovan Jackson, Mike Hall, Jakailin Johnson, Jordan Hancock, Andre Turrentine, Jaylen Johnson
Of Ohio State's 21 signees in the 2021 class, the only six who are waiting to enroll in the summer are offensive guard Donovan Jackson, defensive tackle Mike Hall, cornerbacks Jakailin Johnson and Jordan Hancock, cornerback/safety Andre Turrentine and safety/linebacker Jaylen Johnson.
And that's a shame because all six players would have a real shot at contributing at their respective positions in Year 1, with Jaylen Johnson and Turrentine being the least-likely to do so.
Jackson told us that he attempted to enroll early but his school would not allow him, and Hall previously talked about his disappointment with us about not being able to get on campus in January. Both are players who I absolutely believe would have made the two-deep if they had been early enrollees. Jackson has that type of talent and could have maybe even pushed for a starting spot, and the Buckeyes' plan for Hall was not to redshirt him as a freshman – with Larry Johnson instead wanting Hall to push for a two-deep spot.
Hall would have been playing from behind with the return of Antwuan Jackson and Jerron Cage, plus the unexpected return of All-American Haskell Garrett. Still, the 3-tech spot is one in which Ohio State needs depth, and Hall is the perfect candidate to provide that as a freshman. He still might, and I'm not betting against him. He just no longer has the built-in advantage of arriving early and getting in the weight/nutrition program six months earlier.
As for the two cornerbacks Jakailin Johnson and Hancock, each seems the most ready to contribute early as the Buckeyes' defensive backs among the 2021 group. And, as nature would have it, the second outside cornerback spot is among the ones that is the most up for grabs heading into spring ball. Ryan Watts and Lejond Cavazos are the top candidates as of now, but they would have been pushed hard by those two first-year players.
Buckeye Bashes an annual fixture?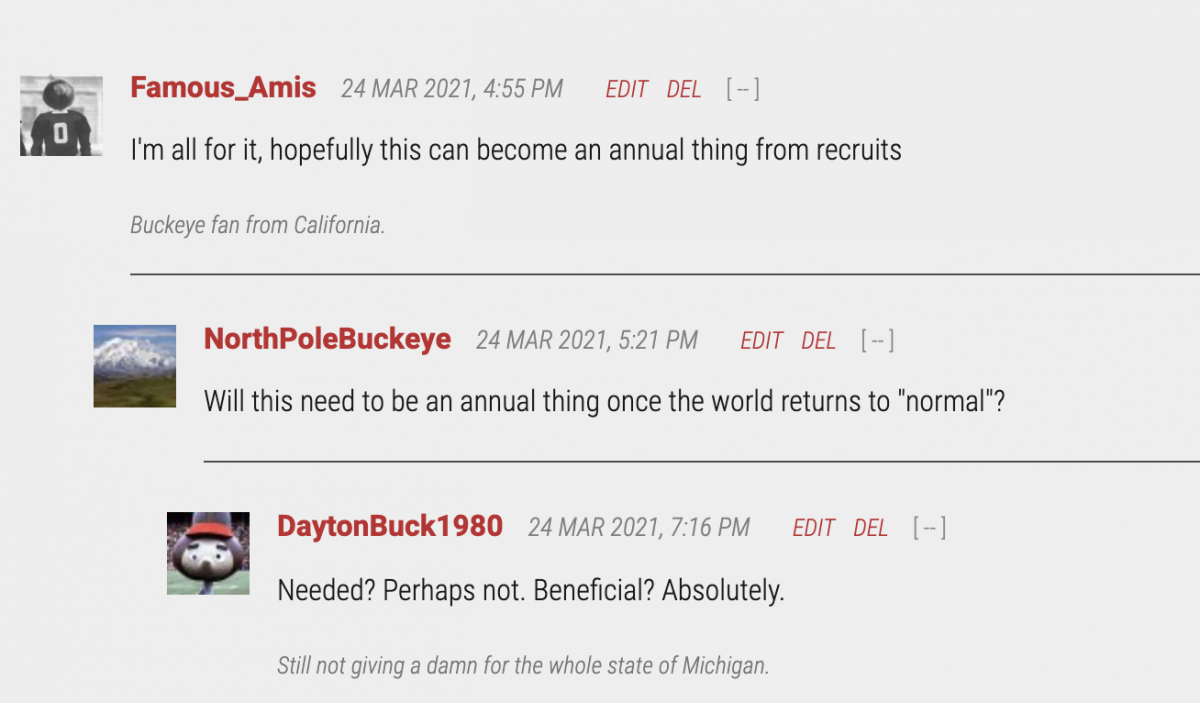 The Buckeye Barbecue and Bash was Ohio State's summer extravaganza back in yesteryear when in-person recruiting existed. With the dead period enacted, the 2021 commits took it upon themselves to hold the Buckeye Bash in the attempt to finally get some face-to-face bonding, do some extra recruiting on major targets and get commits on campus who had never visited.
Ohio State's 2022 group is set to do the same thing, as we reported on last week. C.J. Hicks and Dasan McCullough are continuing to follow the blueprint laid out by Jack Sawyer and Kyle McCord in pulling the Buckeye Bash 2.0 together.
Will these Buckeye Bashes become annual fixtures? And, more importantly, will they be necessary?
To answer the second part, let's sure as hell hope not. One would at least hope that the recruiting dead period is not going to last forever so it shouldn't exactly be necessary.
However, I do think that this could become an annual *thing* and that the Buckeyes' in-state recruits in the future will take the reins here. Luke Montgomery, a 2023 prospect out of Findlay, Ohio, is not committed to the Buckeyes yet, but if he does, he is going to take over the top peer recruiter role out of Ohio that Sawyer and Hicks did in their respective class.
Montgomery is the type of kid I could absolutely see being the ring leader for another Buckeye Bash, and there might wind up being four or five in-state commits who could throw one together. Even if it's just the local Ohio guys and the rest of the nearby Midwestern states who converge on Columbus for a weekend such as that. Commits from the likes of California, Texas and other faraway lands will probably wait until their official visits to come on their second, third or fourth visit so that they don't have to make the trips on their own dime.
The 2021 and 2022 groups have been very tight throughout their recruitments via group chats and Zoom calls. I wouldn't be surprised if commits/recruits in ensuing classes form the same type of camaraderie early on and wind up doing exactly what those classes did – forming Voltron and organizing their official visits all on the same weekend. Happened in the 2020 class with nine commits visiting in June of 2019.
JTT visiting?

We will be updating the visitor list as we get closer to that June 6 Buckeye Bash 2.0. But no word on this yet other than just waiting to see when, not if, five-star Washington defensive end J.T. Tuimoloau visits Ohio State.
It's the only program of his final five (OSU, Alabama, USC, Oregon, Washington) that he has not visited. Hicks is working on getting Tuimoloau on campus, but that's still probably a job for the 2021 guys.
Awaiting word from NCAA

Speaking of the ever-hated Waiting Game, the NCAA seems to apparently have Ohio State's coaching staff and administrators just as much in the dark as the rest of us on what will be allowed once the dead period ends.
How many official (or unofficial) visitors will be allowed on campus is not known. But you can pretty much bank on there being restrictions – restrictions that Ryan Day talked about earlier this week.
"There's not much, in terms of preparation, that we can do other than talk to recruits and their families about coming to visit if it does open up here in June," Day said. "I think there's gonna be some restrictions on how many people can come in. We're talking about a year and a half since recruits can come on campus. That's really two classes that haven't been here. So they're gonna be coming over the walls, so we're gonna have to be smarter than all of that."
Recruiting talk semantics

I know this was answered in the comments section but just to hit on it briefly before we get out of here – a lot of times a late push means that a program was essentially either keeping a prospect warm and he wasn't 100 percent a take yet. Once the school either a) got more film or a better overall evaluation of the prospect OR b) had a prospect it liked more at the same or a similar position, then they will go all in and make that late push, telling the recruit he has a committable offer.