The Hurry-Up is your nightly dose of updates from the Ohio State football recruiting trail, keeping tabs on the latest from commits and targets from around the country.
Coombs first rounders pitch
When visiting with five-star cornerback Will Johnson this summer, we spoke about a lot of things with both him and his father, former Michigan defensive back Deon Johnson, but the thing that stood out instantly was when the younger Johnson talked about Kerry Coombs' recruiting pitch.
Johnson said it didn't feel like much of a pitch at all, really, because the proof was in the numbers. But it still hit him nonetheless.
"(Coombs) says 'I only recruit first-rounders.' That's his line for me," Johnson said. "He said he's only offered five guys, and he says he only offers first-rounders. So that's basically him saying that he thinks I can be there and that he thinks I can be a first-rounder.
"They put corners in the league every year. He just got back from the NFL so he knows how that goes, too. So he has connections in the league that would help me get there, so that helps a lot. … I think he just knows that he's able to coach and develop kids. There's a certain style of corner he recruits that he thinks he can develop into first-rounders so he has the confidence to say that."
Because of NCAA rules, coaches can't comment on players they're recruiting, so we're never going to get on-the-record thoughts from them about their strategies, pitches or conversations with certain guys. So we have to ask the players themselves.
In his most recent media availability, however, Coombs dug a bit deeper into the types of players he wants, and it served a dual purpose. It was a message to the defensive backs already in the Buckeyes' locker room to have a lockdown mindset, and it was a recruiting pitch to any of the blue-chip players Ohio State is recruiting.
He talked about the length and physicality he wants from his cornerbacks, but he also hit on the mental edge he wants from those players.
"We're developing that mentality, and I'm excited about these guys and their development of it," Coombs said of the Buckeyes' current group of corners. "But that is really what I'm looking for. It's what I look for when I recruit. I like to recruit winners. I like to recruit guys that their guy doesn't catch the ball, and if we do that, we've had good days."
Top targets, number of corners targeted
Johnson is one of those prime targets, and I believe the Buckeyes should be considered the early favorite there among the top 10 schools he released this month. Some of the other top-flight corners in the 2022 class who have gotten similar recruiting pitches from Coombs include other five-stars in Domani Jackson, Denver Harris and Jeadyn Lukus, in addition to three-star St. Louis corner Toriano Pride.
"(Coombs said) he produces first rounders, and he only offers kids who he thinks can be a first-rounder," Pride told Eleven Warriors previously. "It made me wanna go harder because he's a top DB coach and he's telling me I could be a first-rounder."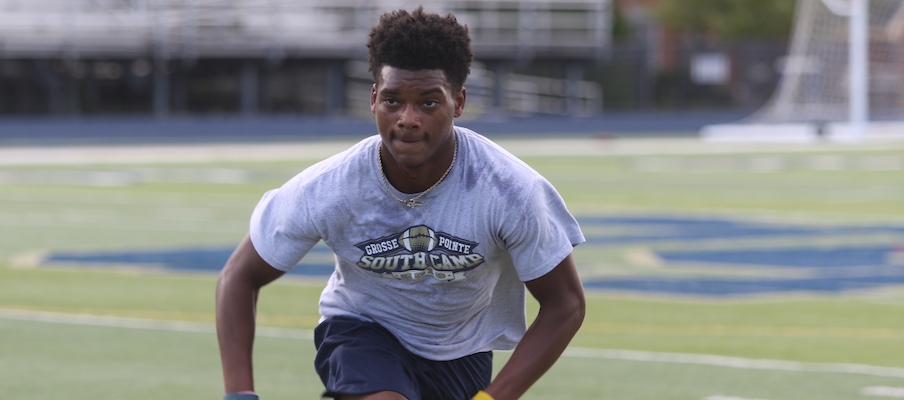 Harris, another corner near the top of the Buckeyes' board, was offered by the Buckeyes the week before the NFL Draft, where he saw Jeff Okudah and Damon Arnette get taken in the first 20 picks. Similar to how Johnson was offered – when Ohio State offered moments before Okudah was selected No. 3 overall – Harris was given similar treatment and it left an impression.
"Coach Coombs didn't mention any names, but he asked if I was aware of any of the players he's coached," Harris told us previously. "And, of course, I immediately thought of guys like (Denzel) Ward, (Bradley) Roby, Okudah and (Kendall) Sheffield. He also talked about Jeff going first round this week, and I definitely want to have success like those guys did and hopefully be able to be mentioned along side of them in the future."
After taking nine total defensive backs in the 2020 and 2021 classes combined, I've been told the Buckeyes are gunning for a smaller cornerbacks haul in 2022, and they can afford to be very selective there. The number I've been told is three, and with Jyaire Brown already committed, that would allow the Buckeyes to wait on guys like those mentioned above to fill out what will likely be another top-tier corners group with Coombs back in charge.
"You're still the same player I recruited"
And speaking of Coombs being back in charge, that was one of the items that Marcus Williamson was most excited to talk about last week during his media session. 
Ahead of what will be the biggest season of his career, Williamson is happy to have back the man who originally recruited him out of IMG (Florida) Academy.
"He came in the first day and told me, 'You're still the same player that I recruited. Let's get to work,'" Williamson said. "And I think we've just been making extreme strides since he's been here. So it's great to have him."
Williamson has emerged as the likely starter for the Buckeyes at slot corner. If he can have a standout season, that'll add just another notch to Coombs' belt and serve as another recruiting chip moving forward.