The Hurry-Up is your nightly dose of updates from the Ohio State football recruiting trail, keeping tabs on the latest from commits and targets from around the country.
"I feel like a lot of those guys get humbled"
Andre Turrentine rarely does interviews. 
Media is not his thing, so it's not often at all that Ohio State's fan base has heard from the blue-chip safety commit.
You essentially have to drive 399 miles down to Nashville to corner the Ensworth High School star following a game in order to talk to him.

Well, then drive another 140 miles to Chattanooga when you remember that the media credentials you got were for an away game. But I digress…
Turrentine really does keep to himself when it comes to that side of things, and he really stays away from hyping himself up and self-promotion. So when confronted with how difficult it is to get ahold of him, the 6-foot, 180-pounder who is committed to the Buckeyes' 2021 class flashes a big smile and looks side to side. 
"As far as media, I know I can be that guy who's just out here taking pictures and out here talking all game, talking to every single reporter," Turrentine told Eleven Warriors. "I can be that guy who's posting pictures everywhere and going to all these schools. I could just be that guy on the media, and I realize it does something as a brand. But where I am right now, I'm just trying to figure who I am as a person, and I don't wanna be that guy who just gets so far out there and loses myself. And then I get to college and I'm just another guy, and now I'm at the bottom of the barrel. And now I have to fight my way back up to the top. 
"I feel like a lot of those guys get humbled. Obviously, around the country, those guys are really high up in the rankings, but I feel like I could be that guy but I just choose not to. That's just not me. I see the benefit, but I don't really think that that's who I am as a person."
To be abundantly clear, as you can probably gather from that answer above, just because he doesn't often do interviews apparently does absolutely not mean he's soft spoken. (My 20-minute interview with him from Friday night hit more than 3,800 words when I transcribed it. For comparison, most 20-minute interviews with recruits would be anywhere from 2,000-2,500 words if I transcribe the entire thing.)
That nature of keeping to himself really showed itself in March. He committed to the Buckeyes on the 17th, which came after he dropped a top four list on the 16th that was a bit out of nowhere since not many had heard about his recruitment. Even his parents didn't know for sure where he was going, and he didn't tell them until that morning.
"We took a visit there after we played the McCallie game," Turrentine's father, Antonio Sr., said of their trip to the Penn State game on Nov. 23 following a second-round playoff loss the night before. "We drove up there in the snow, and the visit was great. We loved it there. We came home, and then COVID hit. So we didn't know what this thing was gonna do. He said, 'Dad, I don't know if we're gonna take any more visits.' He said, 'I kind of know where I wanna be,' and he said, 'In the next couple days, I'm gonna commit.' But he didn't tell me where. He didn't wanna tell anybody. 
"That morning, he told me: 'I'm gonna call Ohio State.' And I said, 'great choice.'
Turrentine told his dad "there's nowhere else I wanna be."
Relationship timeline with Ohio State
I think it's fascinating to look back, once a player is committed and firmly in the class, and see the timeline of how that specific recruitment was constructed and the steps it took to land that player.
It's easy to say, "Well, it's Ohio State. The brand recruits itself." That's true to an extent. But when you're going up against schools like Alabama and LSU (two of the other schools in Turrentine's final four) that have Titan-strong brands themselves, something has to stand out and there needs to be a foot in the door.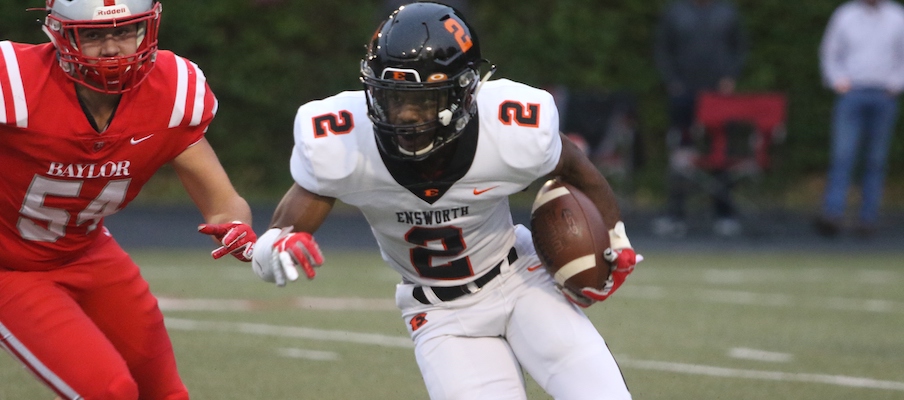 That foot in the door between Turrentine and the Buckeyes came years ago. The Turrentine family lives in Murfreesboro, the same hometown of Ohio State running back Master Teague. The Teagues and Turrentines live in the same area, and the Turrentines' oldest son, Antonio Jr., played with Teague during their pre-high school years.
Turrentine's father and mother, Jajuan, both believe that's how Andre wound up getting on Ohio State's radar originally. That eventually paved the way for the first conversation between Turrentine and the Buckeyes staff in late August, as Tony Alford extended an offer after Turrentine's first game in what would become a breakout junior season. Alford made an immediate impact on Turrentine, but he made even bigger waves with someone equally as important – mom.
"Coach Alford felt like family, from the first day," Jajuan said. "He was the biggest person to make me feel comfortable because I'm very protective. And he made me feel comfortable, and Mr. (Matt) Barnes did too. It really made us feel comfortable. So after all those conversations, I felt comfortable with Andre being there, and I think he made a good choice. It's somewhere he can grow and be challenged.
"And it's not too far from mom."
An immediate gut feeling
Recruitment picked up quickly from there, as the three of them made that weekend-long trip to Columbus, and Turrentine had the green light to pick Ohio State from his parents basically from the beginning of the trip all the way through the end. There's a few reasons for that, and we'll let Jajuan explain:
The gut feeling: "I liked it from the first moment I got there. There was just something about it because it felt like family."
The centralized aspect of Ohio Stadium and the surrounding area: "We had gone and visited all the other schools (including Tennessee, LSU and Alabama). I like how (Ohio State) kept everything together. Some of the other schools were so spaced apart, and it was, 'Go over here, go over there.' Everything was centralized at Ohio State. You go to some of them other schools and it takes forever to get to the football game. At Ohio State, everything is sort of centralized – the hotel where the players stay and all that. It's not too far from the stadium. A lot of other places, it was a lot of moving around. I was like, 'This is exhausting.'"
Growth opportunity: "I said don't pick no school where you won't be challenged and you won't grow. Pick somewhere where you can grow and that will challenge you but you know you can meet the standard. … It's a high enough standard that will challenge him, and he will grow. He always meets the challenge, so it'll challenge him and he'll grow."
"Coach (Tony) Alford felt like family, from the first day. He was the biggest person to make me feel comfortable because I'm very protective. And he made me feel comfortable, and Mr. (Matt) Barnes did too."– Jajuan Turrentine, mother of ohio state commit andre turrentine
But above anything else, it was the relationships, the most critical part of any recruitment. 
"We love Coach (Jeff) Hafley and Coach Day," said Jajuan, whose son was recruited by Hafley before Kerry Coombs eventually took over. "Coach Day, that's my boy there. He's so cool. He don't even come across as being so elevated as he is. He's so personable. He's a regular, smegular guy, and I love that about him. He's very personable and very warm. Some of the other coaches, you felt a little coldness from him, and I understand because of what they have to do. But he just felt so warm, you know what I mean? He made me feel so comfortable."
Yet another resounding vote of confidence from the parent of a recruit about Day. That's become a common theme. 
I'll have more from my time with Turrentine and his family next week from the non-recruiting side of the story.