CINCINNATI – It was a frustrating Friday night for Jaylen Johnson and his Cincinnati La Salle teammates, none of whom were able to get much of anything going on offense against rival St. Xavier. 
Offensive star Gi'Bran Payne was solid as a receiver but was stalled on the ground, as the country's 17th-ranked 2022 running back – who boasts offers from Alabama, Wisconsin, Michigan, Notre Dame and Penn State – was held to eight yards on eight attempts. 
On defense, the Lancers were without Alabama cornerback commit Devonta Smith, the nation's 29th-ranked cornerback in the 2021 class, putting them in a bind in pass coverage. 
That left La Salle's star safety, Johnson, having to fly all around the field, both pre-snap and post-snap. He was used in man coverage on the outside against Penn State commit Liam Clifford, he was used as a blitzing outside linebacker and was often running off the edge as a run stopper, and he covered the seams and outside the hash marks in zone coverage. 
But none of it was enough, as the Lancers defense allowed 507 total yards (309 of which came through the air) and a 65-percent third-down conversion rate (11-of-17) en route to a 24-10 loss.
Despite the frustration, after the game Johnson began walking off the track that encircles La Salle's Buddy LaRosa Field when he was stopped by a St. Xavier coach. 
"I've coached against some special dudes," the coach told Johnson. "Coached against Jalen Ramsey. Whatever he had, you've got. You're special. Keep it up."
Those comments absolutely did not fall on deaf ears. Johnson was grateful for the compliments following the loss. But still, in the aftermath of a Week 2 defeat, he was trying to focus on the next steps for his team.
"I'm thankful for everything and everything that coaches have said about me, but I'm more focused on my team and how we're gonna come back next week," Johnson told Eleven Warriors after hearing those comments. "We've gotta have better preparation this week. X was the better team. I'll give it to 'em. Liam Clifford is a good receiver. Coach (Steve) Specht is an awesome head coach. Happy for 'em and hoping they do good next week against Elder. But we're coming back."
Johnson (7) misses a tackle here that leads to a first down. St. Xavier eventually capitalizes with a field goal pic.twitter.com/ZLEyV5pVe3

— Zack Carpenter (@Zack_Carp) September 4, 2020
What Johnson's Friday night performance gave us – other than a glimpse of what that coach deemed "special" – was a snapshot of the role Johnson could play at Ohio State as a roving linebacker/safety hybrid. Though we have long said Johnson is likely to transition to an outside linebacker, the 6-foot-1, 200-pounder who is ranked No. 24 at safety and No. 354 overall in the 2021 cycle says Kerry Coombs wants him in his defensive backfield. Even if his body and skillset – he was best as a run stopper on Friday night – seem destined to be used as an outside linebacker.
"Coach Coombs wants me to play safety," Johnson told Eleven Warriors after the loss. "They told me they only want me playing safety. If they move me to linebacker, I'm willing to play wherever the team needs me.
"I'm like a Josh Proctor type that can play in the field but also play the run too, so the Bullet position."
Really, ever since his commitment in January, Johnson has been telling us that he roams the field on defense for La Salle, as he's been fast enough to guard receivers, physical enough to guard tight ends and play in the run game aggressively and intelligently. In fact, he compared himself to one of the Buckeyes' best players. 
"This year I've only gotten beat once on the deep ball," Johnson told us in January, coming off his junior season in which La Salle won the Division II state championship. "Teams don't really like passing the ball when they play against me. How I see myself in Ohio State's defense is like Shaun Wade. Teams don't like throwing the ball to Shaun Wade. They like running at him, and he comes up and makes plays. When they do throw at Shaun Wade, he can play in coverage, so that's where I look at myself."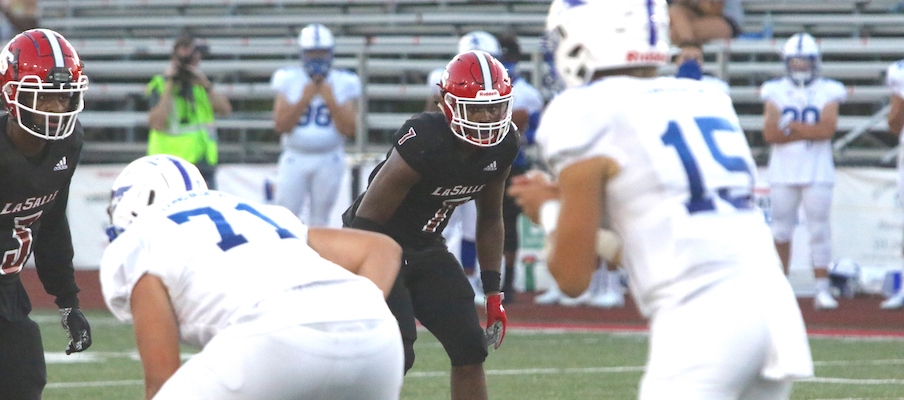 He showed off some of that man coverage skill on Clifford, who finished with six receptions on eight targets for 55 yards and a touchdown. But when Clifford and Johnson squared up, the future Nittany Lion was not nearly as effective. 
"That was the strategy coming in," Johnson said of being matched up one-on-one with Clifford throughout the night. "Whenever they called the special defense, I would man up on Liam. I did what I was supposed to do. I let my team down because I could've done better, I guess. The coaches said I did good, but I feel like I could've made some plays here and there."
It was pretty cool to see a pair of future Big Ten opponents – one on offense, the other on defense – who will play for the league's two best teams one day go head-to-head at the high school level. But Johnson was focused on treating it like any other matchup, even though he has a high opinion of Clifford. 
"Clifford has all my respect," Johnson said. "I don't talk trash on the field. If I'm talking trash, I'm showing it. I feel like I left everything I had out there on the field, and I'll come back next week better.
"I'll go up against the best athletes in the world. Whoever you put in front of me, mano a mano I'll be ready. Clifford, it is cool going against him."
In Week 3, Johnson is going to be facing a triple-option team in Lakota East, which will present another challenge as he says he needs "to stay closer to the box so they don't go over the top for any pass plays." 
It'll be another way for Johnson to continue brushing up on those all-around defensive skills he flashed on Friday. And it'll be another way he can fit in to a future Buckeye defense that he has big expectations for.
"We're gonna have the best defense in the Big Ten," Johnson said.