The Eleven Warriors staff was out in full force on Friday night, covering Ohio State prospects across the entirety of the state.
We were in northeast Ohio, where Colin Hass-Hill was there to check out newly offered 2023 defensive end Brenan Vernon of Mentor going up against Medina and its star quarterback Drew Allar.
We were in central Ohio, where Dan Hope was able to catch up with 2022 Buckeye commit Gabe Powers – just three days after the Marysville star became a five-star prospect and the No. 1-ranked outside linebacker in America – and watch him square up with Wisconsin tight end Jack Pugh.
And we were also in southern Ohio, just a Shane Falco throw away from the Kentucky border, as I saw Ironton's Reid Carrico and Trevor Carter in live game action for the first time. 
No one covers Ohio State recruits like us here at Eleven Warriors. We will have more from these prospects this week, and we will be covering Buckeye commits and targets throughout the season, so keep your eyes peeled.
Brenan Vernon, Drew Allar
For a while, it seemed that despite getting clearance from the OHSAA and governor Mike DeWine's approval to play high school football this fall, Mentor and Medina would have to wait to kick off their seasons. A lightning-filled storm forced the game to get pushed back 45 minutes before kicking off at 7:45 p.m. at Medina's Ken Dukes Stadium.
Vernon was the main attraction since he earned an Ohio State offer two weeks ago and is widely viewed as a Buckeyes lean. Vernon, a physical marvel for a sophomore who's listed at 6-foot-5 and 245 pounds, had a relatively quiet performance in a 37-19 win. By design, Medina got the ball out quickly and rarely directly attacked Vernon, who went sackless. He still managed to impact some throws and secure a few tackles. Afterward, he said he should be able to "just dominate that edge," which he didn't feel he did on Friday.
"I feel my team had my back," Vernon said. "They stepped up. They did their job. I'm so proud of my team. Those are my brothers. I love every single one of them. Personally, myself, I'm disappointed in myself. I didn't feel I came ready for my hands. I didn't feel I was ready today. But, hey, that's what tomorrow's for. It's a new day. I'm here to get better."
On the other sideline, Medina relied heavily on Drew Allar, a three-star 2022 quarterback with offers from Pittsburgh, Toledo, Akron and Central Michigan. He shined in the first half, tossing three touchdown passes – including a backdoor fade – while showcasing a tough, physical running style.
Impressed with Drew Allar so far. A tough runner whose three passing touchdowns are keeping Medina in the game. The 2022 quarterback holds four scholarship offers so far, including one from Pitt.

At halftime, its a 23-19 Mentor lead. pic.twitter.com/0T4FTAb48A

— Colin Hass-Hill (@chasshill) August 29, 2020
Unfortunately for him, Medina made the call to sit him for the second half due to a leg injury. With Allar watching with a limp on the sideline, his team couldn't close its four-point halftime deficit and lost by multiple touchdowns.
-Colin Hass-Hill
Gabe Powers
Powers wasn't at full strength for Marysville's season opener at Impact Stadium on Friday night, as he battled both breathing issues due to allergies and was struck with leg cramps in the second half. But that didn't stop him from playing nearly the entire game for the Monarchs on both sides of the ball as they shut out Hilliard Bradley, 17-0.
There weren't a ton of plays in Friday's game that will end up on Powers' highlight reel, as Bradley consistently ran plays to the opposite side of the field from the future Buckeye. But in a game where his primary job on defense was to cover Pugh, he did his job effectively, limiting the future Badger to just a few short catches to help the Monarchs keep the Jaguars scoreless.
Powers credited his coaches with putting together a great game plan to make the shutout possible, and he relished the opportunity to match up with Pugh, who is ranked as the No. 10 player from Ohio in the class of 2021 but did not make any big plays in Friday's game.
"That went great, because Pugh's one of the best tight ends in the nation," Powers said. "Going to Wisconsin, me going to Ohio State, big vs. big. So he did a great job, high respect for him, and we got it done."
On the other side of the ball, Powers lined up everywhere from tailback to tight end in Marysville's Wing-T offense. His two lost fumbles as a ballcarrier might be evidence for why Powers' collegiate future will be on the defensive side of the ball, but he did show his athleticism and strength as a runner – on one rush, he broke multiple tackles with stiff-arms – and as a lead blocker.
Gabe Powers (36) with the lead block. Marysville scored a touchdown on the next play to take a 17-0 fourth quarter lead. pic.twitter.com/GQB9k35E3w

— Dan Hope (@Dan_Hope) August 29, 2020
Powers and the Monarchs will look to improve to 2-0 next Friday when they play their first road game of the year at Hilliard Darby.
-Dan Hope
Reid Carrico, Trevor Carter
After texting Carter that we would be in attendance for Ironton's game against Portsmouth, the 6-foot-1, 190-pound 2023 standout – one who was ranked No. 75 overall, No. 15 at athlete and No. 2 in Ohio in the first 247Sports recruiting rankings for his class – responded by saying, "We're gonna put on a show."
It didn't take too long for Carter and Co. to back up that talk. 
A 30-yard touchdown run from Carrico – the Buckeyes' lone 2021 linebacker commit – gave the Tigers a 15-0 lead midway through the first quarter. Carrico added a 3-yard touchdown run two minutes later, and his bulldozing 5-yard touchdown run up the middle gave Ironton a commanding 43-3 lead with 7:21 left in the second period.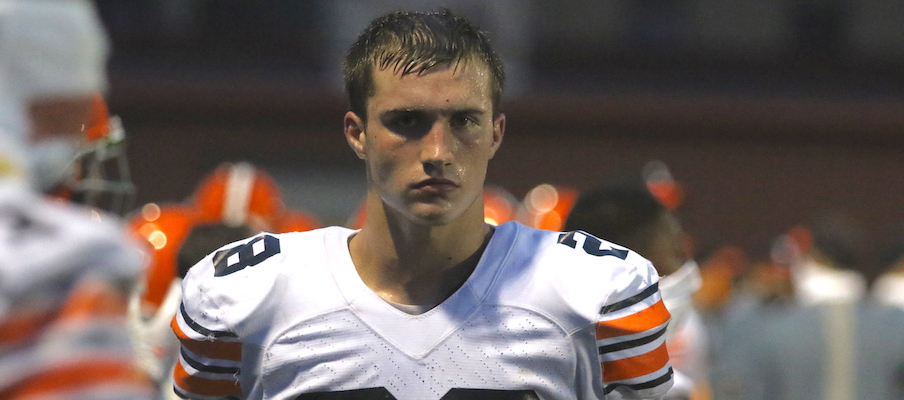 That's when the highlight of the night happened – at least as far as we're concerned. 
On the next drive, Carrico ran for a quick 10-plus-yard gain and subbed out, making that his final play of the night. Carter replaced him, and he subsequently exploded for a 35-yard touchdown run. On that play, Carter ... well ... we'll let him describe it:
"I was taking it outside, and I saw two or three guys shifting to the outside, shuffling a little bit, so I cut it back," Carter said. "A guy came in and tried to make a tackle, and he actually hit me right (in the ribs), and I just kind of bounced off that and cut back a couple ways to the other side of the field. I saw the guy coming at an angle and didn't think I'd beat it out, so I just dove."
On the sideline, a couple teammates were screaming at him "Dive! Dive Trevor!"
"Oh, I heard 'em," Carter said with a laugh following the 50-9 victory. "The coaches were yelling it too, and I'm like, 'I gotta do this.' So I just laid out and got it done. Adrenaline was going, for sure."
Carter labored through an injury last season, so Friday night was his first real time as a varsity contributor, and he played well. Ohio State has shown interest, but they're still feeling him out a bit, probably wanting to see how he performs throughout the season and grows 1) Into his body 2) As a defensive player, as he's playing safety for the Tigers right now but is likely going to become an outside linebacker.
Meanwhile, Al Washington doesn't have to worry about Carrico. The future Buckeye says he doesn't talk to Washington too much these days: "Those guys have got enough stress as it is right now so I try not to be the little snotty-nose recruit staying up in their business all the time," Carrico said. 
Instead, Carrico is focusing on his final high school season, and that includes leading his team to an easy victory in the state of Ohio's second-oldest high school rivalry. 
"It's always a big game," Carrico said. "Any time they come down to us or we come here, we come ready to play. They graduated a lot last year, it's whatever. We kind of put it on 'em this year, but they're a good football program. They always have good football players. I expect next year they'll be a better football team, but it won't matter for me because I'll be wearing scarlet and gray."
-Zack Carpenter
Other highlights
Archbishop Alter lost in its season opener, 42-32, to Clarksville Clinton-Massie. But Ohio State's four-star 2022 outside linebacker commit C.J. Hicks – who also starts at receiver and as a return man for the Knights – broke free for a 74-yard punt return touchdown:
House Call pic.twitter.com/RUAwxhfFjb

— C.Hicks (@imcjhicks) August 29, 2020
During the offseason, Buckeye 2021 receiver commit Jayden Ballard soared up the recruiting rankings from No. 74 overall into the top 50. He's been heralded as one of the most exciting prospects in his class by 247Sports, and on Friday night we got a glimpse into why, even with the cornerback playing very off of him during a 24-23 loss to St. Edward:
THAT BOYY @J_Ball21 going CRAZY!!!!! https://t.co/DR2VCyIsRc

— TreVeyon Henderson (@TreVeyonH4) August 29, 2020
Buckeye Commit 4 WR JAYDEN BALLARD @J_Ball21 @BillBankGreene @OhioStateFB #NETGENCERTIFIED pic.twitter.com/w4W4DyfT0a

— NextGenerationSportsmedia (@nxtgencertified) August 29, 2020
Streetsboro blew past Akron Coventry, 63-13, and 2021 Ohio State defensive tackle commit Mike Hall was a disruptive reason why:
Apply Pressure https://t.co/wwMORgUd2O

— (@MichaelHallJr_) August 29, 2020
Go Bucks... #buckeyenation pic.twitter.com/PmFumnus3e

— (@MichaelHallJr_) August 29, 2020
In-state commits Jaylen Johnson (Cincinnati La Salle) and Tegra Tshabola and Jyaire Brown (Lakota West) were also in action, each coming out with a win. La Salle pulled away from Elder with a thrilling 53-52 win in double overtime (one that was buoyed by Buckeyes 2022 running back target Gi'Bran Payne in an early candidate for the game of the year). Lakota West, meanwhile, pulled out a 10-0 win over Colerain to jump out to a 1-0 start.