BOWLING GREEN, Ky. – It's nearly three months to the day that Jantzen Dunn became the fifth member of Ohio State's 2021 defensive backs class – a commitment that became the weekend's hottest escapade in recruiting when it took us on a quick-but-crazy joy ride skidding through Norman, Oklahoma and screeching to a stop in Columbus.
First, Dunn was a Sooner. But faster than he can run his 4.54-second 40, he was a Buckeye.
It's a hell of a story, that wild Saturday night in April. But it still hasn't been told. Not completely and not publicly, anyway, by the most important people involved.
It's now a Friday afternoon in mid-July, and Jantzen's father Mitchell Dunn is leaning back in a metal chair on the porch of his Kentucky home – the house that sits on the right hashmark of a small cul-de-sac about 60 yards from the Boys and Girls Club of Bowling Green – as a heavy thunderstorm prepares to roll in from the northeast.
We're here to talk about the guy who's now stepping out of the house to join us on the porch – the 6-foot-2, 187-pound Jantzen, a rising senior at nearby South Warren High School who probably doesn't get talked about enough when discussing the Buckeyes' recruiting class. 
We're here to talk about a video that is two days removed from blowing up on Twitter, with 24,000 people witnessing the product of the gym work Jantzen put in over the last several months to retool his body and craft explosive, smooth foot speed. 
Just wants to get better! #BuckeyeNation pic.twitter.com/GGXD3R5xpO

— Mitchell Dunn (@mdunn2012) July 15, 2020
But we're also here to talk about what feels like an elephant in the room any time Jantzen or Mitchell do an interview. 
What happened that night with Oklahoma?
At first, neither really wants to discuss it. In fact, that becomes a baseline requirement going forward.
"We're leaving Oklahoma in the past," Mitchell says, waving his hand from the left to the right across his body as if throwing that entire subject away. 
At this point, it feels like they've been asked about it a million times, even during random run-ins with people at gas stations or grocery stores. So it can get a little tiring. 
But you know what? It's time.
It's time to talk about it. It's time for them to share their side of the story. Since everyone's going to keep asking, Jantzen and his dad decide they might as well open up and get the story out.
Here's what happened during that frantic, sometimes confusing and emotional one-hour window that led to Jantzen Dunn becoming a Buckeye:
April 18
11:31 a.m. EDT
Dunn is a safety/cornerback prospect who was ranked outside the top 300 three days prior to this day. By the time this Saturday morning hits, however, Dunn is now tucked inside the top 250 and is nationally ranked No. 15 at the athlete spot. 
Following a morning workout in his driveway – a makeshift weight room on the side of his house being a necessity with COVID-19 having shut down gym access – Dunn tweets out a graphic of himself in an Oklahoma uniform.
BOOMER...#OUDNA pic.twitter.com/x90lvT8IFr

— Jantzen Dunn (@JantzenDunn) April 18, 2020
Nothing out of the ordinary. Just the type of graphic provided by a college's creative media team to recruits all the time for them to put on Twitter and Instagram. 
But Oklahoma is one of the schools in Dunn's public top seven released a couple weeks ago, and it's one of his private top-three schools, in addition to Ohio State and Louisville. He has established a tremendous relationship with Sooners cornerbacks coach Roy Manning, and even though he hasn't yet visited Norman, there's a strong pull there.
The Sooners check off all but one box on Dunn's list, and Manning's vision for him to be an outside cornerback in the defense they're trying to build is enticing.
8:30 p.m.
The first buzz picks up when Sooners head coach Lincoln Riley hops on Twitter for his notorious eyeball emoji tweet, the one he sends out each time Oklahoma picks up a commitment who is set to announce his decision soon.
 

— Lincoln Riley (@LincolnRiley) April 19, 2020
8:31 p.m.
Dunn tweets there is some "big news coming soon." (Though, retroactively, maybe he should have tweeted "B1G news" was coming soon.)
His most recent Twitter follower is Riley, and it's not a coincidence.
BIG news coming soon...

— Jantzen Dunn (@JantzenDunn) April 19, 2020
Dunn did not seem to be a player on the verge of making a college decision. Minutes before this Tweetgate sent recruiting analysts into a frenzy, however, Dunn sat with his dad, got on the phone with Manning and committed to Oklahoma. 
Mitchell begins sending out texts to some of the coaches of Jantzen's other top seven – Miami, Georgia Tech, USC, Tennessee – to let them know they're going with Oklahoma. Jantzen, meanwhile, is going to get on the phone with the Louisville and Ohio State coaches to deliver the news.
He first gets on a phone call with Louisville's defensive coordinator/cornerbacks coach Bryan Brown to let him know his intentions. 
8:48 p.m.
More buzz trickles in when 247Sports national recruiting analyst Steve Wiltfong and 247Sports Oklahoma insider Brandon Drumm place Crystal Ball predictions for Dunn to commit to the Sooners. 
Things go haywire. 
The Dunns have not even gotten around to texting any of the Ohio State coaches, and Jantzen has not yet given a call to Matt Barnes – the Buckeyes' special teams coordinator/assistant secondary coach – who serves as Dunn's lead recruiter.
Mitchell's phone starts vibrating. It's a text from Barnes:
Hey, can you give me a call?
Mitchell says he still has no idea how Barnes caught wind of Dunn's decision. It could've been the tweets. Could've been the Crystal Ball pick. The coaches' circle is also a pretty tight group of guys who have either coached together or have been in coaching for years and know each other well. Any number of connections, possibly from one of the coaches on one of the staffs that Mitchell had already texted, could have let Barnes and the Buckeyes know. 
Mitchell calls him.
Barnes: I heard Jantzen might be committing to Oklahoma.
Mitchell: Yeah, it's true. 
Barnes: Well, we think Jantzen is very underrated, and we want him at Ohio State. He's 100 percent a take. Could you talk to him and maybe see if he would reconsider?
Bombshell.
"We had asked some schools about being committable, but we had never talked to Ohio State about it," Mitchell says now. "He stressed that J was a take from day one. It was just miscommunication there.
"We just weren't clear that Ohio State was committable because he's coming out of Kentucky. And that's just tough, coming out of Kentucky we don't get the respect. … That's when Coach Barnes made it very clear he could commit to Ohio State."
Everything changed in that split second. The Dunns got off the phone with Barnes, telling him they would give him a call back.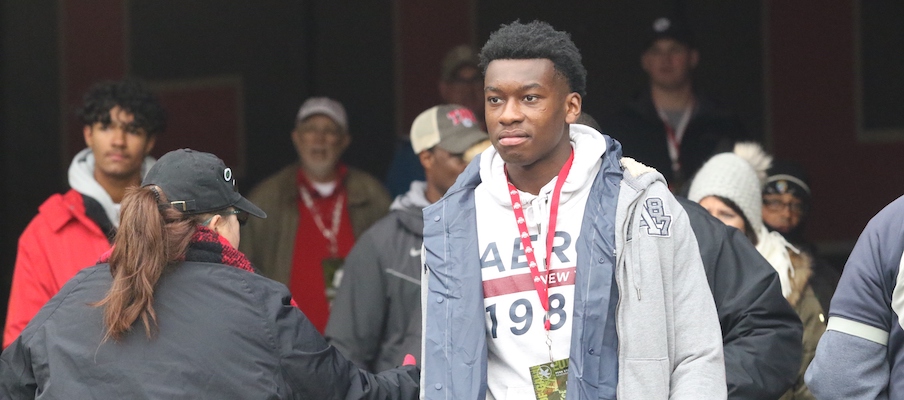 Jantzen and Mitchell sat down, their heads spinning a bit, and they were now going into a decision mode that can only be described as frantic but still thorough. After all, Jantzen had long ago made up his mind that Columbus was the place for him.
"In the recruiting process, Ohio State was where I wanted to go, and if I wasn't a take there, I was gonna weigh my options," Jantzen says. "That's where my whole top seven came into place."
But still, he had just given his word to Manning. So, Jantzen and his dad spoke for about 20 minutes, weighing the options and figuring out the next steps. 
Ohio State checked off all the boxes they had been looking for in a school: 
Incredible market: "They don't even have to put their name on something. They just have to put their logo out and people know who you're talking about," Mitchell said. 
"Their fan base is incredible. Their coaching staff is incredible," Mitchell said.
Defensive backs are going to the league: "That's the best place that gives you a chance as a defensive back. It just made sense," Mitchell said.
None of those boxes were quite as important as the last one: "It was close to home. That was really the big difference between Ohio State and Oklahoma. All the family could get to all his games a lot easier. If he had issues or an injury, his mom could go and still be able to take care of him. Just to have family around."
There was one mega holdup. Jantzen didn't want to be labeled as a kid who decommitted. 
"He said, 'Dad, I gave my word,'" Mitchell says. "We talked about that, and I understood that. But they were missing one of the boxes we were dedicating ourselves to (location), and he went with Ohio State. It was his relationship with Coach Manning that he was worried about. He had built a really great relationship with him, but he also had a really great relationship with Coach Barnes."
9 p.m. - 9:15 p.m. 
In the end, Jantzen knew where he wanted to be. 
It was a complete whirlwind, so neither of the Dunns are exactly sure what time it happened, but the decision was made. They returned Barnes' call, and Jantzen did all the talking this time. 
When they connected, Barnes got Ryan Day on the same call to further hammer home the Buckeyes' stance: "'Hey, you're definitely a take, man. We're sorry that communication wasn't there on that,'" Mitchell recalls Day saying. 
Talking with Day made the decision even more cemented. 
"I just made my decision when I talked to Coach Day because Coach Day was concerned (because) we had such a strong relationship," Jantzen said. "He was concerned about where I may be going. But at the end of the day, the OSU was the ultimate goal."
Jantzen told Barnes and Day his plans. He committed to Ohio State. 
"Once they told me I was a take, it was just 100 percent," Jantzen said, wearing a big smile thinking back to that moment. "That conversation was very exciting. They were excited to have me, and I was excited to have them. It was just a really good day."
Day was his normal exuberant self upon hearing the news. But for a typically laid back and quiet guy, Barnes was the one whose reaction told the story of how big landing Dunn's commitment truly was.
"I can tell football excites that man more than anything," Mitchell said. "When Jantzen committed, he was really like, 'Hell yeah, man. Let's go.'"
9:27 p.m.
By the time Wiltfong flipped his Crystal Ball pick to Ohio State, the Dunn family was in celebration mode.
Then came the hard part. He had to call Manning again. 
That provided a bit of a bittersweet moment. The energy in the house was off the charts, but then the sour reality set in that Jantzen had to tell Manning he was flipping so quickly. It still had to be done.
"I just had a really good relationship with both (Manning and Barnes), and I talked to them a lot about what I wanted and what they saw in me," Jantzen said. "At the end of the day, in that hour interval, I was just thinking about what I really wanted and what I really saw myself doing. 
"Considering the history of the school, the football program, the education, stuff like that and I'd say my decision really went towards what was best for me. And not anything else. That night, I just decided to go with OSU."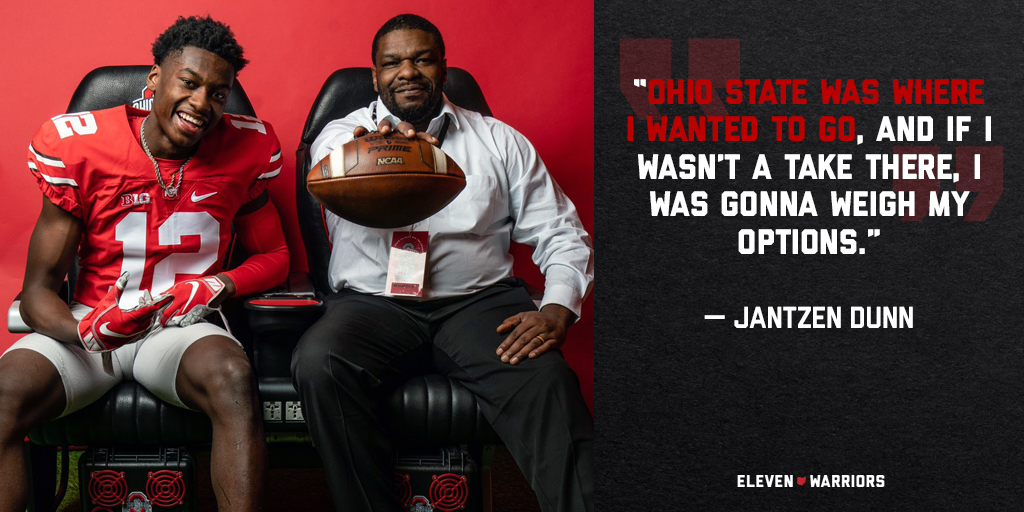 Manning's reaction wasn't quite as negative as they thought they were going to get. There was obvious disappointment because the Sooners were really high on Jantzen, but there wasn't anything nasty or negative said.
Manning tried to give one final recruiting pitch, telling them that Oklahoma has a great chance of building a great defense by ushering in a new wave of defensive backs. No dice. Jantzen wasn't going back on his Buckeyes decision.
And even with schools such as Oklahoma, Georgia and Georgia Tech still recruiting him, those pitches have fallen on deaf ears. Even after the Buckeyes landed a commitment from cornerback Jordan Hancock on Sunday, there is no wiggle room, with Barnes talking with the Dunns shortly after the Hancock news was official to let them know that nothing has changed with how badly they want Jantzen in the class. 
"Unless Ohio State calls and says, 'Hey, we can't take you,' that's the only way he's not going to Ohio State,'" Mitchell says. 
The next morning, the energy continued when they got on the phone with Kerry Coombs, and that fed into a busy weekend leading into Monday. The public announcement that would come at 2:30 that afternoon was basically a formality. Everyone already knew. 
Of course, once the decision was official, dealing with the backlash and criticism – especially from some Oklahoma fans – was another step he had to take. 
"I'm not gonna lie, I read a lot of the comments," Jantzen said. "And it did not faze me. At the end of the day, recruiting is funny. It can go either way. You never know. It's all about what the kid and his surrounding is like and what's best for him. You can't really help what people are gonna come back and say on you. You just gotta ignore it. That's what I did. Just ignore it and don't pay 'em no mind. 
"When you're out on the field and you let somebody beat you for a touchdown, it's gonna be the same people on the sideline talking smack to you. You know what you gotta do? Just ignore it and keep playing your game, and that's how you get through it."
---
Jantzen knew long before that night that Ohio State was going to be his destination if he ever got the chance. To understand why, you have to go back to two specific days. 
First, the November game against Penn State. Mitchell saw Jantzen's face when they were in the facilities and when he saw the game atmosphere. He had never seen that look before in his son's eyes. On some visits, they left at halftime and would listen to the rest of the game on the radio in the car ride home. Not this one.
That led to the second big step: Jantzen's March 4 visit to an Ohio State spring practice. 
It was a 1:30 a.m. CT wakeup call for the Dunns, who made the five-hour drive to get up to Columbus for the Buckeyes' 9 a.m. ET practice and a pre-practice facilities tour.
Dunn's ultimate goal is to reach the NFL, and he knows Ohio State puts defensive backs in a better position to do that than any other program in recent history. This visit, though, is where he was able to truly start seeing himself as a Buckeye. 
"Seeing how Coach Day dealt with things in the spring practice. Coach Coombs' intensity. Coach Barnes' intelligence," Jantzen said. "When I went to the spring practice, Coach Barnes told me to look at my position and imagine myself in that position and go through mental plays. Not every coach is gonna do that, you know what I'm saying?"
The Buckeyes are not 100 percent sure where they want Dunn to play. Right now, he says they want him to be a one-high free safety like Jordan Fuller, but they also want to try him at slot corner. It just depends on how his skillset develops once he's in the program. 
So Barnes had him watch both positions and go through mental reps every time and tell him what he thought afterward.
As the Buckeyes went through team drills at the 25-yard-line, Dunn posted up at the opposite 30-yard-line, mirroring those two positions. When the drills were over and Barnes got a chance to talk with Dunn, he was blown away by how much Dunn already knew about playing free safety. 
Some of that stems from the fact that South Warren plays a similar defense to Ohio State. Dunn wasn't able to go into too much detail about schemes and coverages the Buckeyes run – you can't give away trade secrets to the media, after all – but there was "definitely some comfort there," Dunn said. "It would be easier to walk in there and know what I'm doing."
After learning the details about the schemes and the program itself, Dunn had a good feeling that an offer was going to be coming that day. He and his dad went into Day's office with Barnes there as well, and the Buckeyes officially offered.
"That was just a groundbreaking moment for me," Dunn said. 
He had a lengthy conversation with Coombs before leaving, as Coombs told him more about the defense and his own coaching style and that he wanted Dunn to be coachable. Over the next several weeks, Dunn proceeded to prove he's coachable and that he knows how to work.
During quarantine, Dunn worked himself into a routine of eating five or six meals a day to pack on weight (he's gone from 175 pounds during his junior season to 187) and got himself into a firm workout regimen. First, it was a noon lift with South Warren teammate Caden Veltkamp in the driveway with a bench, squats, an Olympic bar and about 355 pounds of weights to do different lifts with.
That eventually transitioned into morning workouts – every weekday except Wednesday – in which Mitchell sometimes hears the metal clanking on the cement as early as 8 a.m. After working out until 11 a.m. or noon each day, Jantzen lets his body rest until 6 p.m., and then it's off to agility training five days a week at the D1 training facility in Bowling Green.
That's where his coachability has shined through. Mitchell would record videos of Dunn's workouts at home or at the field across from their house, and they would send the videos to Barnes and Coombs. 
"I took in a lot of their advice, and that's really why I've improved so much during quarantine," Dunn said. "Backpedaling, where I put my foot when I break, how much back I'm supposed to show when I'm bailing (meaning when he's running upfield side-to-side with a receiver) and stuff like that. Strictly defensive back stuff."
Trust the process! #BuckeyeNation pic.twitter.com/n8I8H9crY6

— Mitchell Dunn (@mdunn2012) July 3, 2020
All of that work and improvement led to the Twitter video last week, which showcased some major reasons why Dunn is now ranked No. 201 overall and No. 11 at safety. The Buckeyes were already high on Dunn because of his love for making big hits and his incredible athleticism and measurables. His official times of 4.54 seconds in the 40, 4.15 in the shuttle, a 40.80-inch vertical, a broad jump of 10 feet, 4 inches and a long jump of 22 feet, 1 inch have all been improved on over the last four months. 
And after seeing that video, Barnes reached out to let them know that he was continuing to be wowed, especially by the foot speed.
"Coach Barnes absolutely loved the video," Mitchell said. "He's so explosive and his workouts are so intense now. They love that. They love that he's just going so hard in every drill."
And because of that work ethic, and because of a wild one-hour period on a night in mid-April, the Buckeyes are getting one of the most underrated recruits in the country on their side.
Eleven Warriors is committed to smart, timely and exhaustive coverage of Ohio State athletics. Unlike other outlets, we choose not to put up a paywall. We want to keep our journalism as open as we can.
As an independent media organization, we count on the generosity of our readers to help us achieve this mission. If you enjoy our coverage, please consider becoming a 12th Warrior or supporting us in other ways.
Thank you for your continued support.