It's 2010. Or maybe it's 2011.
Either way, it's a long day of fall camp on West Virginia Wesleyan College's tiny campus in Buckhannon, a town of less than 6,000 people in the upper middle region of the state. 
And here's Matt Barnes, looking down at a giant bin of nasty-smelling jerseys and grass-stained practice pants that weighs at least 400 pounds. Or maybe it's 500 pounds. 
Either way, Barnes is looking at this bin right now, wondering something along the lines of, What the hell am I doing here?
That question is one that just about every coach ponders at some point in his career, especially during the dog days of grinding away at the lower levels of the profession. Just like when Al Washington, a football coach, was configuring ways to somehow convince prospective engineering students to go to Rensselaer Polytechnic Institute in the mid-2000s. 
Or when success eludes them in an unbearable way. Like when Greg Mattison told Eleven Warriors he was asking himself, "Why am I doing this? I don't really know if I wanna do this," as he trudged through a three-year span of going 1-31-1 as Northwestern's defensive line coach at the close of the 70s.
So that's what Barnes is contemplating 10 years ago before he became Ohio State's special teams coordinator and assistant secondary coach. 
Over this two-year span at the start of the previous decade, he's serving as Weslyean's running backs coach, offensive coordinator and quarterbacks coach, but he's also blending that with a smorgasbord of résumé builders – like Washington did at the first stops of his own career.
While the rest of the football world looks for the next pattern-matching wrinkle, Ohio State went the other way and ended up with the nation's best defense last fall.
Thanks to a recent clinic speech from DB coach Matt Barnes, now we know why: https://t.co/p0esuST3se

— Kyle Jones (@Jones) March 2, 2020
Barnes is also serving as one of the team's laundrymen, and today, the laundry machine has broken down. So he's loading up all of this practice gear into the back of a truck to haul from one facility to another, and the quarter-ton bin he's in charge of suddenly tips over, dumping itself all over the ground and lies sprawled everywhere. Damn near every item of clothing.
"I'm looking at this big bin of 400-500 pounds of laundry laying there and I'm like, 'Oh man, is this really for me? Is this really what I wanna do?'" Barnes was asking himself, relaying this story to Eleven Warriors back at December's Fiesta Bowl media day. "And then I just said get the laundry back in the thing, get it done and we'll figure it out tomorrow."
It's just one anecdote, but when he's asked about some of his fondest memories from his days at Division III Delaware Valley or Division II West Virginia Wesleyan, he grins and tells that story. It's the very first thing he brings up. "The laundry one still gets me," he says. And if that seems crazy, it's not because, as he later says, "Fortunately, I stuck around, and it's worked out for me."
Certainly has. 
He's gone from vacuuming up laundry, mowing the practice field grass and lining the yard markers and end zones with chalk, dealing with admissions, being the stereotypical coffee runner for those above his pay grade, waking up players in the dorms and even working in the cafeteria … to being one of the most important recruiters for a program doing it better than any other in America.
"I would say probably every day that I'm here at Ohio State, at some point I'll stop and say, 'Oh my gosh I can't believe I'm at Ohio State,'" Barnes says. 
His appreciation for being at the powerhouse program is very much out in the open, but his work has been done mostly in the shadows. Barnes is one of Ohio State's least-heralded recruiters. But for a program that pridefully and consistently pounds its chest – and rightfully so – for being one that successfully deploys a team recruiting strategy (aka at least two assistants plus Ryan Day making the rounds on a recruit), Barnes has been one of its most valuable assets in the operation.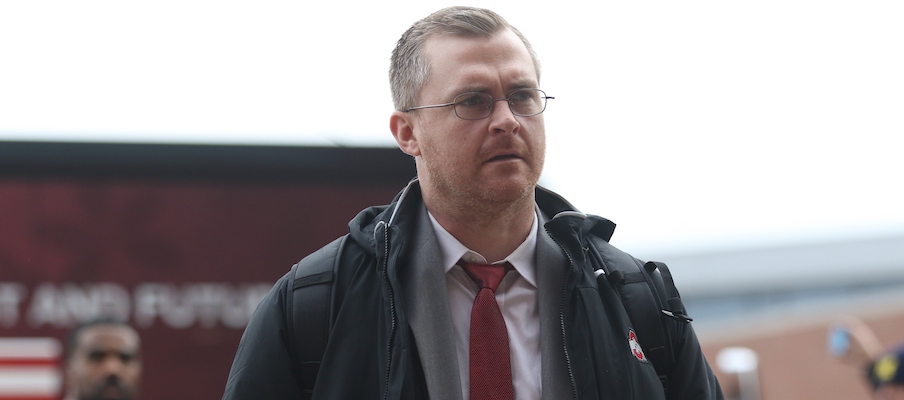 When Jeff Hafley left for Boston College, it wasn't long before the Buckeyes found his replacement with the return of Kerry Coombs to Columbus, and Coombs' return has been the No. 1 reason their defensive back recruiting has gone from major question mark to almost an afterthought.
But the wait itself was dragged out, as Coombs' Tennessee Titans continued putting together an exceptional run through the playoffs, and the announcement of his hiring continued to see a delay. In the meantime, Ohio State needed a face and a voice for its defensive back recruiting to supplement the strong presence of Day. 
In stepped Barnes, who stepped up to the plate admirably and has kept swinging even upon Coombs' re-arrival. 
You won't find Barnes on the list of 247Sports' top recruiters in the nation until you scroll all the way down to No. 219. He's only been credited with the attainment of Kentucky's Jantzen Dunn and Australian punter Jesse Mirco, a punter with a leg as powerful as a shotgun but precise as a sniper whom Barnes was almost solely responsible for finding. 
Those recruitments were crucial in their own right, and Barnes also provided a massive helping hand in landing commitments from Jakailin Johnson and Andre Turrentine, as he's proved to be a great relationship-builder for the Buckeyes.
"I will say Coach Barnes did an unbelievable job too. Coach Barnes was our guy in recruiting," Turrentine's head coach at Ensworth (Tenn.) High School, Roc Batten, told Eleven Warriors in March. "I took the job roughly around Easter Sunday last year, and Coach Barnes was there in the spring. He was there during the school year recruiting, and he was there before the second signing day period.
"I wanna give Coach Barnes a lot of credit and Coach Day, of course, and Coach (Tony) Alford. Those guys have done a really good job of just continuing to communicate with him during the times they can and expressed the interest and where they see him fitting in their system."
Since the successful recruitments of Johnson – whose head coach at DeSmet (Mo.) High School, Robert Steeples, also praised Barnes' impactful effort – and Turrentine, Barnes has seemingly earned more trust and confidence. We can probably expect to continue hearing his name in the recruitments of 2022 prospects, and if Kentucky's Jager Burton commits to the Buckeyes, Barnes will have had a big hand in that recruitment as well. 
"I will say Coach Barnes did an unbelievable job too. Coach Barnes was our guy in recruiting."– Roc Batten, head coach of Ohio State commit Andre Turrentine at Ensworth (Tenn.) High School
For Barnes, who on Wednesday celebrated his 34th birthday of which 12 have been spent as a coach, it's about as different a world of recruiting as there could be from where he started. He says that during his days as a small-school, do-everything, low-level assistant, "it was like an internship" that helped shape him.
"It's a much different type of recruiting (at Ohio State)," Barnes says matter-of-factly. "We're very pointed here. We operate as surgeons here. In recruiting, we operated more as butchers at that level. It's cast a wide net and figure it out from there. Just the diligence you have to do to make sure every stone is unturned and finding a guy here, finding a guy there, who can help you. 
"Nowadays, we have every top 100 and top 300 and this and that and 247 and all those things like that. They make life a lot easier for us sometimes, but there's still that pride that comes with being able to find a diamond in the rough and find a guy that not everyone else has been able to find."
Pride that he's never lost. Whether lifting up a stone to find an underrated recruit or picking up a sweat-soaked jersey off the ground to toss back into a bin.
"I earned my stripes, so to speak," Barnes says.
Or maybe he's just lost his black one.