The Hurry-Up is your nightly dose of updates from the Ohio State football recruiting trail, keeping tabs on the latest from commits and targets from around the country.
Day, Buckeyes top contender for five-star QB Ewers
Five-star Southlake Carroll (Texas) quarterback Quinn Ewers is ranked as the No. 1 overall player in the latest 247Sports recruiting rankings, and the Buckeyes have a great head start in the recruitment of the 6-foot-3, 195-pounder who has drawn comparisons to Trevor Lawrence. 
On the 247Sports Football Recruiting Podcast on Wednesday, national recruiting analyst Steve Wiltfong said Ohio State has already made some tremendous inroads with the young talent in addition to a few other teams.
"No program is recruiting Ewers harder than Ohio State," Wiltfong said. "Corey Dennis, the new young quarterbacks coach there for the Buckeyes and Ryan Day are the program in the most contact with the Lonestar State gunslinger, who also added that he talks a lot with Chad Morris at Auburn and has maintained a strong relationship with Texas. He also says he talks a lot with Michigan. Oklahoma is certainly in there, and there were a few more.
"Alabama, Georgia, LSU, those programs have offered the 6-foot-3, now 211-pound Ewers, who is approaching 30 offers. I think the next one is going to come from Dabo Swinney and Clemson ... That's an offer that I think he'll strongly consider. There's a few programs I like early in the process for Quinn, who's gonna make a business decision. He's looking for a school that's obviously gonna give him the best chance to be what he thinks he can be."
Wiltfong says that Ewers' family has some property – either a farmhouse or a barn – near Columbus, "which is a nice little wrinkle if you're Ryan Day and Co. He's been in Columbus. He's seen Dwayne Haskins go in the first round. He's gonna see Justin Fields go in the first round. He's seen an offense that's been in the top 10 annually with Ryan Day. The Buckeyes are firmly in it."
Oklahoma is the Crystal Ball favorite to land Ewers, but Wiltfong says he doesn't feel as good about that prediction as he did originally. 
Tatum viewed as DB by Buckeye staff
When four-star 2022 prospect Dillon Tatum, a teammate of four-star running back and former Buckeye target Donovan Edwards at West Bloomfield (Mich.) High School, speaks with schools about where they view him positionally, it's been a pretty even split.
"With the offers that I have, 50 percent want me as a running back, 25 percent is defensive back, and the other 25 percent is athlete," Tatum, who holds 30 total offers, told Eleven Warriors following Saturday's Elite Underclassmen Camp. "They left that decision up to me on what side of the ball I want to play, but they know I can do good things on either side of the ball."
The Buckeyes, he says, are part of the 25 percent that want him in the secondary.
"Ohio State, they look at me more as a defensive back," Tatum said. "When I first got there, they were saying they were recruiting me as an athlete because, 'I don't know if I wanna put you at slot or running back.' It depends on what I wanna do going into the future."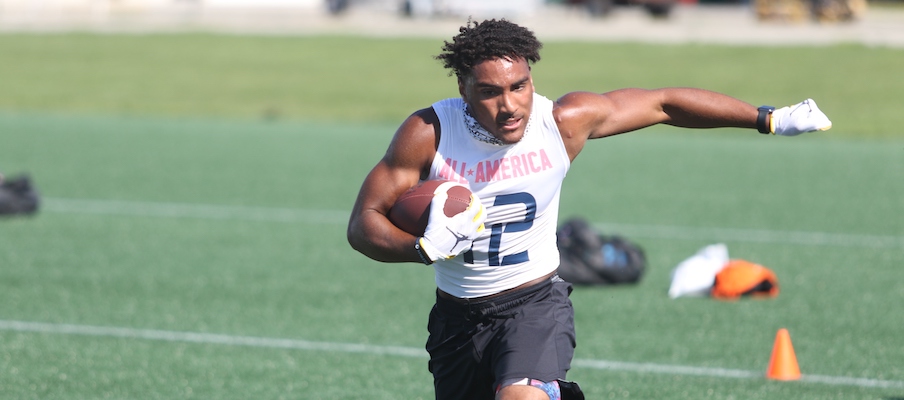 Ohio State's legacy of building defensive backs into moneymakers as first-round NFL Draft picks and its BIA reputation are both draws to the program for Tatum, a 5-foot-11, 190-pounder who might not be the biggest player but is still well-built for a player of his size. 
He does not have a lot of experience at defensive back, having only started playing in the secondary when he got to high school. He started as a safety before being moved to the nickel spot, and he has played a bit of outside corner since then. 
"I always knew a little bit, but for me it was always that outside linebacker, Viper type growing up," said Tatum, who is ranked No. 190 overall, No. 21 at running back and No. 5 in Michigan. "And then I got to high school and moved back to safety, and my sophomore year I moved to nickel. And this year, I'm probably gonna play more of the Rover position than strong safety."
If a college is looking at him to be a defensive back, Tatum says the nickel corner spot is the one they want him to play "because I can hit, but I can also cover that man position. That's what they're looking at me for."
Tatum says he believes he has "a really good chance" to make it to the NFL, and he says that once Kerry Coombs came back to Ohio State, "I knew it was gonna be even better there than what it was the last two years when he was gone. I feel like the defensive back position, they earn a lot of money, and they have a lot of longevity at that position."
Coombs, of course, is well known for successfully recruiting the state of Michigan, a place where it's still difficult to weed out the noise from Wolverine fans anytime Ohio State comes calling. 
"Anytime I say something about Ohio State, there's Michigan fans coming up to me saying, 'What are you doing?' type things," Tatum says with a smile. "But for me, I don't have a favorite. When I was growing up, my favorite was (Michigan State). But now that I'm getting recruited by these schools, I don't have a favorite. I'm just looking at what school academically and football can benefit me the most."
Running backs are the first group up this morning. Heres a look at Dillon Tatum (@PrimeTimeDill), a top-200 player in 2022.

Tatum is the lone RB here who holds an Ohio State offer, though he might be viewed as a DB prospect. Teammate of West Bloomfield RB Donovan Edwards. pic.twitter.com/jAhxNhMhhY

— Zack Carpenter (@Zack_Carp) July 11, 2020
Tatum's introduction to the Ohio State staff came via Tony Alford when Alford began recruiting Edwards earlier in Tatum's career. Tatum and Alford still talk every 2-3 weeks, but Tatum says he is going to start getting on calls with Coombs more in order to build that relationship more.
The seeds of that relationship were planted in March, when Tatum, Edwards and their head coach, Ron Bellamy, visited Columbus for a spring practice, and Tatum left with an offer from the Buckeyes. 
That visit was a pretty fast-paced visit, Tatum says, as the Buckeyes were on a tight schedule during one of only three spring practices before the nationwide shutdown due to COVID-19.
"It was film here, get out to the field to warm up, get it going, get your kicks in, get your team and get out. It was fast," Tatum said. "It was fast paced, and it was hard working from everybody. I got to be on the field with the guys and hear everything that was going on. Every coach was giving advice on each play to each player. Every position coach was like in their face – not really in their face, but saying 'You could do this better. You could do that better.' Just trying to make those guys better for their season. 
"I was looking at Coach Alford and Coach Coombs to see his defensive back coaching mindset. I'm still fairly new to defensive back, and when I was watching him, it was like 'Jeez, you know a lot. You have a lot of knowledge about the defensive back position.'"
Tatum said he is thinking he wants to wait until toward the end of his junior year to make a college commitment, though it would likely be the spring time or sometime in June or July. 
Christman an All-American
While Ohio State has eight commits in its 2021 class who have accepted bids to the All-American Bowl in San Antonio, another blue-chip prospect will be headed to Florida.
Revere (Ohio) High School four-star offensive guard Ben Christman announced on Twitter that he has accepted an invitation to the Under Armour All-America Game.
Committed to Under Armour All-American Game! Check it out https://t.co/Kjztb1WL3B pic.twitter.com/ALVmtGxIS7

— Ben Christman (@BenChristman70) July 16, 2020
Christman, the No. 114 overall player, No. 6 offensive guard and No. 6 player in Ohio's senior class, will be joined there by four-star defensive end commit Tunmise Adeleye, and they could be joined down the road by five-star defensive end commit Jack Sawyer, who has invitations to both all-star games but has not decided which one he will compete in.