The Hurry-Up is your nightly dose of updates from the Ohio State football recruiting trail, keeping tabs on the latest from commits and targets from around the country.
Shepard could follow same path as Hall
When Mike Hall hit the camp circuit in the summer of 2019, the Streetsboro (Ohio) High School did so ranked No. 409 nationally in the 2021 recruiting class.
Hall's standout performance at Lake Erie College's Raw Talent Sports Showcase sparked a rise in his recruitment, garnering him his first two big offers (from Cincinnati and Kentucky) and some extra attention from Ohio State. 
Hall continued grinding that summer and fall, earning an offer from the Buckeyes during his junior season and eventually committing in February to Ohio State, where he is the eighth-highest ranked recruit in its class at No. 55 overall and No. 5 at defensive tackle. 
Maybe we won't see quite that bit of a rise for another in-state defensive tackle in the 2022 cycle, but it's very possible we are in the midst of a rerun of that show in the summer of 2020, as Saturday kick-started the recruiting journey of Archbishop Alter (Ohio) High School's Derrick Shepard. 
Shepard, a 6-foot-3, 315-pound defensive tackle, is actually plenty familiar with the story of how Hall rose his recruiting profile and gained substantial interest from colleges across the country in 2019, and he believes he could be on a similar trajectory.
"I do feel that's the path I'm headed on," Shepard told Eleven Warriors following his performance at the one-day Elite Underclassmen Camp. "Me and Mike actually have a real close relationship. We've been on the phone a few times just talking about the Buckeyes. He basically told me that he came from the bottom and came straight up in that one summer."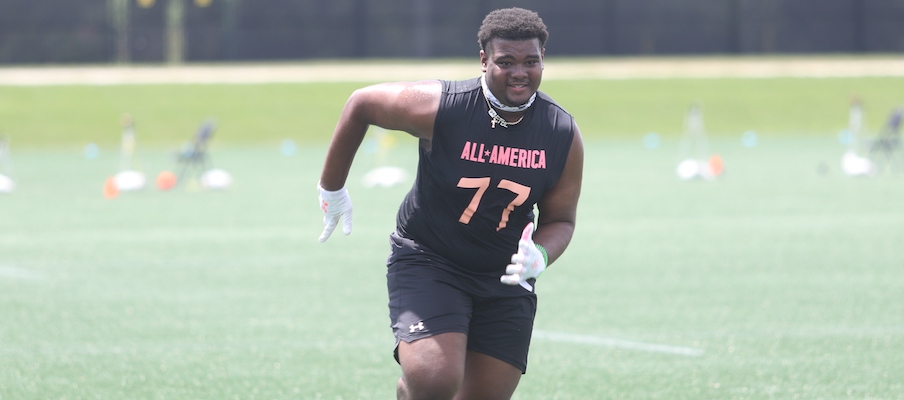 The offseason between a player's sophomore and junior season – and especially the camp circuit – is the biggest for the vast majority of players' recruitments hoping to get noticed by top-tier programs. 
Saturday's Under Armour showcase was the first opportunity for Shepard to show what he's got, and he showed some good athleticism and burst for a player his size as momentum begins to build for the nation's No. 23 defensive tackle and No. 14 rising junior in Ohio.
"It felt real good. For it to be my first-ever football camp, I felt like I got the opportunity to get out here and show the coaches and players what I've got," Shepard said. "Coming in I was (nervous), but once we got started, I was rolling from there. 
"Most of the stuff, I knew what we were gonna be doing so I had about a month to prepare for it. I thought we were gonna get some one-on-ones, but with coronavirus that got shut down. So the drills I've been practicing with."
Shepard said that coming into the camp, he was hoping to showcase his improved agility and lateral quickness and his all-around game as a defensive lineman.
"I'm looking at footwork because without footwork you cannot rush the passer and a lot of hips and hands to get my defender off me and get away from the defender," Shepard said.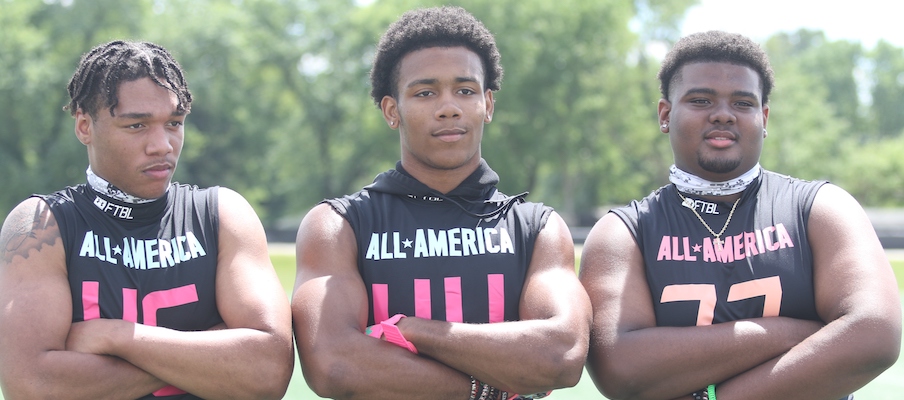 Shepard is still a growing up-and-comer in Ohio, as he is still a little green when it comes to football. His freshman year, he didn't play football because of a torn labrum, so his 2019 season was his first of high school football. 
"This year it was like a test to see where I was the first few games," Shepard said. "I was kind of raw and just out there feeling my way. But towards the second half of the year, I started feeling it, and I started turning around and became a dominant player."
That successful sophomore campaign helped him get on the radar further with a handful of college programs, as he has now amassed 14 total offers, including big ones from Florida State, Michigan, Michigan State and Cincinnati, in addition to interest he says he is getting from Alabama, LSU, Florida and Arizona State.
Shepard earned his first offer, from Pittsburgh, in March, and the offers began to stack up, with seven coming in April.
"After the first one, it was like a shadow that cleared over my head because now it's like 'Woo, I got my first one,' but then I couldn't slack off," Shepard said. "So I just had to keep building on and on from there."
The mega offer Shepard is still building toward, of course, is the one he is searching for from the Buckeyes. There has been progress in his road to earning that offer of late, as he has been building a stronger relationship with Larry Johnson.
"We talk once or twice a week. Our relationship has been building," Shepard said. "I like him as a coach but especially as a person because he knows what he's talking about on and off the field, and he'll never steer you wrong. I've also been talking with Coach (Kevin) Wilson, Coach (Tim) Hinton and Coach (Al) Washington. Those four coaches I've been talking to."
As part of those conversations, Shepard has been asking Johnson what it's going to take from him to earn an offer from the Buckeyes.
"I've asked those questions, and he's pretty much told me he wants to see me on campus in person because he saw me last year at the Wisconsin game," Shepard said. "I was there with C.J. (Hicks) so I was introduced to him then. He said everything on the evaluation sheet was getting checked off, but he said he just wanted to see me in person and see my pass rush a little bit more."
And speaking of Hicks, Shepard's teammate at Alter, the Buckeyes' 2022 linebacker/safety commit has been giving him advice on how to handle the recruiting process – and giving him a nudge toward the scarlet and gray.
"He's basically told me that if you wanna be great, come be a Buckeye," Shepard said. "Obviously, we've known each other since second grade so we've always talked about the schools we wanna go to. Since he's been committed, he's been in my ear a lot talking about it recently."
Brown's move goes well
We caught up with Ohio State cornerback commit Jyaire Brown of the 2022 class on Saturday, as the Cincinnati native is officially all moved back in after his transfer from New Orleans' Warren Easton High School, and he is now back in the Buckeye State for good after settling into a spot close to Lakota West High School.
"It's been going good, man. They've been treating me right," Brown told Eleven Warriors. "I've been going to practice almost every day and just grinding. It's been sweet. It feels good, man (to be back out competing in Saturday's camp). I don't gotta make a name for myself, but I gotta make a name for myself. I gotta put on right."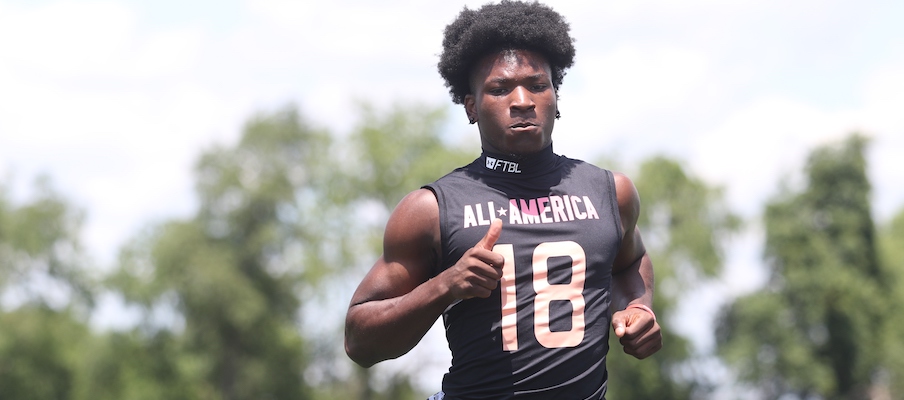 Brown is starting to gear up for a fall football season that is slated to begin with practices starting on Aug. 1 as he and fellow Ohio State commit Tegra Tshabola prepare for their season opener Aug. 28 against Cincinnati La Salle – which houses Ohio State commit Jaylen Johnson and former Buckeye commit Devonta Smith, who decommitted and joined Alabama.
"It's gonna be a big, big one with having three Ohio State commits," Brown said. "Even with Tay decommitting, it's still gonna be a big hype game. We gonna get after it. We gonna beat 'em."
Buckeyes load up on All-American team
Not a total surprise here, but Ohio State has the most commits on the MaxPreps 2020 Preseason All-American High School team that was released on Monday. 
The Buckeyes have seven members on the first and second team (five first-teamers), which is more than Oregon (six total; one first-teamer), Clemson (three total, each on the first team), Alabama (three total; two first-teamers) and Miami (two total, each on the first team).
Ohio State's five first-teamers are:
Second-teamers:
Other Buckeye targets on the All-American team:
---
Top photo: Derrick Shepard