Opposing coaches could never feel comfortable if Urban Meyer wanted to make a late push for someone they wanted too.
Time and time again, he made them pay. One of the biggest reasons he became so highly thought of as a recruiter was his ability to close on top-end prospects.
It began early in his Ohio State tenure when he landed commitments from Noah Spence, Taylor Decker and Tommy Schutt as cornerstones of the 2012 class. It took Meyer less than a month to get Spence both to consider and ultimately end up as a Buckeye. Schutt flipped from Penn State in December 2011, and a month later he got Decker to flip from Notre Dame. Over the years, he landed several others by going after them hard near the end of cycles, including Nicholas Petit-Frere, Vonn Bell, Dwayne Haskins, Raekwon McMillan and Dontre Wilson.
Not all of them were hits – Torrance Gibson and Mike Mitchell still stand out for the wrong reasons – but some of them turned out to be program-altering additions. By the time he retired in December 2018, no one had any remaining questions about Meyer's ability to close on the four-star and five-star guys he wanted in his program. That reputation of going up against the best national programs and coming out on top in the end was set.
Maybe Ryan Day will earn a similar reputation. But he hasn't had the chance to pull off any major late additions yet. 
That'll soon change.
For the first time as the Buckeyes head coach, Day will get his finishing abilities tested on a number of blue-chip recruits in the 2021 cycle.
Ohio State hasn't received a commitment since four-star cornerback Denzel Burke chose to continue his college career in Columbus on May 24. The Arizona product was the 19th addition to the class (prior to Devonta Smith's decommitment dropping the class to 18 commitments), which remains the top-ranked 2021 group by a wide margin. Since then, it's been quiet.
But that's just fine.
As long as Day can close.
The Buckeyes remain hot on the trail for multiple five-star prospects and a slew of highly regarded four-star recruits with college football powers chasing them. Perhaps the biggest – and most discussed – names on the wish list to fill out the five or six open spots in the class are defensive lineman J.T. Tuimoloau and wide receiver Emeka Egbuka, a pair of five-stars from Washington.
The commonly held belief right now is the Buckeyes have the edge for both of them, though neither appears close to deciding. Tuimoloau, who's listed as a defensive end but could end up as a 3-technique defensive tackle depending on how his body fills out, is ranked second overall in his class. Washington and USC are among the competition for him. Egbuka, the No. 1 wideout in the cycle, could be the seventh top-100 overall player at his position to sign with the Buckeyes. Oklahoma, which just landed five-star quarterback Caleb Williams, seems to be the biggest threat.
Right now, both defensive line coach Larry Johnson and receiver coach Brian Hartline have done well to get Ohio State involved. But what would happen if visits remain barred for the rest of the fall? Day would certainly have to stay involved in order to reel them in. Either way, both recruitments aren't expected to wrap up anytime soon, meaning he'll have to be able to close on each of them.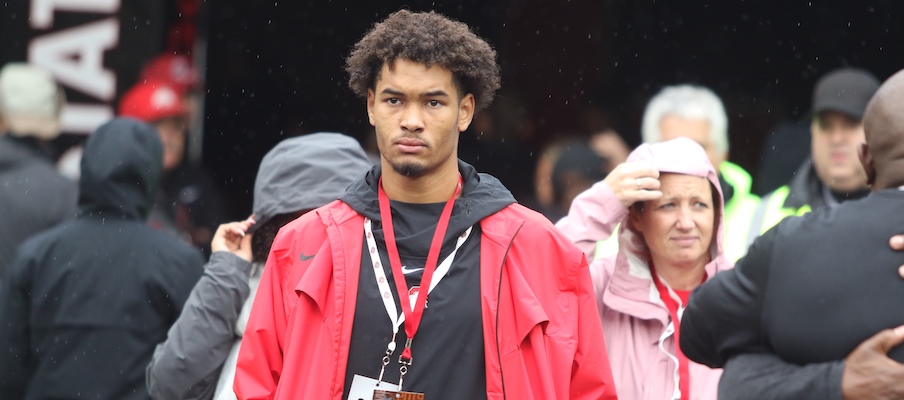 Another defensive lineman, four-star Tywone Malone, could be the answer as the team's future nose tackle. And just like Tuimoloau and Egbuka, he's nowhere close to choosing a school.
A prototypical 300-pound 1-technique, he's the No. 53 overall recruit and fourth-rated defensive tackle in the 2021 cycle out of Bergen Catholic in New Jersey. As quiet about his recruitment as anyone, Malone is still evaluating his options, which also include Rutgers, Texas A&M and Mississippi.
Day might have to get involved in order to round out the offensive line class, too. 
JC Latham was a likely Buckeye at one point, but since he couldn't get back to Columbus, the five-star offensive tackle chose to commit to Alabama. Now, the Buckeyes are looking at a group of tackles that includes five-stars Tristan Leigh and Nolan Rucci, yet they're playing from behind in the recruitments. Jager Burton, a four-star offensive guard, pushed his commitment date back and will now give Ohio State a longer look. It's up to Day and Studrawa to finish off a group that already is led by Donovan Jackson and Ben Christman with one or two other linemen.
Derrick Davis, a four-star safety, is another highly valued defensive back the Buckeyes want. It's an Ohio State-Penn State battle right now with others lurking. Clemson-bound cornerback Jordan Hancock and LSU-bound linebacker Raesjon Davis remain flip candidates – with Hancock the more likely of the two to change his mind – but neither are sure things. 
The common theme between all of them? Work remains to be done on Ohio State's side, and most are still holding out on visits being allowed, meaning they aren't close to picking a school. The Buckeyes already have a tremendous 18-person class, but based on the targets remaining on the board, it has a chance to get significantly better with a shot at becoming the best class of the modern recruiting era.
To achieve that, Ohio State has to close strongly.
This is where Meyer typically shined. Will Day?