Ohio State has already been making the best out of a bad situation. Looks like it's not stopping, either.
Despite COVID-19 putting a moratorium on recruiting visits nationwide, the Buckeyes were able to land five commitments in the month of March, including four top-150 recruits. 
It looks like it will be a while before another commitment – though with the momentum the program has right now, you can't fully rule it out – and there are a couple candidates to commit sooner than later. 
While the coaching staff simultaneously looks to continue adding to the nation's No. 1-ranked class, it's also keeping its eyes and ears peered even further into the future.
One of the key reasons Ohio State has been able to land so many highly prized recruits in the past, and most recently in the 2021 class, is because of the staff's impressive ability to identify high-caliber talent so early in the process, even when those players are unpolished freshmen or sophomores.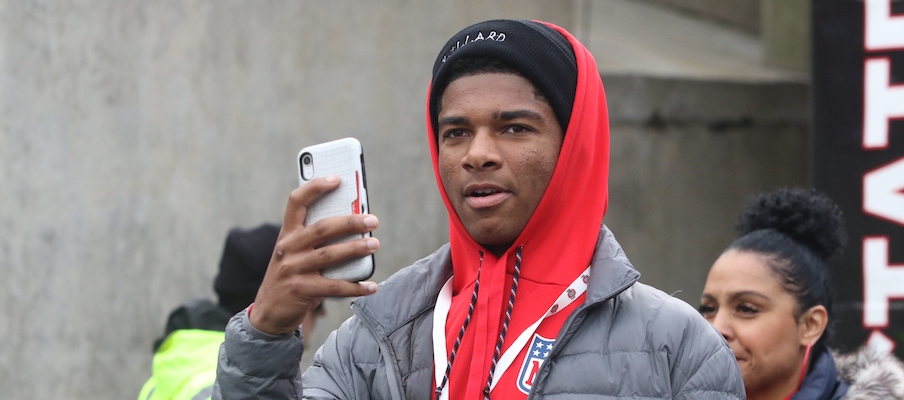 So since the Buckeye coaches aren't using their time to prepare and conduct spring practices or host recruits, it's given them an opportunity to get an even longer head start in talent evaluation.
To some, it's been a bit of a learning experience.
"This free time has given our coaches a lot of time to start watching 2022 guys," Ohio State director of player personnel Mark Pantoni said on Friday. "A lot of them already have, which would not have happened this early. It's good. I was talking to Kerry (Coombs) yesterday and joking. He said, 'These guys aren't very good.' And I was like, 'I know, Kerry. They're 14 or 15 years old.'
"These coaches aren't used to watching these guys this early, so I always tell them it's really hard to do a pure evaluation of some of these guys. Because you don't wanna cut them too early 'cause they're so young. If anything, it gives you that initial preview of who they are, what their upside's gonna be over the next few years."
Speaking of initial previews, the class of 2022's first rankings were released just two-and-a-half weeks ago. Since those rankings feature a lot of guys still so inexperienced – plenty of whom haven't played much varsity action and were given their rankings via camp circuits – the staff puts little emphasis on those rankings, especially the list of players from Ohio, which features just two ranked in the top 100.
"I was talking to Kerry (Coombs) yesterday and joking. He said, 'These guys aren't very good.' And I was like, 'I know, Kerry. They're 14 or 15 years old.'"– Ohio State Director of Player Personnel Mark Pantoni on players in the 2022 class
"We don't pay attention much to the rankings, moreso identifying needs, and we're doing our own evaluations," Pantoni said. "But sometimes, the Ohio kids and the Midwest kids are a little bit late developing because they don't have spring practice. So on the initial list, you may not see a lot of guys, but once they start playing here again, they're so young that a lot of them will start developing more and start popping up and being more national guys. Not really too concerned about 2022 at this point."
That goes both ways, of course. Sometimes a soon-to-be sophomore or junior gets pushed toward the top of the rankings, but for a multitude of different reasons, Pantoni, Ryan Day or any number of assistants don't see him as a fit.
Whether ranked high or low, like Pantoni says, those numbers are mostly meaningless to the staff. They fully rely on their own character evaluations, film studies and getting an up-close look at a player. 
Being able to watch film more closely is a benefit of more time at home, but the moratorium on on-campus visits and off-campus recruiting travel have made the character evaluation process more difficult and in-person evaluations impossible until further notice. So even though the staff continues trying to make a positive out of a negative, there are significant road blocks.
"This spring was gonna give us that chance (to evaluate in person)," Pantoni said. "A lot of kids have definitive plans to come visit, and those kids showed us they had legitimate interest in visiting, which now makes it harder with camps and visits being eliminated. We don't know when we're gonna have another opportunity to get these kids on campus."
While the Buckeyes are getting a head start on the players in the 2022 class, there is still so much time left in their recruitments and evaluations that on-campus and off-campus visits being disallowed until at least June is a bigger blow for the 2021 cycle than 2022. In the immediate future, at least. 
"I would say (the loss of the spring evaluation period) hurts 2021 more just because that's where our focus is right now," Pantoni said. "Finishing out the checkmarks on certain guys, there may be some stuff on film that we're not sure about, so we were hoping to get a live eval out of a practice or a camp to say, 'Yeah, this guy is good enough,' or 'Hey, this guy is what we thought.' So our focus is on '21, and we were gonna use that time to do live evals on the '21 moreso than '22s."
But still, Pantoni does admit that the loss of this spring's evaluation has an effect on both 2021 and 2022.
"Really, both classes, it hurt significantly to not be able to get them on campus through spring," Pantoni said. "The camps disappear, that's a significant loss and our coaches going on the road and watching these guys practices, that's a significant loss. That's another check mark in the whole evaluation process. We're gonna have to really trust our eyes on the film.
"Some of these 2021 kids we were hoping to make final decisions on by watching them practice live or having them at camp, that may be in jeopardy now. The film is gonna take a lot of weight now and hopefully we can get these kids on campus when things open up to spend more time around them."