While the coronavirus outbreak brought just about everything else in sports to a screeching halt, Ohio State's football recruiting efforts seemingly only sped up.
In a span of just 12 days, Ohio State landed five commitments for the recruiting class of 2021 – four-star cornerback Jakailin Johnson, three-star cornerback Devonta Smith, four-star running back Evan Pryor, four-star defensive back Andre Turrentine and five-star running back TreVeyon Henderson – in addition to a commitment from Oklahoma graduate transfer running back Trey Sermon.
All of those commitments came after spring practices and on-campus recruiting visits were shut down, even though several of those prospects had still been planning to visit campus. That said, Ohio State director of player personnel Mark Pantoni believes they ultimately all decided to pull the trigger because of the relationships Ryan Day and the rest of the Buckeyes' coaching staff had already built with them.
"Our coaching staff has done a phenomenal job building relationships," Pantoni said in a teleconference with reporters on Friday. "We were hoping the spring practices would give us time to get these kids back on campus. We felt like, ideally, we would close the deal with some of them. But with the limitations, I think a lot of kids kind of had their minds made up and coming on campus again would just kind of finalize their thoughts. Just because of the way things turned out, they decided to publicly commit to us to hold their spot in the class."
Given that Ohio State's class of 2021 already includes 15 commitments, the race to secure a spot in the class surely became a factor for those recruits as the Buckeyes quickly loaded up on running backs and defensive backs. But they wouldn't have raced to secure those spots if they weren't already leaning heavily toward Ohio State, and Day – like Pantoni – believes that's because of the relationships they've been able to build with those players over time, dating back to before their junior years.
"We maximized our time really well, but also, got ahead of this thing," Day said in a teleconference last week. "Mark Pantoni and our staff has done a great job of staying in touch with this class from this time last year, we're working so far ahead that those relationships are really, really strong. So we're just doing a great job of communicating right now. I think there's a lot of excitement around the program and what we're building on both sides of the ball. And again, we've been doing this for awhile now with this class, so there's been a lot built up. This is not something that we just started a few months ago."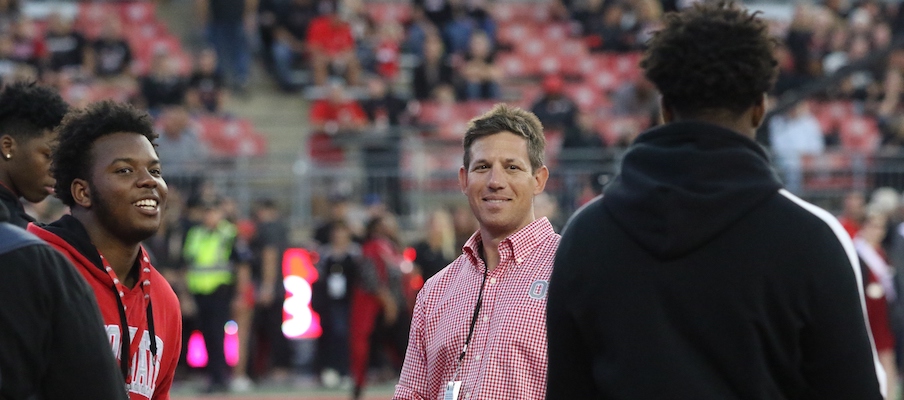 Ohio State entered this offseason with momentum on the recruiting trail, both because of what they did on the field last season and in building a top-five recruiting class of 2020. The Buckeyes already had nine commitments by January, and have been filling up their class of 2021 at a rapid, rarely seen pace.
Given that Ohio State had only one unsigned target in the class of 2020 (Cameron Martinez) after the early signing period in December, the Buckeyes were able to shift almost all of their focus to the class of 2021 in January, which enabled them to continue building momentum for the current recruiting cycle during the contact period before national signing day in February.
While the early end of spring practices eliminated the opportunity for many recruits to visit this spring, it has freed up time for Day and his staff to spend more time on phone calls and FaceTimes with recruits, which has helped them to continue building those crucial relationships. 
Altogether, the Buckeyes have a lot working in their favor on the recruiting trail right now.
"Our staff right now is so strong, they're very motivated, hungry," Pantoni said. "And maybe that's from losing that Clemson game that sparked us all. And guys are hungry. We have great staff cohesion, we have a great group of guys that work really hard and work great together. And I think just putting that all together, we have a strong culture in that locker room. So when guys come up here, they feel differently than a lot of different schools."
Thanks to both the early foundation built last year and the recent run of additional commitments, Ohio State now has a commanding lead – nearly 60 points ahead of second-place Clemson – in 247Sports' composite team rankings for the class of 2021, and appears to be well on its way to building one of its best recruiting classes ever. The Buckeyes' 15 commitments include 12 players who are ranked among the top-150 players in the class and quality talent at every major position group. 
Pantoni knows he and his staff can't be satisfied yet, though. Until any of those commitments sign their names on the dotted line and officially become Buckeyes, Ohio State must continue to recruit all of them, while there are still a multitude of other players who the Buckeyes would like to add to that class and make it even stronger.
"It's only the beginning of April. We're not trying to win any recruiting wars in April, so we've got a long way to go," Pantoni said. "We've got to hold onto all these kids until December, so we treat all our commitments like they're not committed, and make sure they continue to feel loved and remind them why they chose here."