The Hurry-Up is your nightly dose of updates from the Ohio State football recruiting trail, keeping tabs on the latest from commits and targets from around the country.
Kiner aware of two-running back goal
Ohio State is looking to sign two running backs in the 2021 class, but it's unclear which running back recruits that intention has been clearly communicated to. 
IMG (Fla.) Academy RB Lovasea Carroll, who has the Buckeyes among his final five schools, told Eleven Warriors that Ohio State's coaches have not told him whether or not they will sign two running backs.
Roger Bacon (Ohio) High School RB Corey Kiner, another of Ohio State's top targets at the position, has been made aware of that intention. His head coach, Mike Blaut, told Eleven Warriors he doesn't believe that will affect Kiner's decision on where he signs.
"It has been brought to our attention they are bringing in two backs," Blaut said. "Corey knows he will have to compete for a job wherever he goes so I'm not sure if it really affects his decision. Every school recruiting him will bring in the best of the best. In my opinion, he can compete with whatever level of talent the school has ahead of him on the depth chart."
Looking more at Kiner and where he is in the recruiting process, Blaut says that while Kiner hasn't officially narrowed his list down on paper, "I know in his head he has it narrowed down to 5-6 schools," Blaut said. 
"Michigan, OSU, Cincinnati, Louisville, Purdue and Pitt have all been in contact with Corey and myself the most. As other new schools offer, they are joining in as much as the top ones listed here. Those six were the ones that have been in contact since the recruiting process started. Having said that, I receive texts and calls all day from any of the schools that have offered him."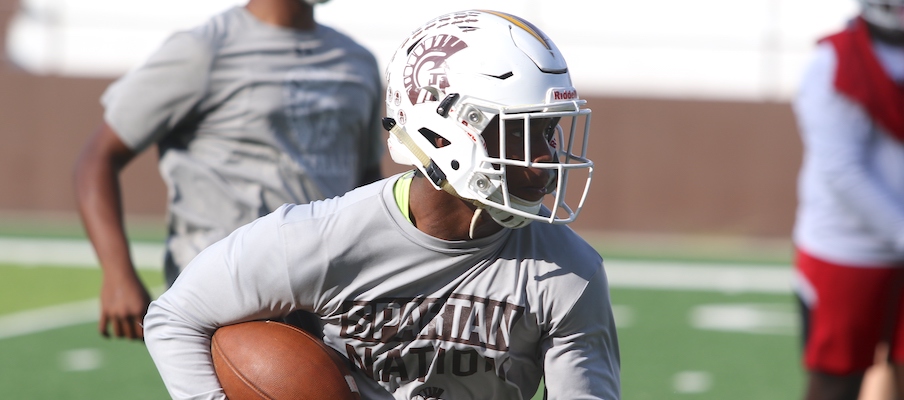 Ryan Day visited Roger Bacon during the final week of the January contact period, and Blaut says Day "has been in contact here and there, especially lately."
Blaut also says Tony Alford has had an impact on Kiner since he got involved in the recruiting process.
Alford started recruiting Kiner in the spring of his sophomore year. Kiner competes in track and field for Roger Bacon, and Alford came down to visit a practice. That's when he offered, and ever since, his relationship with Kiner has continued to grow.
"I love coach Alford. He's a good coach," Kiner told Eleven Warriors in October. "I could see myself at Ohio State under coach Alford because he doesn't just make you a great football player. He makes you a great man too. When I looked at coach Alford, I saw my dad. He's not gonna sugarcoat anything. If I'm having a terrible practice, he's gonna let me know I'm having a terrible practice. 
"Coach Alford teaches things outside of football. When life gets hard, you don't just give up on it. When things aren't going your way, you can't just give up on things. Your family has to eat, your bills have to be paid. In football, when you're not starting there's probably a reason you're not starting. It isn't just favoritism. It's never that with coach Alford. That's what I noticed."
Kiner's father Clifford coached him in football from 9-12 years old, and Kiner is looking for another father figure in his college coaches. He has said that Alford, Michigan's Jay Harbaugh, Purdue's Chris Barclay and Louisville's Norval McKenzie are some of the coaches who fit that bill. But he's also looking for a school that will help get him to the next level.
"He is a very family-oriented young man and wants what school fits him and his family the best," Blaut said. "He wants to go to a school that will facilitate his chances of making it to the NFL. The offense needs to be a top-notch offense that can win and showcase his skills. As said previously, family is very important to him, so whatever school he chooses will have a definitive family feel to it. Much like what we have at Roger Bacon."
While Kiner made a comparison between Alford and his dad, Alford sees some of the same qualities in Kiner as he does in one of the Buckeyes' all-time great running backs.
"He compares him to J.K. Dobbins," Blaut said. "Very similar work ethic, mindset, skill set."
It's well-documented how tight of a relationship Dobbins and Alford have. If Kiner chooses the Buckeyes in the end, perhaps their relationship would end up being a similar bond.
In order for that to happen, though, the Buckeyes will need to get Kiner back on campus. Kiner will soon be setting up visits, but his schedule is not yet known.
"I do not know when and where his next visits will be," Blaut said. "But I would assume OSU is on the list."
Thomas narrows list, hopes to visit again
As we've mentioned before, receiver is one of the positions lowest on the totem pole for Ohio State in the 2021 cycle right now because of the four studs they brought into the 2020 class and the two juniors they already have committed. 
That's one of the reasons why Ohio State can afford to be selective and attack the top two targets (Emeka Egbuka, Troy Stellato) with diligence and patience. (Side note: Egbuka is finally listed properly as a receiver, instead of being listed as an athlete, on his recruiting profile.)
Extremely blessed to receive an offer from The Ohio State University @OSUCoachMeyer @ryandaytime @OhioStAthletics @OhioStateFB #gobucks pic.twitter.com/ZXQMEmWL8e

— (@jgpt333) June 13, 2018
In case the Buckeyes wind up striking out on both Egbuka and Stellato (with Washington in the mix for Egubka and Clemson in the mix for both), another 2021 receiver to monitor for the time being is Pace Academy (Ga.) four-star junior Jayden Thomas. 
Though there are other junior receivers to keep tabs on like Mario Williams, Dont'e Thornton, and Kaden Prather, the relationship between Thomas and the Buckeyes has been in place longer than it has between Ohio State and many of the other receiver recruits in the class.
Ohio State offered Thomas way back in June 2018, the summer after Thomas' freshman season, and Thomas says he's still in frequent contact.
"I talk to the coaches pretty often – text or on the phone – and they see me fitting in their offense," Thomas told Eleven Warriors. "Definitely, the coaching staff stands out to me about Ohio State. The love I get from coach Day, coach (Al) Washington and coach (Brian) Hartline is unbelievable."
Thomas, a 6-foot-1, 200-pound receiver, was clocked with a 4.63 time in the 40-yard dash, 4.21 in the 20-yard shuttle and a 33.6-inch vertical last March. He last visited for an Ohio State game day for the Buckeyes' win over Michigan at the end of the 2018 season, and he'd like to get back up to Columbus soon.
"I don't know when my next visits are, but I definitely want to come back up there," Thomas said. "Definitely I want to come back for a game and maybe in the spring."
Thomas told us last weekend that he doesn't have a commitment timeline and isn't sure when he will commit, but that he was "narrowing my list really soon." Less than a week later, on Valentine's Day, Thomas showed some love to 12 schools by releasing that narrowed list – one that includes Ohio State, Georgia, Alabama, LSU, Notre Dame and Michigan.
Thank you God I am forever grateful . Edit: @Hayesfawcett3 pic.twitter.com/10gHmrW7wT

— (@jgpt333) February 14, 2020
Ohio State 37th in most offers
We joke – though it's not really a joke – about December and January being "offer season."
As of Tuesday, the Buckeyes had offered 144 total scholarships in the 2021 class, casting a wide net that has them ranked No. 37 in the country and ninth in the Big Ten for total offers.
Tracking the # of Class of 2021 offers from every Power 5 school https://t.co/Tc5AlxwEt2 pic.twitter.com/8c1FgvGkp5

— Blair Sanderson (@BlairRIVALS) February 11, 2020
Nebraska (an astounding 326 offers) has dished out the most offers in the country, while other the other Big Ten programs higher than Ohio State on the list are Michigan (238), Penn State (210), Maryland (210), Rutgers (207), Indiana (194), Purdue (167) and Minnesota (152). 
Numbers for Ohio State's biggest national competitors on the trail: LSU (200), Georgia (155), Alabama (150) and Clemson (57).
Sports Illustrated recruiting analyst John Garcia Jr. reported that many programs believe the early signing period is one of the reasons for schools to offer so many scholarships, and the three schools with the most offers (Nebraska, Tennessee, West Virginia) have dished out so many because of location and the lack of in-state talent.
Adeleye earns MVP
Five-star IMG Academy defensive end Tunmise Adeleye had a standout day at the Orlando Rivals Camp Series, earning a positional MVP and an invitation to the Rivals Five-Star Challenge this summer with moves like this:
Tunmise Adeleye @TunmiseAdeleye putting on a show at the @RivalsCamp Orlando. @rivals #Gators #UGA #GoBucks and others on his list. pic.twitter.com/njrAZWAbQ4

— Chad Simmons (@ChadSimmons_) February 16, 2020
#Gators target Tunmise Adeleye in 1on1s pic.twitter.com/7EeudLztju

— CONNER (@CJ_Clarke1) February 16, 2020
Adeleye is one of the Buckeyes' top targets at defensive end, and they are continuing to gain steam on the recruiting trail with him. He is very high on Ohio State and a visit in the spring is likely. 
Terry narrows list
Kennedy (Calif.) High School four-star tight end Jermaine Terry II, a 6-foot-4, 235-pound junior ranked as the No. 4 tight end in the 2021 class, did not receive an Ohio State offer until last weekend. 
That was enough for Terry to put the Buckeyes as one of his final options, in addition to programs like Alabama, Auburn and Tennessee (the three programs Terry told Eleven Warriors he has set up visits to in March), plus Oregon, Texas A&M and Washington.
Beyond Blessed Top 14.. pic.twitter.com/ByQ3ifoYAK

— Jermaine Terry II (@AllDayMaine) February 14, 2020
Terry is drawn to Ohio State, he told us last Sunday, because "the program is just historic. You can't beat the track record."
He said he plans on making a trip to Ohio State in the spring or summer before making a college commitment so he's become a name to keep an eye on.