The Hurry Up is your nightly dose of updates from the Ohio State football recruiting trail, keeping tabs on the latest from commits and targets from around the country.
Landers excited for Hicks' growth
Earlier today, I wrote about the tight friendship of Ohio State targets Jaylen Johnson and C.J. Hicks and the similarities between the two as their futures could be headed down identical paths – perhaps both landing in Columbus. 
I was able to talk about Hicks a bit further with another player with whom he's very close – Robert Landers, a first cousin of Hicks' who has been excelling as a senior defensive tackle for the Buckeyes.
Landers says he's seen some of Hicks' play this year, but it's hard during the season. He tried to catch him play during Ohio State's bye week but was unable to due to other family priorities that came up.
But Landers has still been able to talk with Hicks throughout this season. And even though Landers likes to stray away from discussing football with the 15-year-old, and instead focuses on just catching up on things outside the sport, he has still been able to "stay in his ear as much as I can," Landers says.
What does that entail telling the Alter High School sophomore?
"Stop being soft," Landers said with a laugh. "No, I try to critique his game a little bit. He's a phenomenal athlete. I love the boy to death."
"For him, the sky's the limit. Like I said, he's a phenomenal talent and phenomenal player, and he's hungry to learn the game." – Ohio State DT Robert Landers on his cousin, Buckeyes target C.J. Hicks
Hicks stands at 6-foot-4, 210 pounds at this early stage in his career, and he combines a 4.5-second 40-yard dash with incredible length, foot quickness and hip fluidity to swallow up defenders, good field vision that allows him to cover ground all over the field and the toughness to lay down some big hits as a good open-field tackler. 
All of those attributes have caught Landers' eye, and that's why he spoke so openly and candidly about his family member.
"For him, the sky's the limit," Landers said. "Like I said, he's a phenomenal talent and phenomenal player, and he's hungry to learn the game. He's hungry to work hard. … But he's nowhere near the ceiling that he thinks he's at. There's so many aspects that he can grow in. Right now, he has a lot of potential. The boy plays hard, and he's aggressive.
"But me, personally, I feel like there's so much more for him to achieve. That's gonna come with him developing naturally and maturing. He's only 15. He doesn't realize the stature and what he has yet so he's still trying to figure out himself. Once it clicks, oh, that's gonna be scary. That's gonna be scary. Oh my God, man."
Landers and Hicks were able to catch up a bit during Week 2, when Hicks visited Ohio State for the Buckeyes' 42-0 thrashing of Cincinnati, and he'll be able to catch up this weekend during the matchup with Wisconsin. 
But a fly on the wall of that conversation won't hear Landers give Hicks much advice about going through the rigors of college football. 
He wants Hicks to focus on his own game and his own team instead of getting distracted and worrying so much about what awaits him at the next level.
"College ball is one of those things that no matter how much someone explains it to you, you really don't know what you're getting into until you go through it," Landers said. "It's one of those things where I want him to enjoy his time now and worry about that when he gets here. Once he gets here, then I'll give him more advice because once you're going through it, it's easier to guide and help, you know what I mean?"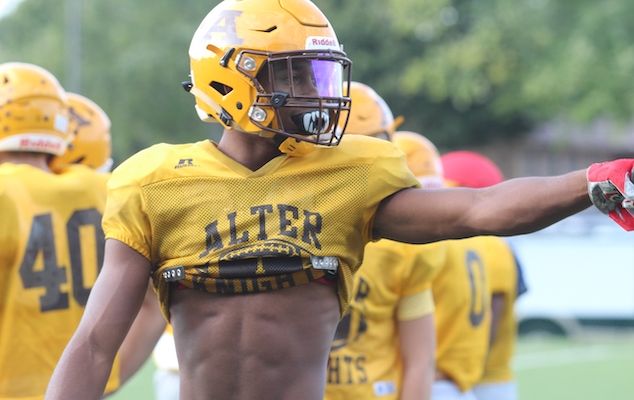 Landers isn't questioning Hicks' work ethic or his eagerness to work hard – far from it, in fact. But almost every player coming from the high school ranks does get a bit of a wakeup call once they get to the high-major Division I level.
"I can tell you, 'Camp's gonna be this. Camp's gonna be that,'" Landers said. "You can ask that question, 'Do you like to work hard?' 
"Every kid's gonna say, 'Yeah.' But when you get here, the question you're gonna ask yourself is, 'Do I like to work hard? The work I put in in high school clearly wasn't hard enough.' It's one of those things where, right now, I want him to enjoy the time that he has. Once he gets here, I'm gonna be all over him."
Unfortunately for Landers and Hicks, if Hicks does choose Ohio State down the road, by the time he were to hit campus Landers would be long gone – at least as a player. 
That means he may have to watch from afar as Hicks' career grows in college. But he'll still be happy to give him some tough love and some compliments when needed.
"I'm so excited and interested to see what he does," Landers said. "I'm always gonna stay on his butt. I'm gonna praise him when it's time to praise him, but I'm gonna tell him, 'Hey, you need to work on this and work on that.' I'm gonna let him know where he can improve so he doesn't stay complacent."
Day's "still got it"
Ryan Day won the New Hampshire Gatorade Player of the Year as a high school quarterback in 1996, parlayed that into a three-year starting career for the University of New Hampshire and became one of the program's best quarterbacks by setting nine school records, including pass completions (653), touchdown passes (53), completion percentage (59.9 percent) and total offense (8,492 yards).
Apparently, the 40-year-old's still got it.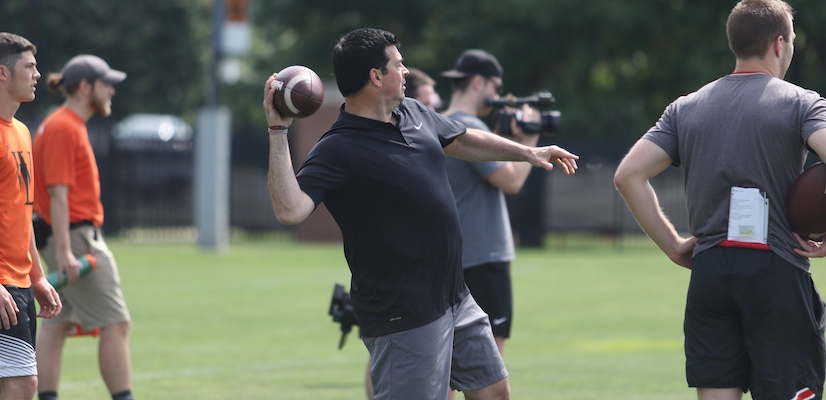 Christian Burkhalter, a three-star junior tight end and wide receiver from Spanish Fort (Ala.) High School, camped with Ohio State in June and one of his best experiences came from Day showcasing his passing skills. 
"I'll tell you what was unique about my camp day at Ohio State – Coach Day actually worked with me on the field," Burkhalter told Eleven Warriors. "He was out there throwing me routes himself. I loved it."
Day can reportedly still sling it – and he can move a bit to play some defense too. 
"Oh, he's still got it," Burkhalter said. "He was a little intimidating when he lined up to guard me. I was like, 'Woah.'"
Aside from the fun of going head-to-head on the turf with one of the country's best coaches, another highlight coming from that overnight camp June 12-13 was Burkhalter earning an offer from offensive coordinator/tight ends coach Kevin Wilson.
"Coach Wilson is a great teacher and a guy I really respect," Burkhalter said. "My dad likes him a lot as well."
In the 2021 class, Burkhalter is the No. 19-ranked tight end in the country and is the No. 17-rated prospect out of Alabama. The Buckeyes are looking for two tight ends in the class, and perhaps Burkhalter could be one of them. 
"I haven't dropped my top schools yet. However, I'm watching a lot of games," Burkhalter said. "Really, Ohio State has a great idea of what they want in my position. All I can do is continue to work to get bigger, stronger and faster which I do all the time."
Burkhalter announced on Wednesday that he will be visiting Columbus for the Buckeyes' game against Penn State, which has the potential to be the biggest game of the season with Big Ten championship implications and more.
Ill be in Columbus for hio State vs PSU ! pic.twitter.com/s7zgYOK9Af

— '21 Christian Burkhalter (@Christianburk_) October 23, 2019
"This game could be for the national championship, or at least a chance to be in that discussion," Burkhalter said.
Chestnut ready to see Columbus
He already holds one of the best/coolest names of any Ohio State recruit, and now he's ready to bring that name and face to the Shoe this weekend.
Duce Chestnut, a 5-foot-11, 180-pound four-star junior cornerback from New Jersey, is one of the many players ready to converge on Columbus for the Buckeyes' second big recruiting weekend of the season.
"I don't really know what I'm most looking forward to – meeting and interacting with the coaches or being in the atmosphere of the game," Chestnut told Eleven Warriors. 
Chestnut, whose real name is Darian, is the No. 15-ranked cornerback in the country, the top-rated corner in New Jersey and the state's No. 4 overall prospect. But despite being from the same state as Jeff Hafley, the two have never met, which makes this trip a big deal for the 2021 talent. 
It will be interesting to see if a scholarship offer is extended to Chestnut this weekend, as defensive back is a huge priority for the Buckeyes in the 2021 class.
"I haven't really met or really talked to Coach Hafley, which is why this visit is important," Chestnut said. "I talk more to Coach Matt Barnes. He says he likes my physicality and versatility. Also, my IQ on and off the field."
LSU gets No. 1 tight end
Ed Orgeron landed a commitment from the nation's No. 1-ranked tight end, Arik Gilbert, who surprised many by choosing LSU over Alabama and Georgia on Wednesday night.
The No. 10-ranked overall prospect in 2020 gives the Tigers back a slight lead over Ohio State in the class rankings, as the Buckeyes now come in at No. 4 behind Clemson, Alabama and LSU.