The Hurry Up is your nightly dose of updates from the Ohio State football recruiting trail, keeping tabs on the latest from commits and targets from around the country.
Kaden Saunders Prepped for "Really Big" Season
The last the media was able to see of Westerville South 2022 athlete Kaden Saunders was at Ohio State's one-day camp in June, where Saunders said he was "very disappointed" with himself while recovering from a hamstring injury.
While working his way back to full health, Saunders saw a dip in his 40-yard dash time, but he was still able to get in some work with Brian Hartline and Jeff Hafley at wide receiver and defensive back.
Entering his sophomore year, the Westerville South standout feels like he will take the steps needed to eventually get the offers he's primed for.
"I feel like this year is going to be really big for me," Saunders told Eleven Warriors. "I've become more of a leader this year, and they want to get me the ball as much as I can get the ball. I run the wildcat, I play outside receiver, slot, and some DB too."
Saunders released his scrimmage tape from this weekend, and it confirms that Westerville South is looking to get him the ball more often in 2019. As a freshman, he ran the ball 27 times for 203 yards and caught just 12 passes for 229 yards, as well as worked in the return game. It's not uncommon for freshmen to not be given the ball often at the high school level, but given Saunders' explosiveness and big-play ability, it's a no-brainer to find him in space more often.
For example, Westerville South ran the wildcat formation just twice with Saunders receiving the snap in 2018. He kept it once and handed it off once. This was the one keep he had.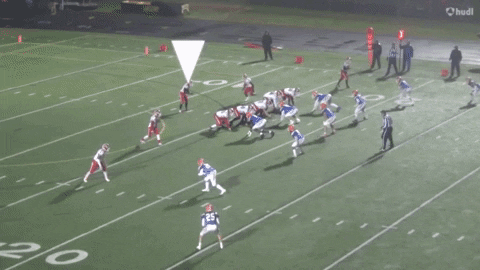 In his tape from this weekend, he had a keep from the wildcat formation too. There were also many other designed plays that targeted Saunders, such as hitches with soft coverage and jet sweeps.
The key for Saunders, as it is for many smaller, quicker prospects is staying healthy. His measurements on his 247Sports profile come in at 5-foot-10, 155 pounds, but he said he's hit 160 "multiple times" this offseason and can tell he's getting stronger and faster. 
Despite what he's needed to work on with his size, schools like Michigan, Michigan State, Penn State and West Virginia have already offered him. Ohio State has not yet offered, since it typically doesn't offer many 2022 prospects and also because it can be patient with in-state prospects. 
"I really hope they offer after this year," Saunders said about Ohio State.
Tyler Baron Releases Top Schools
Tennessee four-star defensive end Tyler Baron released his top schools list Saturday, and it included Ohio State, along with Oklahoma, Tennessee, Oregon and Kentucky. 
Blessings from the highestFINAL FIVE pic.twitter.com/eeFETQ3sGJ

— Tyler Baron (@Tylerbaron23) August 9, 2019
While Tennessee is the heavy favorite for his commitment, an extended recruitment could bode well for Ohio State, which is still looking for more staple defensive linemen in the class. Baron would certainly qualify. He's rated as the No. 3 strong-side defensive end and the No. 101 prospect overall. 
Baron has a good relationship with Paris Johnson Jr. and Darrion Henry, which he showed during The Opening Regionals in Nashville. He also made a visit to Columbus in April after the spring game, but he hasn't been very vocal in his interest for Ohio State. The Buckeyes are fighting an uphill battle for him, as Tennessee looks to be the favorite. 
Paris Johnson Jr., Darrion Henry at Princeton Media Day Monday
Princeton High School in Cincinnati is hosting its media day Monday, featuring two Ohio State commits Paris Johnson Jr. and Darrion Henry. Both linemen are expected to be available, and Eleven Warriors will be in attendance.
While they both applied to attend school at Ohio State at the beginning of the month and Henry claimed he is "1000% committed" on Twitter, Johnson hasn't made a statement equal to Henry's. It is out of his nature to use a media day as an opportunity to make that announcement, but he could verbally close his recruitment at any point. 
With that being said, I doubt he makes a statement Monday like Henry did, but that doesn't mean I believe his commitment to be weak. He told the media at The Opening Finals in very vague terms that he is remaining committed to Ohio State, so a media day at Princeton won't change his strategy toward ending his recruitment.