Finding the right fit for your college football program isn't just about what happens on the field, but off it as well. Today, Ohio State added a key piece. How will that commitment impact the Buckeyes?
Ohio State earned the commitment of three-star tight end Joe Royer on Tuesday, over Arizona State, Wisconsin, Michigan, Penn State and LSU. 
Royer is rated as the No. 501 overall 2020 prospect by 247Sports Composite and the No. 201 overall recruit by 247Sports. He comes in as the No. 14 tight end.
Let's take a look at how Royer affects Ohio State's 2020 recruiting class.
On The Field
Joe Royer was one of the most underrated tight ends in the class going into June, and he happened to be down the road in Cincinnati. 
Going into Ohio State's one-day camp June 6, when he and Luke Lachey worked for Ohio State's offers, Royer was rated as the No. 1,056 prospect overall in the class. After earning the Buckeyes' offer, he jumped 538 spots, and 247Sports also rated him as the No. 3 tight end in its own rating system.
The Elder High School tight end still has some growing to do, as he stands at 6-foot-5, 225 pounds. He will likely need to add weight, causing him to take a redshirt year, but once he gets that weight on, he has some tools to be an effective tight end in a college system.
Royer has a natural ability of using his low center of gravity to his advantage without allowing it to slow him down in open space. He ran a 4.81-second 40-yard dash at Ohio State's camp and can seal off a block downfield, which caught the eye of Kevin Wilson. His footwork could improve when engaged in blocks, but for his age, he's ahead of most tight ends with his skillset.
In the passing game, his route-running could use work, but he makes up for his lack of separation by using his body to shield defenders away from his catching zone. That's where his strength for his size works best for him. He can high-point the ball and has speed to pull away from bigger defenders in the open field. 
His skill set lends itself to being used as an option that won't pop off a box score but will be useful if the offense needs a downfield blocker, a reliable target on short-yardage plays or in the redzone or just an athletic mobile piece in a certain package. He will find a role in the Ohio State offense fairly easily with the versatility he brings.
In The Class
Royer gives Ohio State its first tight end commitment of the 2020 class – a development that occurred quickly towards the end of spring. Royer is the teammate of Ohio State offensive tackle commit Jakob James at Elder, and he paid a visit to Ohio State during spring practice, when the Buckeyes were lightly looking his way.
Then Royer's recruitment blew up, as he received offers from programs like Penn State, Michigan and Michigan State. Ohio State wanted to see him in person at a camp before it extended him an offer though.
Royer was at the Buckeye Bash & Barbecue on June 21 with two other top tight end targets in the 2020 class – Cam Large and Jalin Conyers. In a best-case scenario, one of those two other tight ends will commit to Ohio State in addition to Royer, but if neither of them do, Ohio State will likely be content with just adding Royer to its tight ends room.
The Buckeyes tight end recruiting has not exactly gone as planned, as targets like Theo Johnson, Mark Redman, Lukas Ungar, Jonathan Odom and Blake Smith have all either committed or appear to be heading elsewhere. 
The fact that the Buckeyes will come out of the class with the No. 14 tight end and potentially another top-20 tight end is a victory in itself, let alone considering what they're getting in Royer. It remains to be seen just how hard they will push for another, however.
Off The Field
Luke Lachey is getting serious looks from some major programs like Wisconsin and Michigan State, but he appears to be heading to the tight end factory in Iowa City.
Lachey and Royer will likely be compared for the entirety of their careers, as they both came into Ohio State's one-day camp working for Buckeye offers, and Royer was the only one to get it. Lachey is also the legacy of former standout offensive tackle Jim Lachey, and his ratings bumped around 500 spots after the Ohio State camp as well. He's now rated as the No. 422 overall recruit in the class and the No. 11 tight end.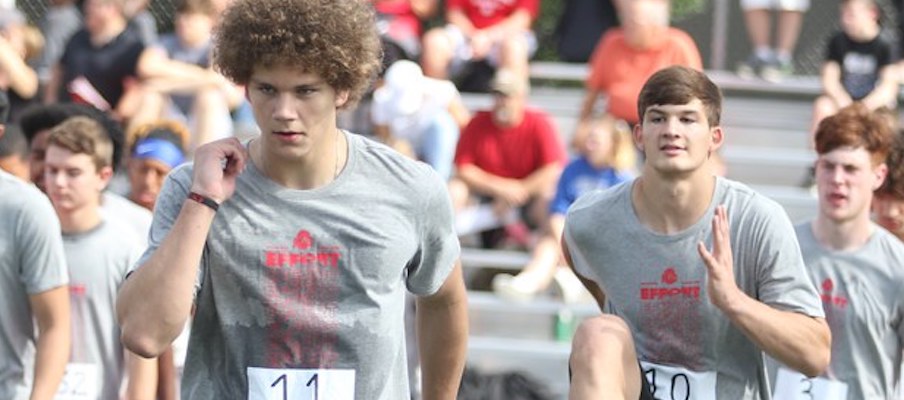 The biggest knock on Lachey, though, was that he was timid in blocking situations and that the willingness to block wasn't there yet, after he served more of a receiving role in Grandview Heights' offensive system and was new to those scenarios.
Royer appears to be the most immediately polished between the two, but they will both find roles within their respective offenses – two different roles, since they are different types of tight ends.