The month-long recruiting dead period has arrived, and with it comes decision mode for several top Ohio State 2020 targets.
While some 2020 prospects aimed to be committed by this point already, some 2020 prospects planned their most significant visits to occur in this last weekend before the dead period began Monday. 
With the 17 visitors that made their ways to Columbus last weekend, Ohio State has a lot of momentum heading into the dead period, which several recruits are using as a safe space to slow down the recruitment process, talk with family and confidants and make a decision on a commitment. 
During the dead period – which lasts from June 24 to July 24 – coaches are not allowed to have any face-to-face contact with prospects of any class. They aren't allowed to host camps or step foot on a high school campus either. The only contact they can have with recruits is through hand-written notes or electronics – that is if the prospects are old enough for electronic contact.
With the dead period comes a lot of waiting. Prospects will take some time to decide which school is best for them, and then they will make calls to the other schools they were considering to notify them of their decision. Shortly after those calls, they will call the school of their choice, and a few hours later, they'll announce they're commitment.
While not as many recruits committed during the weekend as were thought, that doesn't mean Ohio State won't earn their commitments. It simply means prospects are taking more time to decide, rather than making impulsive decisions. That can be because of a number of things, one being that races for their commitments were just a little closer than originally thought. Another could be that recruits wanted to go through the entire process above, where they alert the other schools.
Clark Phillips alerted the other schools before his live stream Friday, and Jayden Ballard didn't have many other schools in serious contention with Ohio State.
With many of Ohio State's top targets in the throes of decision mode, these are some updates on prospects nearest to the program.
Prospects leaning Ohio State
While there weren't as many prospects leaving Columbus committed to Ohio State as expected last weekend, the Buckeye Bash & Barbecue was still extremely effective. The small setting at the Woody Hayes Athletic Center, the games the recruits played with the coaches and the photoshoots in Ohio Stadium were enough to solidify what many targets came into the visit already thinking – Ohio State is the school for them.
Many of the following recruits are in different stages of the decision process than others, but a few prospects leaning heavily toward Ohio State are linebacker Cody Simon, who developed a strong connection with Jeff Hafley and Al Washington, tight end Joe Royer, who is the latest 2020 recruit to earn an Ohio State offer (June 7), Darrion Henry, who is committing Saturday, and Lathan Ransom, the teammate of five-star running back Bijan Robinson.
Committing June 29th!!! https://t.co/tFFMTvC80P

— D Hen (@darrion_henry) June 24, 2019
Cam Martinez has been leaning heavily toward Ohio State for a while, but he also has a very good relationship with Northwestern. It seems like he will be a Buckeye though.
Kourt Williams has a decision to make about where he would like to play geographically. His family really enjoyed the visit to Ohio State over the weekend, but he has serious interest from Oklahoma and Texas A&M, which are considerably closer to California than Ohio. He is close with Clark Phillips, though, and having him there clearly has had an effect on the decision-making process.
Michigan safety Makari Paige is another target that seems to be leaning toward Ohio State, but not as strongly as fellow safety Lathan Ransom.
Bijan Robinson, Kendall Milton and not Zach Evans
Going into the weekend, the narrative surrounding Bijan Robinson, Kendall Milton and Zachary Evans was quite different than it is now. It seemed that Milton would be the five-star running back that Ohio State would be bringing in, but talks between him and Georgia have continued to increase, while Robinson has undoubted interest in the Buckeyes.
Robinson hit USC immediately after his official to Ohio State on June 14, but his Instagram page has been all about the Buckeyes since his visit. Social media accounts should be taken with a grain of salt, but Robinson has only posted about Ohio State through Instagram's story, and he told Eleven Warriors that the visit was "amazing." 
Different experts have different ideas about where Robinson will go. UCLA and USC reporters both seem to believe he's leaning their direction, but Robinson doesn't seem like the type of person to mislead fan bases. Ohio State commit Jack Miller also recruited Robinson hard at the Rivals 5-Star Challenge in Atlanta on Tuesday, and Kyle McCord also said he believes Robinson is headed to Columbus.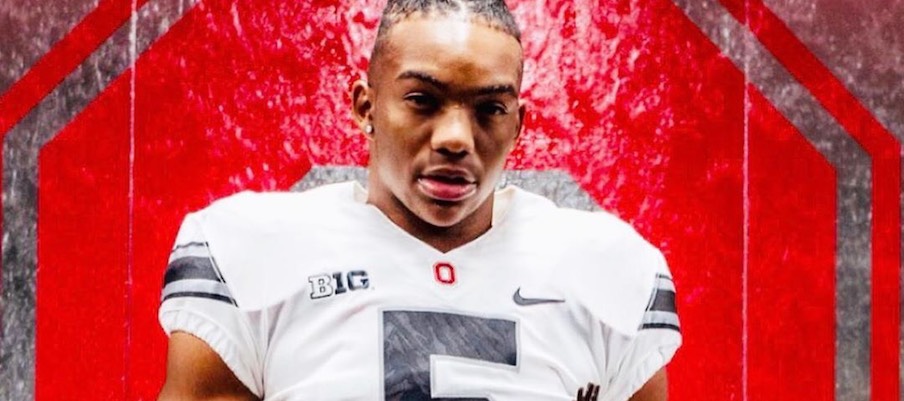 Zachary Evans isn't a lost cause for Ohio State, since he will be making more visits after the dead period and will likely take his recruitment into the fall, but he cancelled his visit to Ohio State last weekend to go to Texas A&M. If Ohio State misses on the other two running backs, the Buckeyes and Evans might take another look at each other.
DeaMonte Trayanum
Akron four-star running back DeaMonte Trayanum still remains on the fence, though his interest in Ohio State appears to be swaying toward Arizona State. I detailed here why Trayanum might consider other schools, and Herm Edwards and his staff want Trayanum pretty badly. The opportunity might play out for Trayanum to see the field earlier there too.
With Jaylan Knighton narrowing his decision to Florida State and Ohio State, Blake Corum entering the decision process and E.J. Smith including Ohio State in his top-five heading into the dead period, the spots for running backs in the Buckeyes' class are dwindling.
Cam Large and Jalin Conyers
In addition to Joe Royer, Cam Large and Jalin Conyers made official visits to Ohio State last weekend too. Ohio State can certainly take two tight ends in the 2020 class, and Conyers would certainly be the most talented of the bunch. But the Texas tight end appears to be leaning toward Oklahoma at this point. If the Buckeyes get two tight ends out of the class, landing Large and Royer would be the most likely conclusion. Large has been giving Georgia a hard look too, though.