The Hurry Up is your nightly dose of updates from the Ohio State football recruiting trail, keeping tabs on the latest from commits and targets from around the country.
DeaMonte Trayanum's official visit concludes
Four-star Akron running back DeaMonte Trayanum wrapped up his official visit to Ohio State on Wednesday, and he told Eleven Warriors following the visit that it was "good."
Trayanum has taken officials to Arizona State and Wisconsin and now has one lined up for this weekend at Penn State. 
The Akron standout was on campus early to support a few Archbishop Hoban teammates at Ohio State's one-day camp the Saturday before his official visit was set to begin. That was simply to become more comfortable with the coaches. He told Eleven Warriors that while he was on the official visit, there weren't really any conversations had that he wouldn't have with the Buckeye coaching staff on nay other visit.
He has been around the program for a while, since Ohio State has been the school he's longed to play for, and now, as the numbers for the running back position continue to increase, it's not surprising to see Trayanum listening to the other schools he's visited.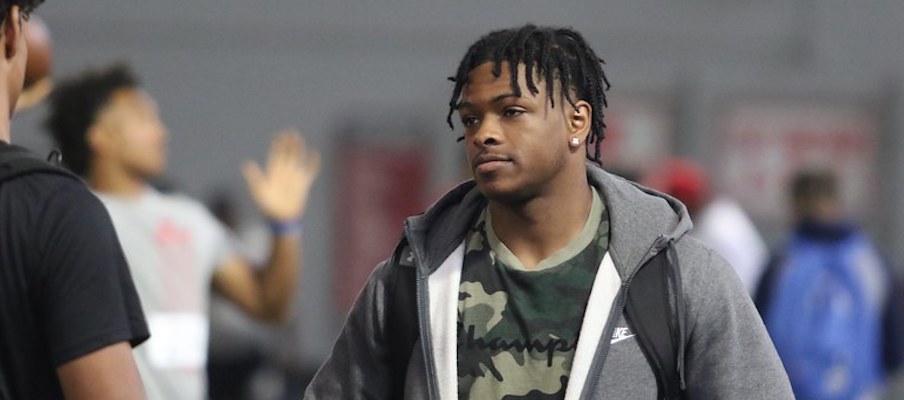 While the Ohio State running back room isn't particularly crowded at the moment, it is a fairly crowded class for the Buckeyes, with Bijan Robinson, Kendall Milton and Zachary Evans all making visits in June and running backs like Blake Corum, Jalen Berger, Lawrance Toafili and Sam Adams taking hard looks at Ohio State too.
If Ohio State got what it wanted and landed three running backs, including Trayanum, it would make Trayanum's path to the field very difficult, even though he is a talented running back.
While he's more than likely still leaning Ohio State fairly strongly, it wouldn't be a shock to see him find a different destination. While Trayanum said there weren't any new conversations had on his official visit, these conversations are surely commonly hashed when he does talk with the coaching staff.
Hunter Wohler shines at Ohio State 7-on-7 camp
If there was one player garnering the most attention from the Ohio State coaching staff Monday, it was top Wisconsin 2021 prospect Hunter Wohler. The safety participated on the house team during the 7-on-7 camp, but he was actually on an unofficial visit, where most of the other participants were in Columbus simply to camp.
"It was great," Wohler told Eleven Warriors about the camp and visit. "The facilities and everything are unreal, and it was so cool just to see everything and talk to the coaches. I loved it."
Wohler has been hitting Big Ten camps hard this month. Starting at Wisconsin on June 9, he made his way to Michigan State on June 14, before eventually hitting Ohio State on the 17th.
On the house team, Wohler played safety and wide receiver and was the team's best player on both sides of the ball – making at least two interceptions all day and recording multiple receiving touchdowns in all but the final game.
There was never just one Ohio State assistant coach watching his games. Defensive coordinator Greg Mattison acted as Wohler's host coach and watched the majority of his reps, while secondary coaches Jeff Hafley and Matt Barnes watched him as well. Head coach Ryan Day and quarterbacks coach Mike Yurcich also watched him but were mostly focused on Wohler's quarterback, Indiana 2022 pro-style quarterback Brady Allen.
Wohler met Mattison when the defensive coordinator visited his school, Muskego High School, in the winter, and the two have been in contact since. Mattison was the coach that invited him to camp Monday.
"He likes my physicality and the way I tackle and play the game overall and how I close on the ball and read plays the way I do," Wohler said.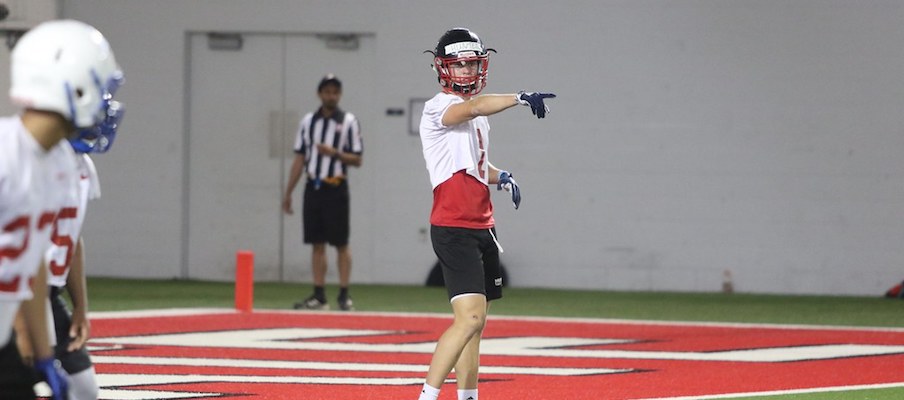 During the house team's last game, it was evident the game was lost midway through, so Mattison pulled Wohler out and escorted him to the coaches' offices in the Woody Hayes Athletic Center.
Wohler left without an offer, though.
"They said they were very interested, but they just don't traditionally offer players this early," Wohler said. "They want to see how I play and develop this next season, and we will go from there."
Wohler has offers from Iowa, Iowa State, Minnesota, Michigan State and Wisconsin, which appears to be his frontrunner very early on.
As a sophomore in 2018, Wohler was named First Team All-State and Wisconsin All-State safety for Large Schools, and he recorded 155 tackles and five interceptions. Muskego went on to win the Division I state championship as well.
Rocco Spindler: He and Greg Mattison are "like best friends"
Determining where Michigan top-100 standout Rocco Spindler will play is proving to be a challenge. The Clarkston native plays both offensive and defensive line, is classified as an offensive guard but rated as the No. 7 defensive tackle in 2021 and has coaching staffs fighting for him on both sides of the ball.
Ohio State is no different. Defensive coordinator Greg Mattison would like to see the 6-foot-5, 285-pound prospect on his defensive line, but offensive line coach Greg Studrawa would like to see him on the interior of the Buckeye line.
Right now, though, it seems like Spindler could naturally be leaning toward defense.
"Same thing for the Team Up North, they're fighting for me on which side I'm going to play," Spindler told Eleven Warriors on Saturday after Ohio State's one-day camp. "Same thing now when Coach Mattison comes down here, he wants me on defense, and Coach Stud wants me on offense. If Coach Day really wants me to play quarterback, I can play quarterback too. I don't really have a preference where I play. I have a defensive mentality that can also play offense, and it's dangerous."
The reason, Spindler might be leaning defense is because his father, Marc, played for the Detroit Lions and the New York Jets on the defensive line. He played with Lions legend Barry Sanders for five of his nine years in the League.
Spindler's relationship with Mattison could also lend itself toward Spindler playing defense. Mattison has been developing a relationship with Spindler since the prospect's freshman year and dating back to his time at Michigan. Now, Mattison has carried that relationship to Ohio State, and while Spindler said it might be tougher to get a hold of him sometimes, the relationship has remained the same.
"He's always been open arms and welcoming me in," Spindler said. "He makes me feel like family. We're like best friends."
It should be noted, though, that Spindler is extremely effective on offense. He plays left tackle for Clarkston and bullies most of the opposing defensive linemen. It's understandable why programs want him on offense.
At the one-day camp Saturday, Spindler watched both the offensive and defensive coaches work with the campers while his teammate, tight end Blake Kosin, participated in the camp.
"It's different being a player in the camps and then taking a step back and actually watching the guys coach," Spindler said. "When you're on the field, it's different, but when you take a step back, then you can see how it's really working."
Spindler has offers from Alabama, Notre Dame, Michigan State, Michigan and others. He's also interested in his offer from Pittsburgh, where his father played.
Jager Burton finds success at Ohio State's one-day camp
Kentucky offensive guard Jager Burton was "in shock" after his head coach at Frederick Douglass told him Ohio State was offering in May. One month later, Burton attended Ohio State's one-day camp June 15 and didn't lose a rep. It was one of his best camp performances he's ever had, he said.
"It was awesome," Burton told Eleven Warriors on Sunday. "I had an amazing time."
Burton, rated as the No. 2 2021 Kentucky prospect and as the No. 14 offensive guard in the class, is the teammate of Clemson tackle commit Walker Parks and said he wasn't expecting an offer the likes of Ohio State until later in his recruitment.
He got that offer, though, and in his first experience with Ohio State in a coach-player setting, he said the Buckeyes have moved even higher for him in interest level.
"Well, before the coaches offered me, I had already signed up, so I figured it would be a good experience to get coached by Coach (Greg Studrawa) and see how they coach," Burton said. "I also think it helped in the way of they moved up a lot for me in interest level, and I moved up for them in interest level."