The Hurry Up is your nightly dose of updates from the Ohio State football recruiting trail, keeping tabs on the latest from commits and targets from around the country.
Bijan Robinson leaves Columbus impressed
Five-star Arizona running back Bijan Robinson made his first trip to Columbus for his first official visit of the summer this weekend, and he left with quite an impression of the Buckeye program.
"Oh man, the visit went amazing," Robinson told Eleven Warriors. "I love it here – just the mindsets of being great here are amazing."
It's been quite a June so far for Ohio State's 2020 running back efforts, as five-star running back Kendall Milton was in Columbus to bring in the month and left with high praise of the program.
Running backs coach Tony Alford has been working hard on these two relationships – Milton, the No. 3 running back in the class, and Robinson, the No. 4 running back – and both running backs went home feeling good about the program, putting the Buckeyes in good position to land a top running back in the class.
Current Ohio State running back J.K. Dobbins was Robinson's host during his visit this weekend.
The Buckeyes had a lot to prove in just a couple of days, since Robinson had never visited before his official, and it appears that they've come through.
"This was far past the expectations that I had," he told BuckeyeGrove.com. "I knew it was going to be all glamorous and everything, but the vibe I had with them was great, and this made a great impact on me and the decision."
Robinson has two official visits scheduled after this one – one to USC and one to Texas. Both of those programs are being considered just as strongly as Ohio State. Robinson was in Texas in May with his teammate, four-star safety Lathan Ransom, who will make his official visit to Ohio State on June 21.
Evan Pryor spends time with Tony Alford
While 2020 No. 4 running back Bijan Robinson was on an official visit to Ohio State, 2021 No. 6 running back Evan Pryor was camping with Ohio State in the Woody Hayes Athletic Center on Saturday.
The dynamic North Carolina tailback received his Ohio State offer in February and has been in contact with Tony Alford regularly since. To get a closer look at who Alford is as a person and a coach, Pryor made his way to Columbus to work out with the running backs coach.
"Just to see what type of coach he is. Also to start building a relationship with him," Pryor told Eleven Warriors on Sunday morning. "When I camp places, it helps me see what type of coach I'm working with. But at the same time to get better."
At the camp, Pryor said the running backs worked a lot on body control, but he was also able to go inside and watch film with Alford, where he learned to run with the ball in a more correct way – something he said all running backs at all levels are working on to play in inside zone schemes. Watching film was "most valuable" to Pryor, he said.
Cant even put into words Had a great time in Columbus. Cant wait to come back

O - H pic.twitter.com/stJ7UCj0ce

— (@evanpryor3) June 15, 2019
Pryor will be visiting Alabama next week and might make a visit to Penn State before his junior season begins in August.
After his visit this weekend, though, Pryor said Ohio State is looking good for his future.
"It was great. We got a lot of stuff done in drills. I liked it a lot," Pryor said. "Right now, I don't have anyone in particular who is leading. But (Ohio State) definitely has my attention."
Jaylen Johnson becomes latest in-state offer
The state of Ohio's 2021 class is shaping up to be very strong, with recruits like Jack Sawyer, Jayden Ballard, Reid Carrico, Ben Christman and Lorenzo Styles headlining early on. Ohio State offered Dublin Coffman safety A.J. Kirk after the June 6 one-day camp, and added yet another top 2021 Ohio prospect to its offered list in La Salle safety Jaylen Johnson on Saturday.
Johnson is rated as the No. 12 recruit by 247Sports early in the cycle, and he said he came into the one-day camp Saturday looking to earn an Ohio State offer.
"I knew that in order for me to get an offer, I had to come to camp and do good because I've been talking to the staff since February," Johnson told Eleven Warriors on Sunday morning. "Everyone on the staff liked my film, and they just wanted to see me in person moving around and to see if I'm good enough to receive an Ohio State offer."
Johnson began the day running a 4.40 40-yard dash. The 6-foot-1, 208-pound safety wouldn't be a prospect anyone would expect to post one of the best times in the drill, and he knew that.
"I definitely wanted to show that I was a fast safety," Johnson said. "Normally, with my size, weight and height, people might think I'm slow, but I ran a 4.4 yesterday. I just wanted to show them my ability to make moves and think fast during plays. It's something I've been working on a lot."
Towards the end of the camp, linebackers coach Al Washington brought Johnson into a private workout with Virginia safety Bryce Steele, who also earned an offer.
Johnson had never played or worked out as a linebacker before but managed his way through the workout. Ohio State likes Johnson primarily as a safety but secondarily as a bullet, whereas Steele is primarily a bullet, secondarily a safety.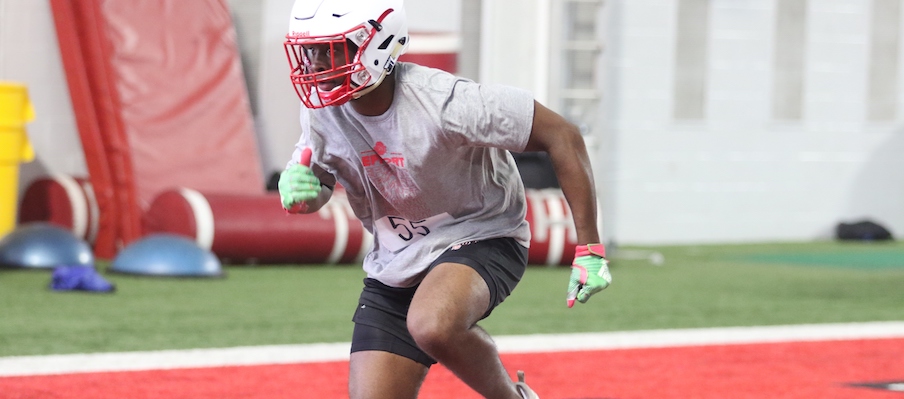 Johnson looked impressive with the linebackers, though, and, as he said, fast.
"For my first time playing linebacker, it wasn't easy, but it wasn't difficult," Johnson said.
Since he was young, Johnson has been cheering for the Buckeyes. He said he remembers the first game he watched was former Ohio State quarterback Troy Smith beating Michigan – which, famously, could have been any of three occasions.
So when he received his offer from Ryan Day on Saturday, with his father next to him, it was an emotional moment for him.
"Ohio State has always been my dream school to go to," Johnson said. "I've kept track with them. I've been to the school multiple times. It feels like home. It's different from any other school I've been to."
Even though he feels strongly for the Buckeyes, he isn't letting that emotion cloud his focus in his recruitment, saying Ohio State still isn't a school that would make him commit early. He wants to receive his offers and see the options ahead of him before committing anywhere.
The camp Saturday was the only camp he was planning on attending for awhile this summer, but he will be at Michigan State's camp Thursday and, like Steele, will return to Columbus for June 21's Buckeye Bash & Barbecue.