The Hurry Up is your nightly dose of updates from the Ohio State football recruiting trail, keeping tabs on the latest from commits and targets from around the country.
Ben Christman Appreciates Ohio State Culture
Richfield offensive tackle Ben Christman came into Ohio State's Buckeye Bash & Barbecue as one of the favored in-state 2021 recruits by Ohio State. The Buckeyes are approaching him hard, and the No. 2 Ohio prospect left the visit with an even better impression of the program than he had when he went in.
"The culture of Ohio State was great to see," Christman told Eleven Warriors. "It was just awesome to be in an environment like Ohio State."
Christman spent a lot of time with head coach Ryan Day, offensive line coach Greg Studrawa and Ohio State commit Jack Sawyer, who he took a photo with during the photoshoot. Sawyer told Eleven Warriors he was working on recruiting Christman.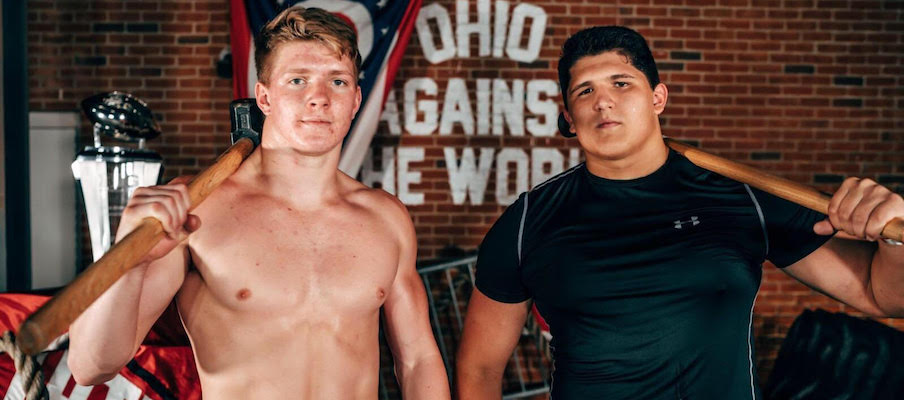 While Christman has offers from Michigan, Alabama, Florida, Georgia and others and is rated as the No. 22 overall recruit in the class, Ohio State is a heavy favorite to earn his commitment at this point, and Christman has the potential to be an early commitment, like Sawyer and Jayden Ballard.
Steve Angeli Is Third 2022 QB with OSU Offer
There are no recruiting profiles of 2022 quarterback Steve Angeli, and the only tape that can be found of him is making long throws to eighth grade receivers. But after the second one-day camp at Ohio State, the Buckeyes extended an offer to the young quarterback. But it wasn't an impulsive offer. Angeli is expected to be one of the top 2022 quarterbacks.
(Edit: Steve Angeli does have tape of his freshman year. Click here to see it.)
Angeli said an Ohio State recruiter was in New Jersey at Bergen Catholic High School – the same school as Michigan safety commit Jordan Morant – when he was invited to Ohio State's camp this summer. 
"It is truly a blessing and honor to have an offer from OSU this early," Angeli told Eleven Warriors. "Having this offer changes my approach to everything because it motivates me to work harder and strive to become better as a football player and person."
Angeli worked with quarterbacks coach Mike Yurcich during the camp, and upon extending the offer, head coach Ryan Day said he liked the way Angeli could throw the ball smoothly and with power for his age. 
It was more than just his throwing motion and the way the ball came out of his hand, though. Angeli worked in the quarterback meeting room with Yurcich, studying film and discussing philosophy and strategy to get a better understanding of what the 6-foot-3, 195-pound quarterback knew about the position.
Since he was in fourth grade, Angeli has been working with quarterback coach Matt Bastardi – who played at the University of Delaware and runs a quarterback camp named EliteQB in New Jersey. Bastardi has sent two quarterbacks to Rutgers in 2018 and 2019, and if Angeli continues the trajectory he is on, he will be one of, if not the best, prospects Bastardi has coached.
"Coach Bastardi helped me learn to play the position the right way from a very young age, which helped my game tremendously," Angeli said.
At Bergen, Angeli is studying and preparing to run a pro-style, West Coast type of offense. He made it onto the field to throw five passes as a freshman but led the freshman team to an undefeated season and won all four games he played at the junior varsity level. 
He said he feels confident that he will have a bigger role in the varsity offense during his sophomore season.
Ohio State was his first offer of his recruitment, and Rutgers, who offered him shortly after, was his second. Programs like Pittsburgh, Boston College, Duke, Virginia Tech and Penn State are also showing interest in the young quarterback.
Even though Morant committed to Michigan, his long-time connection with Ohio State could breed a relationship between the Buckeyes and the talented Bergen Catholic quarterback.
"Seeing someone who I'm good friends with and someone I look up to achieve something as great as playing in the Big Ten really gets me excited for the future, when I have a chance of doing that as well," Angeli said.
Darrion Henry to Commit Saturday
Cincinnati defensive end Darrion Henry, who has long been expected to commit to Ohio State, will be making his commitment announcement Saturday between the hours of 3:30 p.m. and 6:30 p.m.
With his ties to current Ohio State commit Paris Johnson Jr., Henry seemed to be destined to follow his friend and new teammate at Princeton High School to whichever school Johnson decided to flip to. However, as the 2020 cycle gets deeper into the summer, Johnson's commitment to Ohio State gets stronger and stronger.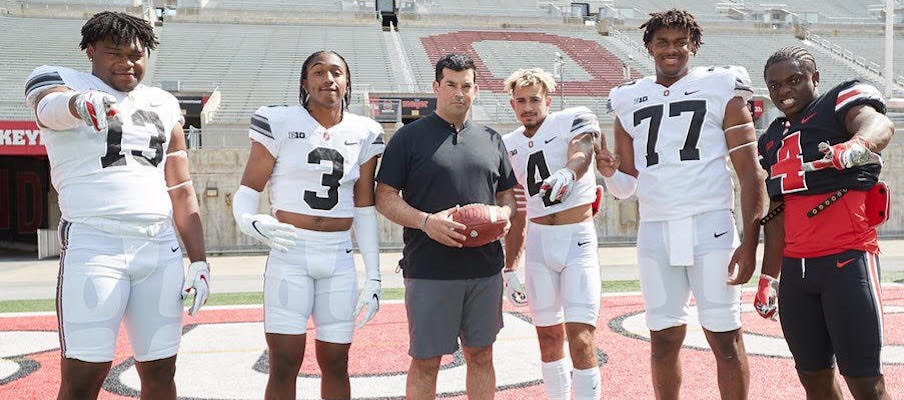 During the Buckeye Bash & Barbecue, Henry posed in a photo with Ohio State commits Lejond Cavazos, Julian Fleming, Johnson and Clark Phillips, as well as Ryan Day.