The Hurry Up is your nightly dose of updates from the Ohio State football recruiting trail, keeping tabs on the latest from commits and targets from around the country.
Thursday morning capped Ohio State's two-day fundamental camp, and a few more recruits took part in private workouts and stood out among the others. Wednesday, they were Troy Stellato, Ja'Khi Douglas, Nick Elksnis and Christian Burkhalter. Thursday, Perry 2021 running back Jaylen Anderson and Canal Winchester 2022 running back Stephan Byrd worked privately with running backs coach Tony Alford.
Hunter Jones, a 2020 running back and inside linebacker also worked with Alford and the other two running backs, but the Chattanooga Central speedster isn't on Ohio State's radar. Alford pulled him out of the overnight campers group to work with the other two backs, and, while he certainly has the tools to play at a non-Power Five program, his purpose for attending the camp was exposure.
Jaylen Anderson
As Eleven Warriors wrote before the camp took place, No. 7 Ohio prospect Jaylen Anderson had been training for this opportunity to work out with Alford for "a long time." The Perry High School running back coming off of a meniscus tear in the summer of 2018 finally got his chance to work out with Ohio State and thought he performed well. Alford did too, apparently.
"He said I did a really good job," Anderson told Eleven Warriors after the camp."Now he has to wait for Coach Day to look at the film they took today and then a move could or couldn't be made."
By a "move," Anderson means a decision on whether he will receive an offer from Ohio State. While the Buckeyes have handed out seven offers over three total days of camps dating back to last week's camp, when No. 6 Ohio prospect A.J. Kirk and No. 7 Kentucky prospect Jordan Dingle earned offers, they haven't been completely liberal with offers. While Stellato will likely get his offer down the road because of his relationship with Brian Hartline and his potential to be a four- or five-year player, he didn't get his offer Wednesday, despite obviously being one of the best campers to attend the midweek camps this week.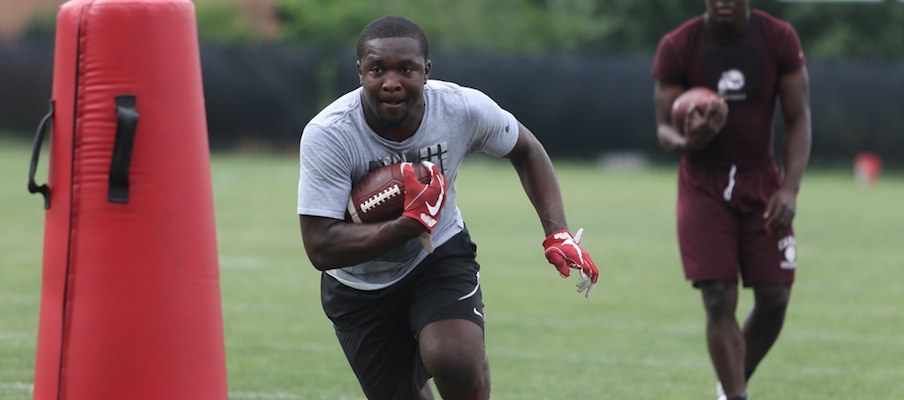 Anderson looked strong Thursday. He's a bruising back who can turn on the burners with above-average straight-line speed for a running back of his size (6-foot-1, 210 pounds). He looked a bit heavier than 210 pounds at times, though, particularly when running routes and during a few agility drills. But I clocked him around 4.70 on his 40-yard dash, and his conditioning will improve, he said.
"I thought my conditioning was going to be way better, but that's just something that I need to work on," Anderson said. "But other than that, I thought I was pretty good."
Anderson said he refuses to use his injury as an excuse for his conditioning, but with the severity of his injury, most other running back recruits would use it as an excuse, and justifiably so. Overall, though, Anderson looked good and will only get better.
He will also be participating in Ohio State's 7-on-7 camp Monday. He'll also play 7-on-7 at Bowling Green and Notre Dame and hit West Virginia and Penn State for workouts.
Stephan Byrd
When Stephan Byrd arrived at the Woody Hayes Athletic Center on Thursday morning, he didn't even know if he'd see Tony Alford. He didn't know what to expect out of the day. He definitely didn't expect for Alford to pick him out of the running backs group before the camp started and place him in the private group to work out with Jaylen Anderson.
Just at a glance, it's hard to imagine Byrd not being an athlete, as his physique is far more mature than the other 2022 campers. He's a standout sprinter at Canal Winchester and still has three years to develop physically.
Alford clearly understands that and was excited to coach Byrd for a bit Thursday.
"Just that he liked my film and my work ethic and how I performed at the camp and that he would love to coach me someday and that I was a great athlete," Byrd told Eleven Warriors after the camp about what Alford told him following the workout.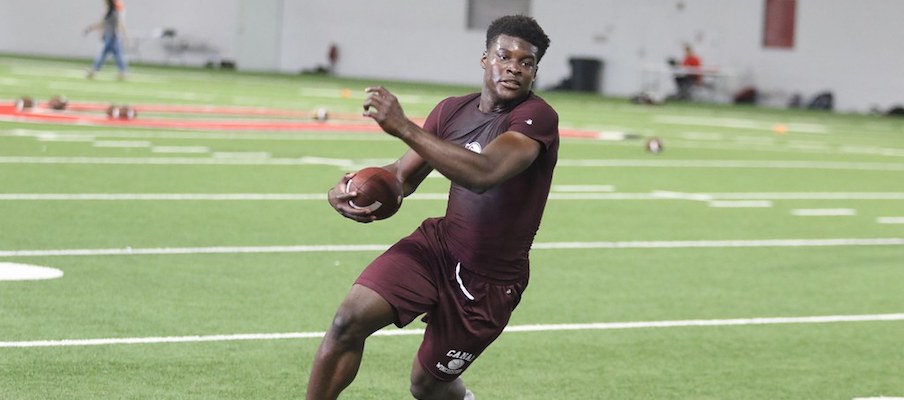 Byrd showed good balance in the agility drills, with strong hips and fast feet and a natural way of carrying the ball. Working in the passing drills, Byrd appeared to be the most comfortable of the three running backs with catching the ball. I also clocked him in the upper-4.60s during his 40-yard dash.
Byrd said many colleges have approached his head coach at Canal Winchester regarding their interest in Byrd as he grows older. He listed several schools, including Michigan State, Nebraska, Pitt, Purdue, Ohio, Toledo and others.
Ohio State will likely be added to the list of schools keeping an eye on him as he grows, especially with him being an in-state talent.
"Not directly, but I'm pretty sure that they would," Byrd said about Alford telling him he'd keep an eye out for him. "I'm just blessed and happy that I got the chance to show what I could do."
C.J. Hicks

Another 2022 star in the making, Archbishop Alter's C.J. Hicks appears to be a prospect to watch out for moving forward. Entering his sophomore year of high school, Hicks already stands at 6-foot-4, 190 pounds, and while he's classified as an athlete, he was working with Jeff Hafley and Matt Barnes in the secondary during the two camps Wednesday and Thursday. He will surely be a star at Archbishop Alter and might even be a prospect that gets looks from schools outside of the Midwest.
Chase Crone
While working with the running back privately Thursday, Tony Alford needed an arm to throw some balls to Anderson, Byrd and Jones, so he asked quarterbacks coach Mike Yurcich for a quarterback, and Yurcich sent over Kentucky 2023 quarterback Chase Crone.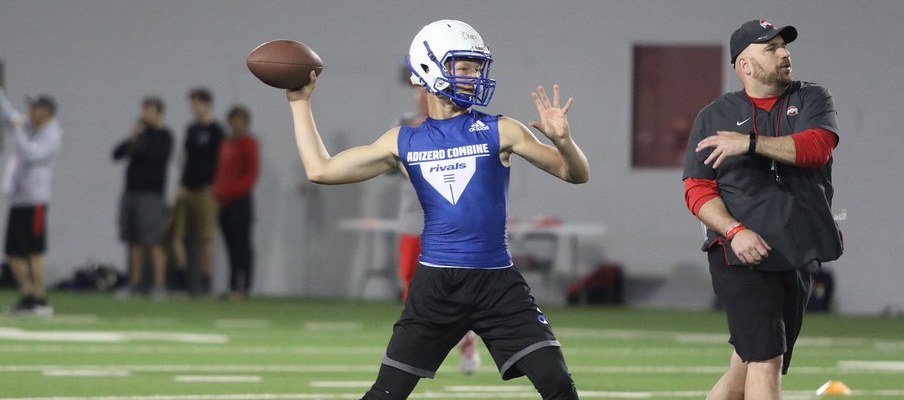 Crone is obviously undeveloped, since he's just entering high school, but he put up some really good balls for the running backs. He put good passes on the backs for routes in the flats, up the middle of the field and, especially, wheel routes along the sidelines. These sound like simple routes to hit for a quarterback, but the timing of specific routes ran and where the balls hit the running backs was impressive for a kid that hasn't seen a second of play on a high school field.