The Hurry Up is your nightly dose of updates from the Ohio State football recruiting trail, keeping tabs on the latest from commits and targets from around the country.
Notes from the first day of OSU's overnight fundamental camp
Ohio State began its overnight fundamental camp Wednesday morning at the Woody Hayes Athletic Center, and while there weren't many notable recruits at the camp, the ones that were there are fairly significant. 
Before the whole camp began, Ryan Day, Brian Hartline, Kevin Wilson and Keenan Bailey were outside working with Fort Lauderdale wideout Troy Stellato, 2020 Louisiana four-star receiver Ja'Khi Douglas, No. 11 2021 Jacksonville tight end Nick Elksnis and No. 12 IMG Academy tight end Christian Burkhalter.
Troy Stellato
Stellato is known nationally for his speed and explosion, but he was also crisp going in and out of his breaks and showed a good chemistry with Hartline. He came into the workout with minor ankle pain and agitated it during the workout, but he came back shortly after to finish the workout with tape around his foot.
The 6-foot-1, 175-pound receiver was in Columbus for the spring game in April and made his way back for the camp Wednesday before he travels to a few other schools, including Toledo, this week.
Stellato is clearly one of the top receivers for Hartline in the 2021 class. The last time he was in Columbus, Hartline met up with him during Ohio State's coaching seminar, and they seemed to hit it off. That chemistry between them was on display Wednesday too.
And even though he will leave Columbus without an offer again, Stellato said he's not letting it bother him that much.
"I mean a little bit, but I just have to stay patient I guess, and I'm very confident it will come," Stellato told Eleven Warriors after the camp about his feelings on the offer. "It just feels a lot like home there, and I love everything about it. I still have another two more years of high school, so there really isn't a rush."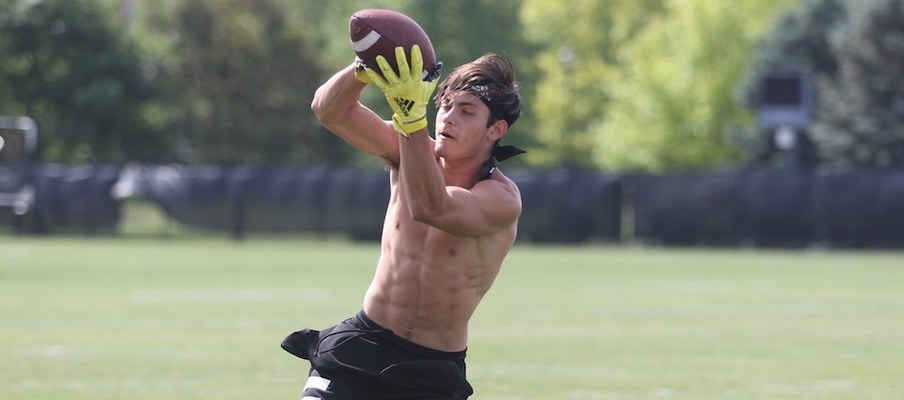 Ja'Khi Douglas
Douglas is viewed as a 5-foot-9 slot option, but his speed wasn't as evident as Stellato's was. While he showed above-average hands, he struggled with his cuts, and Hartline worked with him for much of the workout, trying to get him quicker out of his breaks. I clocked him at 4.65 seconds in the 40-yard dash, but he had some sort of leg injury that caused him to limp a bit. Stellato did not run a 40-yard dash.
Douglas is in the class of slot receivers that involve targets like Mookie Cooper, LV Bunkley-Shelton and potentially Cam Martinez. His hands were impressive, as he made a one-handed grab and an acrobatic grab on a ball that came in awkwardly near the sideline of the endzone. 
He has offers from teams like Alabama, Florida, Auburn and Florida State, so he will be playing for a top program and proved that he deserves to be a consideration by the Buckeyes, though they have not yet offered him.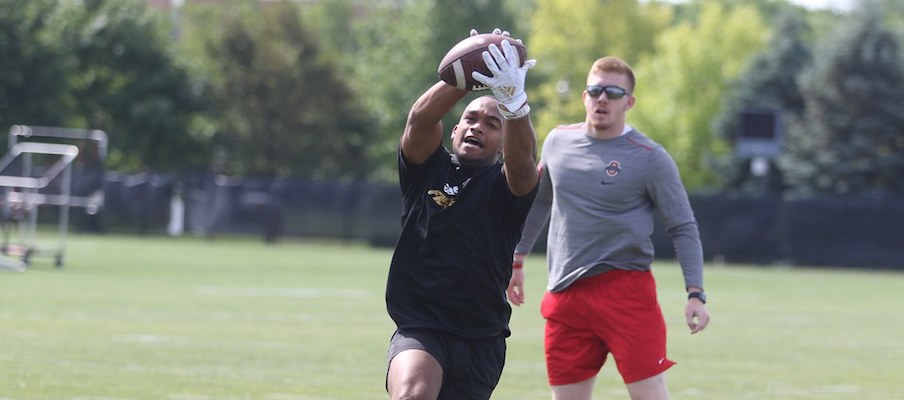 Nick Elksnis and Christian Burkhalter
Elksnis and Burkhalter worked directly with the wide receivers during the workout, running the same routes and working with Day, Hartline and Wilson as well. Elksnis (6-5, 220) and Burkhalter (6-5, 215) have really good bodies and pass the eye tests for tight ends going into their junior years. Both prospects have good speed and still need to improve route running and high-pointing the ball.
It's clear that Ohio State is shifting some focus on to the tight end position, after it offered 2021 tight end Jordan Dingle in its first camp and brought in two fo the top tight ends in the nation for its second camp. Elksnis has put together quite a list of offers, with Miami, Florida State and Michigan all represented. Burkhalter has offers from Arkansas, Florida State and others as he enters his first season as a tight end and at IMG Academy after changing from wide receiver and moving from Alabama.
What really stood out, for Elksnis in particular, was their abilities to pair speed with blocking. 
Elksnis left the camp with an Ohio State offer, which wasn't a surprise after seeing him move as efficiently as he did Wednesday morning. Burkhalter would receive an Ohio State offer as well, as both worked out neck-and-neck all day.
After a great visit in Columbus, I am blessed to have earned a scholarship offer from The Ohio State University!! Go Buckeyes!! #formygoodbutHISglory @ryandaytime @OSUCoachKDub @OhioStateFB @ReturnOfJamez @proimpact904 pic.twitter.com/Iq6pM4TkSz

— Nick Elksnis (@NickElksnis) June 12, 2019
Connor Colby
Iowa No. 2 2021 prospect Connor Colby worked with Ohio State early in the morning as well, and he announced via Twitter that he received an Ohio State offer. The 6-foot-5, 270-pound prospect has offers from Iowa, Iowa State, Minnesota, Nebraska and now Ohio State and is rated as the No. 214 recruit overall by 247Sports.
Extremely blessed to receive an offer from The Ohio State University! Thank you @CoachStudOL for this opportunity. #GoBucks pic.twitter.com/BJR3R1hNQC

— Connor Colby (@ConnorColby77) June 12, 2019
Ben Christman, Grant Toutant schedule visits
Richfield offensive tackle Ben Christman and newest Ohio State commit Grant Toutant told Eleven Warriors that they have both scheduled visits with Ohio State on June 21. Toutant's will be an official visit.
Christman has had some major offers roll in since the end of April. Nebraska, Alabama, LSU, Wisconsin, Florida and Kentucky all offered since April 30, and getting a visit with the in-state tackle is crucial for Ohio State at this point if the Buckeyes expect to hit his recruitment hard.
Christman is rated as the No. 22 overall recruit in the 2021 class according to 247Sports, and he is also rated as the No. 3 tackle.
Toutant, who flipped commitments from Penn State to Ohio State on Sunday, will make his official visit to Ohio State that day as well. The 6-foot-7, 320-pound offensive tackle was the fifth offensive lineman to commit to Ohio State's Class of 2020. It will be his first visit to Columbus since committing to the Buckeyes.
Joe Royer releases top-six
In case you missed the post this morning, Cincinnati tight end Joe Royer released his top-six Tuesday evening, and it included Ohio State, Michigan, Wisconsin, LSU, Penn State and Arizona State.
Some quick hits from the post were as follows.
Royer camped at Ohio State on Thursday, received his offer Friday, set up an official visit for June 21 over the weekend and released his top-six Tuesday.
He made a visit to Michigan over the weekend, but Michigan simultaneously earned its second 2020 tight end commitment. None of the other five schools on his list have a tight end commitment yet.
Royer will be visiting Ohio State the same day as tight ends Cam Large and Jalin Conyers.
He has talked to Ohio State commit and Elder High School teammate Jakob James about the Buckeyes.
One thing I've noticed about fans' reactions to Royer is that his ratings aren't that impressive. When rating tight ends, it becomes difficult once the clear-cut top tight ends are already rated. It's clear in high school which tight ends are physically and naturally on another level.
When looking at Royer's ratings alone, 247Sports has him rated as the No. 17 tight end in the class, while the composite rating has him at No. 41. Once it gets down to a certain level, programs begin to look to find players that maximize talent with coachability, and Royer has both.