In Ryan Day's first five months as a head coach, Ohio State has landed just one commitment from a 2020 defensive prospect, and it came from four-star cornerback Lejond Cavazos, who had previously been committed to the Buckeyes but reopened his recruitment after Urban Meyer's retirement.
Whether high school defenders have decided to slow-play the defensive coaching staff, which Day almost completely turned over when he was hired, or whether other factors have led to the Buckeyes not cleaning up in recruiting that side of the ball, the fact remains that they have only a single defender committed six months from the Early Signing Period.
Offensive recruits, however, have not shown any concern or need to wait to see Day and the offensive coaches produce. On the contrary, they've shown complete trust in the first-year head coach and the five assistants on offense.
Day believes he's on the cutting edge of offense, and prospects – including five-star wideout Julian Fleming, who committed on Friday – believe him, especially after just seeing what he did with Dwayne Haskins during the 2018 season.
"I wanted to go somewhere that's gonna throw the ball, and coach Day, he told me that they wanted to do that, and this year, this past year, it showed. It was fun to watch, and I knew I wanted to be a part of that."– Garrett Wilson
Gee Scott Jr. came first. The four-star wide receiver and top-100 overall recruit committed on Christmas, just a few weeks after Ohio State named Day the next head coach.
Scott, on the day he committed, told 247Sports that as a receiver, "you want to be in an offense that throws the ball a lot." He saw Haskins deliver 44 passes during his visit, allowing him to imagine what it would be like to have that many opportunities for catches in Day's offense.
Justin Fields' "business decision" in January came next. The Georgia transfer quarterback referenced Day's NFL background and knowledge of what it takes to play professionally as reasons for his choice to move to Columbus.
"They really didn't give me a sales pitch because they already knew I'd been through the recruiting process, so they weren't trying to sell me," Fields said in February. "They didn't really have to that much, just going based off what Dwayne did last year and how much success he had in this offense. I felt like I could come in and hopefully do the same thing that he did."
Quarterback Gunnar Hoak also joined the Buckeyes as a transfer, announcing his move from Kentucky to Columbus in April.
Rutgers transfer interior offensive lineman Jonah Jackson committed to transferring to Ohio State in February. Three-star in-state linemen Jakob James and Trey Leroux committed in January and March, respectively, joining five-star offensive tackle Paris Johnson Jr. and four-star center Luke Wypler in the 2020 class.
The Buckeyes landed four-star 2021 Kyle McCord as their quarterback of the future near the end of April. He told Eleven Warriors he believes Day and quarterbacks coach Mike Yurcich give him "the best coaching and preparation to play at the next level."
Both Fields and McCord were able to see the season Haskins put together before committing. Haskins became the 15th overall pick in the 2019 NFL draft after just one season as a starter in Day's offense.
"Obviously you can say whatever you want and people talk about theory, but the testimony for us is what happened this year," Day said in December. "And you just look at the numbers and what happened in his sophomore year for a kid who had no college starts going into his sophomore year, and then in 13 starts he is where he is. And having an opportunity to possibly be a first-round draft pick and a Heisman Trophy finalist and look at all the records he broke in one year. I think it's a huge selling point."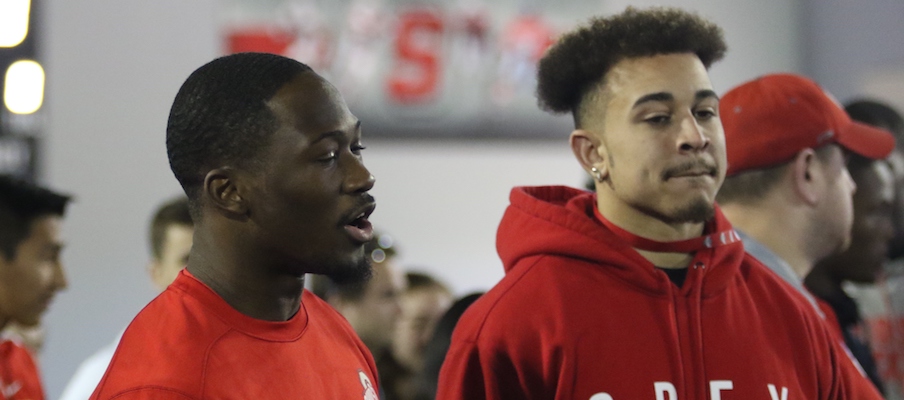 Fleming, who joined the Buckeyes on Friday as the second five-star commit in the 2020 class, became the latest recruit to throw his belief behind Day.
As the No. 6 overall recruit and the top-rated wideout in his class, Fleming had his choice of any school in the country, and he picked the program run by a first-time head coach.
"Ohio State's offense was clicking last year; it was definitely a big influence," Fleming told ESPN. "They were like No. 1 in passing all year. They have Justin Fields coming in now, and they have some people that are going to be there for a little while."
That Haskins-led, Day-run offense that put up records last season? It's difficult to overstate its importance.
However, even before the 2018 season, Day knew what was coming, so he sold prospects on the future. Garrett Wilson, the second-ranked wideout in the 2019 class, committed in April 2018, believing Day when he described to him the future of the offense.
"That was probably one of the biggest things that I had in my decision. I wanted to look for a school that was gonna throw the ball," Wilson said in February. "I'm a receiver, I throw blocks when I want to, but I love catching the ball. So I wanted to go somewhere that's gonna throw the ball, and coach Day, he told me that they wanted to do that, and this year, this past year, it showed. It was fun to watch, and I knew I wanted to be a part of that."
Day earned Wilson's trust about an explosive offense prior to delivering the aerial show in 2018. Now he has the proof. 
By landing Fleming and Scott as wide receivers, Fields, Hoak and McCord as quarterbacks and Jackson, Leroux and James as offensive linemen, Day has shown the ability to collect commitments from high-level prospects garnering interested from the nation's top programs.
Next up on the recruiting trail? Attempting to land a five-star running back – either Kendall Milton or Bijan Robinson.
Considering players from every other position have shown belief in Day and the offensive staff in the past five months, it's not difficult to imagine the Buckeyes once again getting the benefit of the doubt from a five-star offensive prospect.