Julian Fleming's commitment is the latest and greatest in a long line of signature Buckeye recruiting wins.
Ohio State has seen its share of success on the recruiting trail of late, and that's hardly a surprise for one of the country's powerhouse programs. Still, the commitment from five-star wideout Julian Fleming just feels a little bit different as it continues to reverberate throughout the college football recruiting world. 
The Buckeyes signed a trio of five-star prospects for the Class of 2019, and all three of them are now on campus. Keeping Zach Harrison away from Michigan and Penn State was certainly big. Garrett Wilson is a ridiculous talent at wideout whose lofty positional rating is higher than anyone who came before him (yet still lower than Fleming's). And Harry Miller is expected to be next in a long line of strong play at center.
Urban Meyer's time in Columbus may have ended prior to the arrival of the 2019 class, but he was still a prominent figure in each of the three recruitments and every single one that's gone down dating back to the Class of 2012.
That's why the Fleming pledge has a different feel to it. This one truly feels like something that was solely in the hands of Ryan Day and Brian Hartline. I don't think anyone has ever questioned whether or not Ohio State will bring top talent to Columbus. I do, however, think there has been some doubt about Day nabbing some of the high-caliber, non-local prospects like Meyer had been doing for the previous seven years. 
Julian Fleming resides in the small town of Catawissa, Pennsylvania. It's 400 miles from Columbus and basically requires travelers to drive past – and possibly even directly through – the home of the Nittany Lions. Pennsylvania obviously isn't Georgia or Florida, but despite not being in the heart of SEC country, the recruitment has some parallels to a few of Meyer's early big-time wins on the trail. 
Meyer successfully used his Florida and SEC ties to land a number of touted players throughout his tenure. However, if you were to ask about his top recruiting wins, I think it has to start with Vonn Bell in 2013 and Raekwon McMillan in 2014.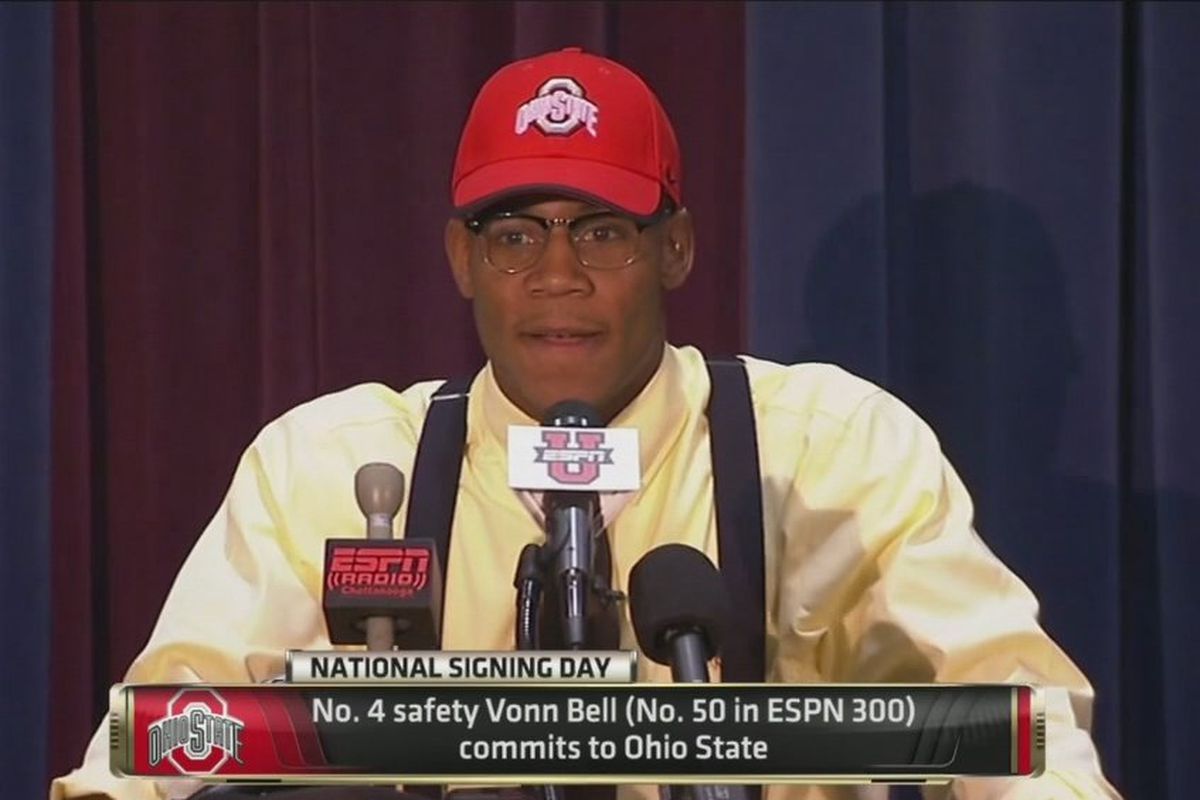 Bell hailed from Rossville, Georgia and the five-star safety sided with the Buckeyes over Tennessee and Alabama. Heading into the 2013 version of national signing day, most thought Bell was going to end up in the SEC. He was a priority target for Butch Jones and – more importantly – Nick Saban.
The Crimson Tide were fresh off a national title dismantling of Notre Dame and that couldn't have been easy for any recruit to turn down such an opportunity. Bell was the Buckeyes' top-rated signee in a class that included Joey Bosa and Ezekiel Elliott. He picked off a pass against Bama in the College Football Playoff and went on to be a second-round selection for the New Orleans Saints.
The recruitment of Raekwon McMillan was yet another Urban Meyer special. The five-star Hinesville, Georgia linebacker selected the Buckeyes over a lengthy list of national powers. Alabama, Clemson, Auburn, and Georgia were all contenders before McMillan signed with Ohio State in December of 2013 and enrolled a month later. He saw action immediately by spelling Curtis Grant and was selected by the Dolphins in the second round of the 2017 Draft.
No one ever doubted Meyer's recruiting prowess, but the Bell and McMillan signings sent a message across the country letting everyone know that Ohio State was a threat to go just about anywhere and pluck an elite prospect. 
For Ryan Day, the Fleming signing could be the start of something similar. While he doesn't reside in SEC territory, the Buckeyes were battling it out with America's best for the top-rated receiver. Penn State was certainly a threat, but I'm of the belief that Clemson and Georgia were the primary competitors.
THIS > The big thing that rubs me the wrong way is being labeled as a good recruiter, Hartline said. I dont even know what that means. To me, these guys arent like cars, they arent things you own, they arent objects.

— Kara Hartline (@KaraHartline) May 31, 2019
Hartline has already joined the elite recruiting ranks and his development at the position has also been superb. His emergence has been huge for Day and he clearly played a pivotal role in Fleming's decision. From weekly FaceTime calls to connecting with the family, none of this would have happened without Brian Hartline. 
The Buckeyes have long had their defensive ace in veteran Larry Johnson, and he's been instrumental in plenty of recruitments including that of Zach Harrison and Chase Young. Hartline may only be 32 years old, but he's absolutely proving himself on the recruiting trail and the overall play of his unit.
A first-year head coach – along with a talented young receivers coach – went up against the likes of Dabo Swinney, Kirby Smart, and Nick Saban for the nation's No. 1 wideout. Ryan Day and Brian Hartline came out on top in what will undoubtedly go down as one of the biggest booms of the post-Urban era.