The Hurry Up is your nightly dose of updates from the Ohio State football recruiting trail, keeping tabs on the latest from commits and targets from around the country.
Yanni Karlaftis Feels Comfortable with Ohio State
Indiana No. 1 2021 prospect Yanni Karlaftis is following in his brother's footsteps about as well as he could at this point in his recruiting process.
George Karlaftis was rated the No. 1 Indiana prospect in the 2019 class, the No. 4 defensive end in the class and No. 59 overall in the nation. Yanni is the No. 3 outside linebacker in the 2021 class and is rated by 247Sports as the No. 67 recruit in his class.
And like his brother, who signed with Purdue, Yanni is being recruited hard by Midwest schools and Indiana schools in particular.
"The most interest I've gotten is probably from Purdue, Ohio State, Michigan and Notre Dame," Karlaftis said.
Those programs were also in hard on George, but what bodes well for the Buckeyes is Karlaftis' connection with co-defensive coordinator Greg Mattison.
Karlaftis said he has been in contact with Mattison for about a year, dating back to when Mattison was coaching at Michigan. That connection has made Karlaftis more comfortable with the Ohio State coaching staff than he would have been otherwise.
Great day at the spring game! @OhioStateFB @ryandaytime @CoachGMattison pic.twitter.com/qF8ONBSth6

— Yanni Karlaftis (@therealYK_14) April 13, 2019
He was in Columbus for his first visit Saturday during the Spring Game and walked away feeling high on the Buckeyes as he searches for the school that will "push (him) to be the best (he) can be."
"Ohio State is near the top of my list," Karlaftis said. "I feel comfortable at OSU, and I know their coaches can help me get better."
The top Indiana recruit was at the Under Armour All-America Camp in Cincinnati on Sunday following his Saturday visit, and among the dozen linebacker prospects at the event, Karlaftis, with his 6-foot-3, 203-pound frame, was one of a few linebackers that stood out.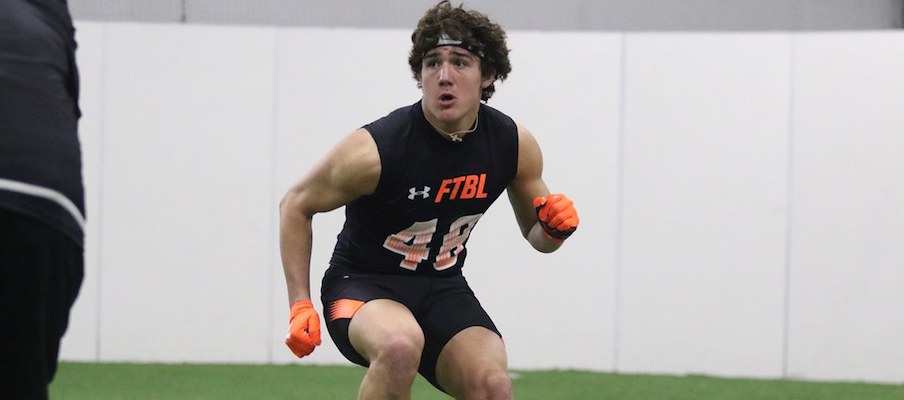 Ohio State likes him at linebacker, but some teams want to use him in a type of linebacker-defensive end hybrid position, which he said he would be open to. One of the abilities that really stood out in Cincinnati was his agility at a low angle, so his ability to play defensive end could resonate at the next level.
In his first full season as a starter at West Lafayette High School in his sophomore year, Karlaftis recorded 110 tackles, 13 tackles for loss, two interceptions, seven pass deflections, two forced fumbles, three fumble recoveries and two blocked punts.
He has no other visits planned at this point.
Rickey Hyatt Jr. Could Play Bullet at Next Level
There is a lot of mutual interest between Ohio State and Westerville safety Rickey Hyatt Jr. The 6-foot-2 Ohio safety was invited to Ohio State's spring game Saturday, but he was not able to make the trip because he wanted to prepare for the Under Armour All-America Camp on Sunday.
It paid off, as Hyatt put together one of the better performances amongst the largest group at the camp – the defensive backs.
While he wasn't able to make the spring game, he followed along on TV, he said, and he used many of the notes he made during the broadcast.
"I really liked the ball movement and the commentator talked about the culture, and I really liked that," Hyatt said. "They talked about red stripes and black stripes and the differences between them. Just some things that I liked and that I can ask the coaches about when I come visit."
Hyatt plans on scheduling more visits with Ohio State and other schools in the near future, and if his last visit is indicative of how badly he wants to get back to Columbus, he will be making that 30-minute drive in the very near future.
He took that visit in March to see a spring practice and found that he enjoyed the coaching staff as much as any staff he's talked to already.
"Ohio State is a great place to be," Hyatt said. "They really talk about the culture, and I feel as though they are a really good atmosphere for me. I went on a visit for spring practice, and I ended up staying two hours later than everyone else, just talking to the coaches."
The No. 20 Ohio prospect has developed a good relationship with Ohio State linebackers coach Al Washington, and he said the Buckeyes like him for the new bullet position, where he can use his hybrid style at the collegiate level.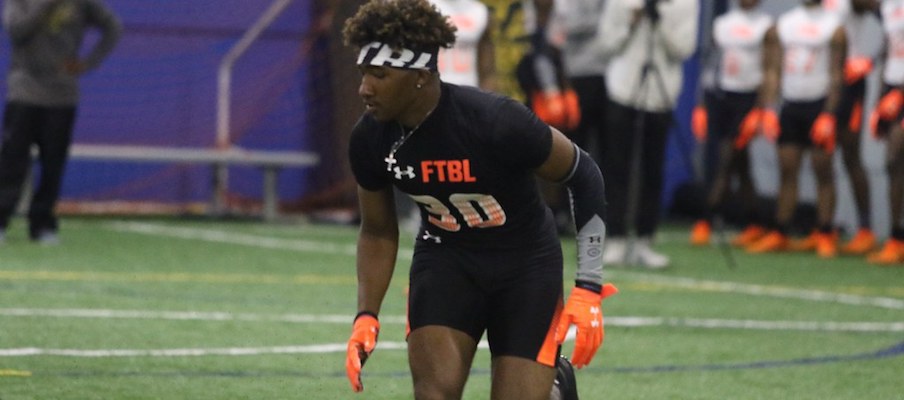 While working in one-on-one drills against the receivers, Hyatt contested every throw made against him and showed his aggression on one receiver while contesting a fade route. His 191-pound frame made hard contact against the wideout, and the receiver was nowhere near making the grab.
That's the style Hyatt plays with, not a reckless aggression but a controlled use of his overpowering frame to his benefit in coverage, which makes him a good fit for the bullet.
He also talked about trying to become more knowledgeable about what receivers are trying to do against him. He noted how slots will likely run 5-to-10-yard out routes or curls and how receivers will charge him if they want to go deep or break his cushion and cut off of him. Those are some small gains he's making while finding way to best use his body.
In track, he runs the 100-meter dash in 11.2 second and the 110-meter hurdles in 14.83. He ran his hurdle time last summer, when he was 6-feet tall and weighed 180 pounds. Now, two inches and 11 pound heavier, he's trying to maintain his speed. That weight will play a large part in where schools like Ohio State want to play him on defense.
"If I weigh in at 210-215, they'd move me down to linebacker, but they want me to play both safety and linebacker depending on my size," Hyatt said. "I sat in a meeting room with their starting safety, both the safeties coaches and Al Washington, and they talked to me about the bullet and the things that it does. I'd be a great fit right there."
Hyatt has offers from Ohio State, Michigan State, Kentucky, Pittsburgh, Iowa State and 14 others.