The Hurry Up is your nightly dose of updates from the Ohio State football recruiting trail, keeping tabs on the latest from commits and targets from around the country.
HOW JOHN EMERY'S DECOMMITMENT IMPACTS OHIO STATE
Decommitments happen. It's part of the recruiting process and always will be. However, when you lose four top commits in a month's cycle, well, that's cause for concern.
Unfortunately for Georgia, that's the reality of the situation the Bulldogs are in.
On Oct. 2, five-star wide receiver Jadon Haselwood (Ellenwood, Ga.) took back his pledge. Two days later, four-star cornerback Jalen Perry (Dacula, Ga.) followed suit and 24 hours after that, four-star linebacker JD Bertrand (Roswell, Ga.) decommitted.
Thursday evening, John Emery (Destrehan, La.), the nation's second-rated running back, became the latest former Georgia commit to reopen his recruitment. 
However, it's not all bad news. Even with the four decommitments, Georgia still boasts the fourth-ranked 2019 recruiting class in the nation with the likes of five-star prospects Nolan Smith (Bradenton, Fla.), Travon Walker (Thomaston, Ga.) and Dominick Blaylock (Marietta, Ga.).
But Emery's decision could certainly affect Ohio State's recruiting efforts in its backfield.
LSU has emerged as a frontrunner to land Emery but the Tigers are also a frontrunner to land 2019 IMG Academy running back Noah Cain, an Ohio State target. It's highly doubtful that both Emery and Cain land in Baton Rouge. Having said that, if you're Ohio State, you're almost hoping LSU does get to Emery so that Cain's recruitment becomes more open.
Cain is the nation's sixth-ranked running back. He'd be a huge addition to Ohio State's '19 Dynasty recruiting class and if LSU is out of the picture, the Buckeyes have a significantly better chance. They'll then have Texas to focus on beating out as it could become a two-horse race.
BIG NIGHT AHEAD FOR BUCKEYES' COACHING STAFF
Around the nation, high school postseason races are heating up. Ohio State's coaching staff will have a first-hand look at the action Friday night.
Thanks to a bye week, Urban Meyer and many of his assistants are currently on the road visiting recruits in the hopes of making progress for the program's future. It's been reported that Meyer visited Strongsville High School today, meeting with Ohio State offensive line target J.D. Duplain. Duplain committed to Michigan State on Aug. 1 but received an offer from the Buckeyes on Oct 2., prompting some to sway their crystal ball picks.
Meyer was also expected to be in Mentor Friday, just an hour drive from Strongsville. There, he's said to have met with Ohio State commits Ryan Jacoby and Noah Potter.
Friday evening, Meyer could join defensive line coach Larry Johnson on the sidelines at Olentangy Orange where five-star defensive end Zach Harrison and company take on Westerville South in the final week of the regular season. Johnson has been on the recruiting trail all week long. Earlier, he met with Toledo Whitmer's Cavon Butler before paying a visit to the nation's top 2020 defensive end Bryan Bresee (Damascus, Md.).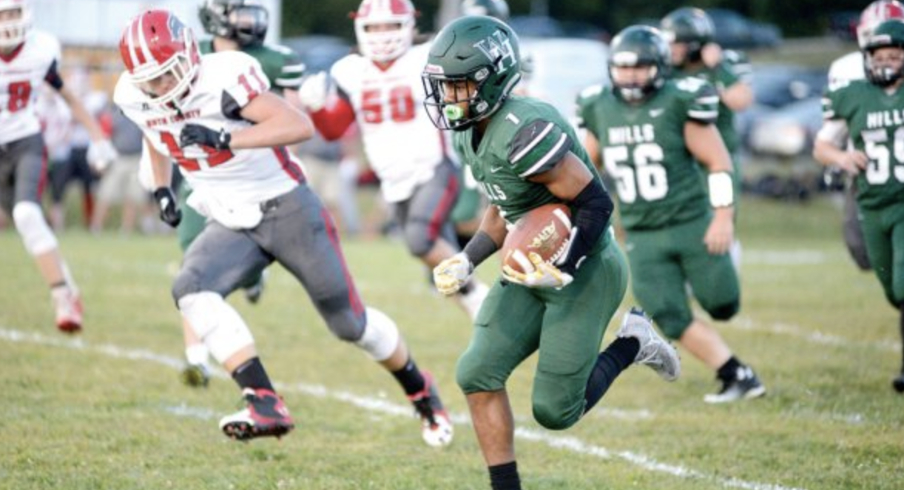 Elsewhere, wide receivers coach Brian Hartline is scheduled to be in Kentucky tonight as four-star Western Hills all-purpose back Wandale Robinson is in action. Robinson is expected to make his college decision this coming Thursday. Hartline also met with five-star prospect Julian Fleming out of Southern Columbia (Catawissa, Pa.). Fleming is considered the nation's top wide receiver prospect and the ninth-ranked overall prospect in 2020.
Lastly, offensive coordinator Ryan Day and linebackers coach Bill Davis are also on the road. Day will be in Marietta, Georgia for a visit with Ohio State center commit Harry Miller while Davis stays in Ohio to visit Buckeye commit Cade Stover at Lexington High School. 
BUCKEYES EXTEND OFFER TO 2021 LINEMAN
As mentioned, Johnson was in Damascus, Md. on Thursday. Friday, Damascus High School sophomore Ryan Linthicum announced that he had been offered by the Buckeyes via Twitter.
Extremely blessed to have received an offer from THE Ohio State University!! #GoBucks #mocofb pic.twitter.com/ArEM88mu0g

— Ryan Linthicum (@RyanLinthicum2) October 26, 2018
Linthicum is a 6-foot-4, 275-pound offensive and defensive tackle. As of now, he's unranked but you can expect him to pop up on the radar soon. He also has offers from Michigan and Maryland.