The Hurry Up is your nightly dose of updates from the Ohio State football recruiting trail, keeping tabs on the latest from commits and targets from around the country.
BUTLER RECAPS VISIT WITH LARRY JOHNSON
With Ohio State enjoying — if that's the word we're looking for — a bye week, many of Urban Meyer's assistant coaches have hit the road on recruiting efforts. Defensive line coach Larry Johnson paid a visit to Toledo Whitmer's Cavon Butler Monday evening, a visit Butler seemed to thoroughly enjoy.
"It was great. The main message was to keep working and don't take any steps back," Butler told Eleven Warriors. "He's a real cool dude and he knows how to chill. But he will also demand the best out of you."
Butler, a 6-foot-2, 285-pound three-star defensive tackle, was offered by Ohio State on Oct. 6. He's also committed to Kentucky, where he'll make an official visit on Nov. 3.
However, the 2019 prospect also scheduled an official visit to Columbus on Nov. 24 for the Michigan game. For what it's worth, of eight crystal ball projections, 88 percent say Ohio State. That's likely due to the relationship between Butler and Johnson.
"My relationship with coach LJ became real tight and it transformed after I knew they were recruiting me heavily," Butler said.
Butler is rated as Ohio's 40th-best prospect and the nation's 57th-best at his position.
CROWLEY RECAPS VISIT FROM TONY ALFORD
While Johnson put on a toboggan, running backs coach Tony Alford was enjoying Florida sunshine in a visit to Trinity Christian (Jacksonville, Fla.) running back Marcus Crowley.
Crowley was one of the first prospects that Alford contacted when Sampson James decommitted from the program in early October. Monday, he spent most of the day with Crowley at Trinity Christian High School.
After Alford's departure, Crowley told 247Sports that "it was a good visit" and that it "wasn't all about football."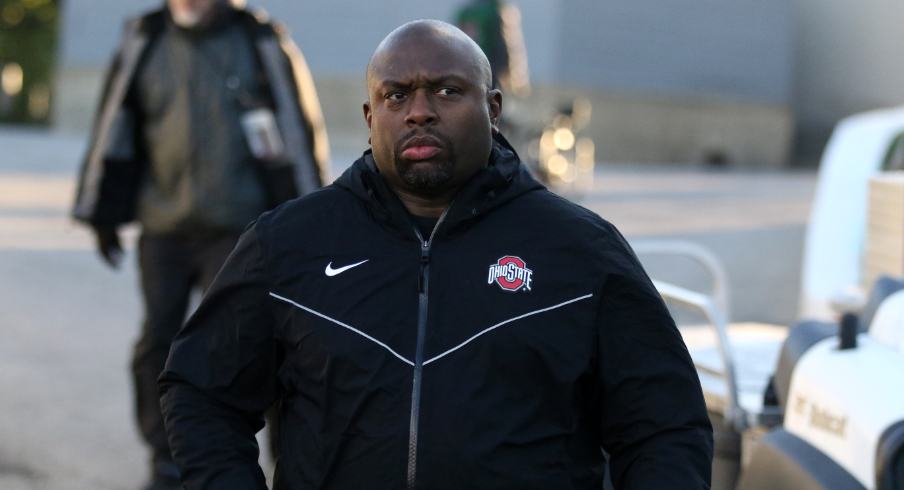 The three-star running back is ranked Florida's 77th-best overall prospect and the nation's 35th-best at his position. He's also from the same high school as current Buckeyes Shaun Wade and Tyreke Jonson.
While committed to Miami (FL), Crowley has set up an official visit to Ohio State on Nov. 3 when Nebraska comes to town. The 6-foot-1, 200-pound back will bring members of his family on the trip with him.
ROBINSON FOCUSING ON DECISION
Western Hills (Ky.) running back Wandale Robinson is set to make a college decision on Nov. 1. He's cut his decision list to three schools in Ohio State, Nebraska and Kentucky.
Robinson's father Dale told the Omaha World-Herald that the family has seen everything they need to see before making a decision. Robinson was rumored to make a visit to Nebraska this weekend but will "focus on his final regular-season home game" instead.
From the Omaha World-Herald:
Still, the elder Robinson said, that doesn't necessarily mean bad news for the Huskers. Wandale Robinson is now focusing on Nebraska, Kentucky and Ohio State along with Alabama, Purdue and Michigan as his finalists. He took official visits to each school except Kentucky — he was in Lincoln for the canceled Akron game — and was most recently at Ohio State on Oct. 6.

"We've basically seen everything we need to see," Dale Robinson said. "We're gonna evaluate pros and cons and then also add the comfortability with the coaches and players and how he feels about each. Then we'll go from there."

How fast Wandale can get on the field and how often he might get the ball are also key factors, the father said. Schools see the recruit as an "athlete," pitching him as a receiver and running back. 
The Buckeyes are recruiting Robinson as an athlete but do have two receivers (Lake Travis' Garrett Wilson, Cardinal Ritter's Jameson Williams) and two athletes (Wayne's Craig Young, Blessed Trinity Catholic's Steele Chambers) already in their 2019 class.