Ohio State landed its 11th recruit from Texas of the Urban Meyer era when Garrett Wilson, a five-star wide receiver from Lake Travis High School in Austin, Texas, committed to be a Buckeye on Sunday night.
While perhaps the most famous of those Texas products is no longer at Ohio State, as Wichita Falls product J.T. Barrett completed his lengthy Buckeye career last season, most of those Texas products are still on Ohio State's roster – or in Wilson's case, will be in a year's time – and could make a big impact both on this season and in seasons to come.
Ohio State cornerback Jeffrey Okudah, himself a five-star recruit from Grand Prairie, Texas, summed it up nicely in a tweet on Sunday night:
"We're really bringing Texas to Ohio State," Okudah tweeted.
As aforementioned, Meyer and his coaching staff have successfully lured nearly a dozen players from the Lone Star State to the Buckeye State since Meyer became Ohio State's head coach prior to the 2012 season.
In the class of 2013, Meyer's first full recruiting cycle with the Buckeyes, he landed a trio of four-star recruits from Texas – Mike Mitchell, Dontre Wilson and Barrett – with then-offensive coordinator Tom Herman, who is now the head coach at the University of Texas, taking a leading role in recruiting each of them.
While Mitchell never played a snap for the Buckeyes, Barrett would go on to become Ohio State's all-time winningest quarterback while Wilson had an up-and-down Buckeyes career but still went on to accumulate more than 2,800 career all-purpose yards.
Varying results for those three Texas products aside, the rest of Meyer's imports from the Lone Star State all have the potential to be key players for Ohio State either this season or in future seasons.
Ohio State landed another four-star recruit from Texas in the class of 2014, when Demetrius Knox became a Buckeye. After a slow start to his Ohio State career, Knox took over as the Buckeyes' starting right guard for the final eight games of last season and is expected to continue in that role this season as a fifth-year senior.
The Buckeyes didn't sign any players from Texas in the classes of 2015 or 2016, the first two years after Herman left the Buckeyes to become the head coach at Houston.
In the class of 2017, however, Ohio State went back to Texas in a big way, signing five recruits from the state: two five-stars in Okudah and linebacker Baron Browning, two four-stars in running back J.K. Dobbins and cornerback Kendall Sheffield (who was a five-star out of high school, but became a Buckeye after stints at Alabama and Blinn College) and three-star wide receiver Ellijah Gardiner.
Dobbins became an immediate starter for the Buckeyes last season, breaking Ohio State's freshman rushing record with 1,403 rushing yards in the process, while Sheffield became an immediate part of the Buckeyes' three-man cornerback rotation. Sheffield and Okudah are expected to be the stars of that rotation this season, while Dobbins is expected to once again be a star of the offense and Browning could emerge as a star on defense if he can beat out Justin Hilliard to start at middle linebacker.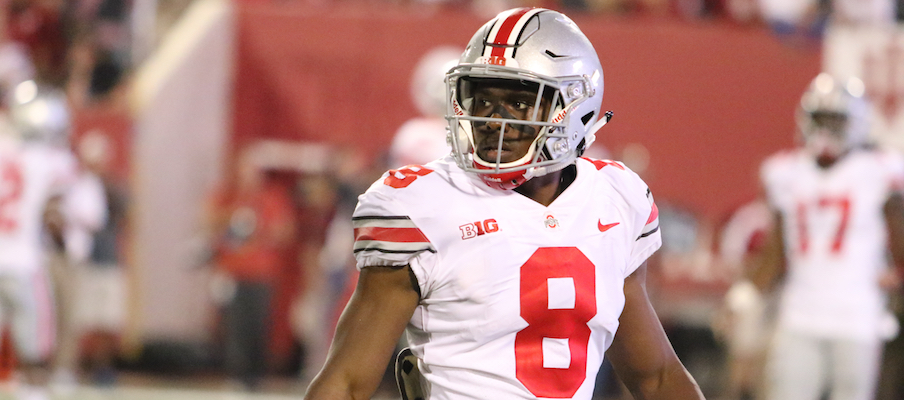 Ohio State landed only one recruit from Texas for the incoming class of 2018, that being four-star quarterback Matthew Baldwin (defensive tackle Antwuan Jackson also came to the Buckeyes from Blinn College, but he played his high school football in Georgia). But while Baldwin is expected to redshirt for the Buckeyes this season, it's certainly possible that he – like Barrett – could eventually end up playing an important role for Ohio State at the most important position on the field.
Now, the Buckeyes have landed Baldwin's high school teammate in Wilson, who – like Okudah and Browning – is set to be one of the Buckeyes' top-rated recruits ever at his position when he signs his name on the bottom line in December. While Okudah was the highest-ranked cornerback and Browning was the highest-rated linebacker to sign with Ohio State in the era of 247Sports composite rankings, Wilson is committed to be the Buckeyes' highest-rated wide receiver recruit since Ted Ginn Jr. in 2004.
Urban Meyer's Recruits From Texas


| Name | Position | Class | Stars | Hometown (School) |
| --- | --- | --- | --- | --- |
| J.T. BARRETT | QB | 2013 | ★★★★ | Wichita Falls, Texas (Rider) |
| MIKE MITCHELL | LB | 2013 | ★★★★ | Plano, Texas (Prestonwood Christian) |
| DONTRE WILSON | RB/WR | 2013 | ★★★★ | DeSoto, Texas (DeSoto) |
| DEMETRIUS KNOX | G | 2014 | ★★★★ | Fort Worth, Texas (All Saints Episcopal) |
| JEFFREY OKUDAH | CB | 2017 | ★★★★★ | Grand Prairie, Texas (South Grand Prairie) |
| BARON BROWNING | LB | 2017 | ★★★★★ | Kennedale, Texas (Kennedale) |
| J.K. DOBBINS | RB | 2017 | ★★★★ | La Grange, Texas (La Grange) |
| KENDALL SHEFFIELD | CB | 2017 | ★★★★ | Missouri City, Texas (Blinn College) |
| ELLIJAH GARDINER | WR | 2017 | ★★★ | Kemp, Texas (Kemp) |
| MATTHEW BALDWIN | QB | 2018 | ★★★★ | Austin, Texas (Lake Travis) |
| GARRETT WILSON | WR | 2019 | ★★★★★ | Austin, Texas (Lake Travis) |
With Dobbins, Knox, Sheffield, Okudah and Browning all set to start or otherwise see significant playing time for the Buckeyes this season, the on-field presence of Texas products will be as big as it has ever been for Ohio State in 2018. Yet it could be even bigger in 2019 and beyond, as Meyer and his staff aren't expected to slow down their recruitment of the state any time soon.
Although Knox will be gone after this season, and Sheffield will be eligible to leave for the NFL too, the trio of Dobbins, Browning and Okudah should all be among the Buckeyes' biggest stars in 2019. Wilson, meanwhile, should push for immediate playing time as soon as he arrives on campus, and it's likely he won't be the only top player from his state in his recruiting class.
Wilson himself has guaranteed that he won't be the only one.
Buckeye Nation... if you think i aint bringing some Texas boys with me, youre wrong. So happy to be apart of the family, Go Bucks!

— Garrett Wilson (@GarrettWilson_V) April 30, 2018
Other top recruits from Texas who Ohio State is currently pursuing for the class of 2019 include four-star quarterback Grant Gunnell (St. Pius X/Houston), fellow wide receivers Jalen Curry (St. Pius X/Houston) and Elijah Higgins (Bowie/Austin), cornerbacks Erick Young (Fort Bend Bush/Richmond) and Jeffery Carter (Aledo) and safeties Lewis Cine (Trinity Christian/Cedar Hill) and Jalen Catalon (Mansfield Legacy/Mansfield).
The Buckeyes face stout competition for every one of those recruits, but they legitimized themselves once again as a power to be reckoned with in the state of Texas by winning the battle for Wilson over the University of Texas, who also aggressively recruited the wide receiver with not only Herman, but fellow former Ohio State offensive coordinator Tim Beck – who played a key role in the Buckeyes' recruiting haul from Texas in the class of 2017 – leading the charge.
If Ohio State can land a few more top talents from the Lone Star State, as Wilson has promised, then there's no question the Ohio State football program will continue to have a significant Texan presence for years to come.