The future stars of Ohio State football officially begin their college careers, as standouts from all over the country put pens to their National Letters of Intent.
Urban Meyer and the Buckeyes have done quite well at running back lately. Carlos Hyde, Ezekiel Elliott, Mike Weber, and J.K. Dobbins have all impressed under Stan Drayton and now Tony Alford's tutelage. For the Class of 2018, Ohio State is welcoming in yet another one of America's top talents in four-star tailback Brian Snead.
The Snead File
Class: 2018
Size: 5-11/200
Pos: RB
School: Armwood (Seffner, FL)
Composite Rating: ★★★★
Composite Rank: 4 (RB)
If you're a fan of the rare recruitment that is both quiet and uneventful, then Snead may very well be one of your favorite recruits in the entire country. In fact, his recruitment may have been one of the most uneventful ones in recent memory.
Checking in as the nation's No. 4 tailback prospect, there were some initial doubts surrounding his commitment to Ohio State. He was a Florida prospect making the call nearly two years before signing day. Couple that with the fact that he had offers from Florida and other SEC programs and it probably was fair for some Buckeye fans to wonder if the pledge would ultimately stick. 
Snead named Ohio State his leader during the spring of 2016, but some may have scoffed at that for all of the above reasons. A sophomore in high school who resides in SEC country naming a Big Ten school as his leader? But that's exactly what transpired, and things really took off when he headed to Columbus for the 2016 version of Friday Night Lights. Snead would eventually leave town as the first commitment in Ohio State's 2018 recruiting class.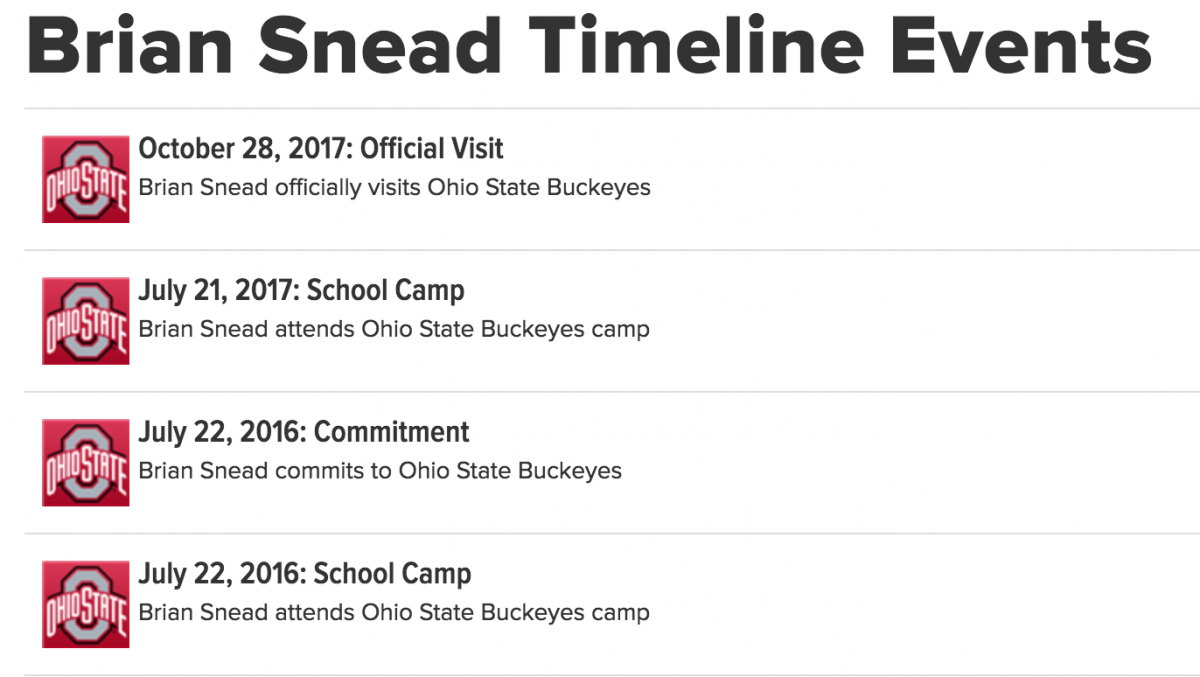 If one were to look at his 247 Sports timeline, you wouldn't see a whole lot. He didn't visit any other schools following his commitment to the Buckeyes, which is pretty much unheard of in this day and age. He made his official visit to Columbus for the Penn State game, put the pen to paper during today's signing day festivities, and is all set to enroll this summer. 
Snead rushed for over 1,300 yards and 16 touchdowns as a senior. He's also a pass-catching threat as he caught 24 passes and found the end zone three times. It's somewhat difficult to categorize him as a running back. He's got solid size at 5-foot-11 and 200 pounds. He doesn't have elite top-end speed but is plenty fast in the open field. He's just a balanced running back and the pass-catching ability is an added bonus.
Ohio State loves backs and receivers who can block, and he appears to be capable of that as well.
Body bag @snead655 pic.twitter.com/eSjxnW5vsv

— ricardo watson 3rd (@_36reasons) October 11, 2017
The Buckeyes are getting yet another one of the country's top tailbacks, and while the recruitment lacked the twists and turns that we typically see, the Seffner, Florida star is someone that Ohio State fans should be excited about. Florida, Tennessee, Michigan, and South Carolina all have extended offers, but no schools really entered the picture after his Friday Night Lights pledge. 
J.K. Dobbins burst onto the scene as a true freshman in 2017, and he sure looks like the lead back moving forward. Mike Weber has shown that he too is capable, but he may very well have a decision to make as he's now eligible for the NFL Draft. Antonio Williams has seen action, but his playing time has been fairly limited.
Snead may not be asked to do a lot in his first season, but there's certainly a chance that he sees the field in some capacity; especially if Mike Weber doesn't return. He joins Master Teague as the newcomers at tailback with Jaelen Gill expected to play more of an all-purpose role.
Dobbins obviously was the featured back as a true freshman, Demario McCall played in 2016, and Mike Weber was in line for playing time in 2015 before suffering an injury. If you're a running back and you're talented enough to play early on, then there's a good chance that the Ohio State staff will find a way to get you on the field.
With the addition of Brian Snead, the future remains exceptionally bright for Tony Alford and the Buckeye backfield.